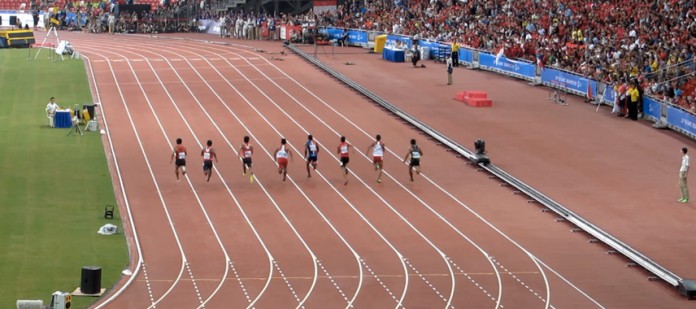 100m: Bronze in Women's, 4th and 6th in Men's events
Both men's and women's finals took place today in front of an excited and supportive crowd. In men's 100m event, US-based Philippino Eric Shauwn Cray won the Gold medal at 10:25, followed Indonesian Yaspi Boby.
Our own Calvin Kang finished 4th at 10.47 (a personal best!), while Jamal came in 6th at 10.55.
In the women's event, Singapore bagged a Bronze medal with representative Shanti Pereira at 11.88s. Philippino Kayla Richardson won the Gold (11.76) followed by Thai athlete Tassaporn Wannakit.
"Coming here, I really wanted to get a medal in front of the home fans and I managed to get one in my 100m, which is really unexpected because there were many really good competitors with me and they had much better timings […] When I looked at the replay and saw that I got third, I literally jumped!" said Shanti after the race.
Official timings
More at SEA Games 2015 site.