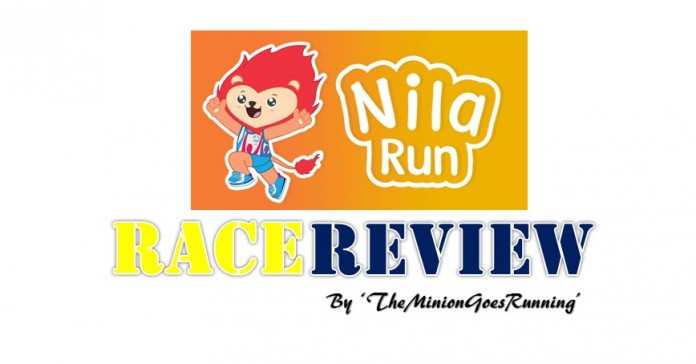 It was raining at my area when I woke up at 3am. The first thought that came to my mind was "Oh please don't rain later. The ground is going to be wet and hard to run." After freshening up and preparing all my stuff, I headed down to the designated bus-stop to wait for my shuttle bus. There were a total of 14 routes, with each route stopping at 2 to 3 places on average to ferry runners from various parts of Singapore to the venue. I would say that the $6 shuttle bus is a good move as it prevents the hassle of one having to arrange for their own transport and also allow runners to reach the race area spending less(as compared to taking a cab). The buses (2 of them) for my route arrived at my place punctually, and was rather full.
The journey was very smooth as there was not much traffic in the wee hours. My bus reached the area outside National Stadium rather early. Spent some time to walk around before bag deposit and proceeding to the Starting Point. There was already a light drizzle at this point of time. The walk from baggage area to the Starting Point was rather long though.
Fast-forward to the time at Starting Point, which is somewhere near the OCBC Aquatic Centre. Race was slight delayed due to some reasons. The marathon athletes were flagged off about 10 to 15 minutes before us. After a long wait, finally we were flagged off! Most people were wearing the Nila Run tee, or something red to show their support for Team Singapore.
The route was slightly slippery and wet, probably due to the drizzle or rain earlier. It is generally well-lit and gradient was smooth. Dark clouds seem to gather when I was on my route back to the National Stadium.
The lightning alert was activated when I crossed the 7km mark, and it began pouring when I hit the 8km mark. The last time I ran in such heavy downpour was during the full marathon at Sundown Marathon last year. Despite the rain, everyone continued running. Sea of red running in the rain. Everybody did their best to cross the finishing line. I couldn't really figure out where I was running, as the rain just blurred my vision. But not long after I finally saw the Finishing Line! 😀 Crossed it, took water and my medal, and proceed to Kallang Wave Mall to seek shelter.
There was still not much when I reached the mall, but runners that completed the run soon began to fill up the place. Everyone was saying that it was a unique experience to be able to run in the heavy run. Haha.
On a last note, congrats to Soh Rui Yong for winning the gold medal for Singapore at today's marathon event! It is a pity that we can get to see you during the run, but you did Singapore proud despite the rain! Congrats once again!