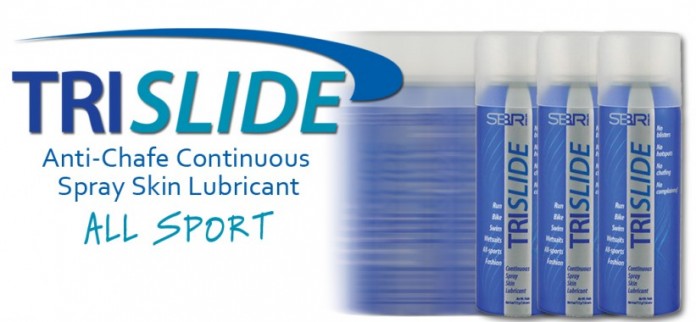 TRISLIDE – What It Is
TRISLIDE is the only anti-chafing, anti-friction, anti-blistering product found in a convenient environmental friendly aerosol spray. The mess-free, fuss-free spray on application means no more sticky hands. Unlike traditional lubrications which come in roll-on sticks, the spray on format does away with skin contact, meaning no bacterial contamination, and making it completely safe to share with your fellow teammates.
A scent-free liquid silicone based product, TRISLIDE is water-proof and sweat proof. The long lasting formula stays on for the hours that you play, race or train. As it doesn't leave a greasy lube residue, TRISLIDE is a comfortable product to use during sports. TRISLIDE does not stain clothes, and does not degrade the technical fabrics of various sportswear. Post workout, it can simply be removed with soap and water.
TRISLIDE – Who It's for
Whether you're a cyclist, runner or swimmer, TRISLIDE has a place in your sportsbag. Of course, if you happen to be a triathlete, the versatile nature of TRISLIDE will replace every single one of your various tubes of cream and gel, leaving you to wonder "TRISLIDE, where have you been all my life?"
Cyclists, those days of struggling with saddle sore are over. One application of TRISLIDE goes on silky smooth and stays on without a squishy, wet chamois feeling. The water-proof and sweat-proof formula stays on for hours without that nasty greasy feeling.
Runners, rejoice! TRISLIDE can be used to combat the two worst nightmares of every runner – hotspots that lead to blistering on the feet, and skin chafing anywhere, with common culprits being: inner thigh, underarm, sports bra line, and for men, your chest.
Triathletes, surfers and divers, ever had a hard time putting on or struggling out of your wetsuit? Simply spray some TRISLIDE on the outside of the cuffs and ankle openings, and you'll be sliding on and peeling out of those suits with great ease, helping you gain precious seconds in tri transit. It can also be applied as a lubricant to prevent chafing on the neck area. Unlike petroleum or vegetable based products, TRISLIDE is completely safe to use on all neoprene, and will not disintegrate the wetsuits.
Best of all, TRISLIDE is completely sweat-proof and water-proof, which means you only need one single application to last you for hours, whether you are out in the open waters or sweltering under the hot sun on your wheels or feet.
TRISLIDE is the most innovative product to prevent chafing, blistering, irritation, and hot spots found in swimming, biking and running. For the environmentally-conscious athlete, rest assured that this product has been formulated in world-renowned labs using the most advanced scientific research and manufactured with Solar and Green Technology. The product is animal cruelty-free, and dispenses from an environmentally-friendly aerosol spray.
Swimmers and triathletes, you may also be interested in other products. Your sporting needs are covered with TRISWIM's body care range, including an anti-chlorine swimmers' body wash, shampoo and conditioner, as well as FOGGIES, anti-fog wipes for goggles.
Made in the USA, TRISLIDE is the trusted and preferred product of professional athletes, and has sponsored various high profile international sporting events, including the Singapore International Triathlon.
For two weeks only, we are offering
JustRunLah!
readers a 10% discount on TRISLIDE Anti-Chafe Lubricant Spray when they shop at the
JustRunLah! webstore
. Simply use the discount code "
TRI10
". Please note, this promotion code is valid for
two weeks only
, so hurry and get your TRISLIDE today!
This article is sponsored by pout.