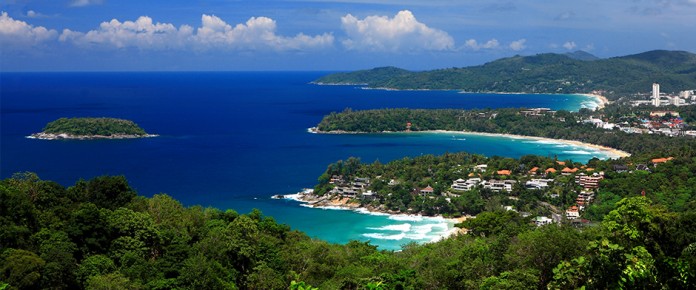 Between the cheap shopping and bargain hunting, gastronomical delights, a robust nightlife, and endless cocktails on the beach, Phuket has earned a reputation as a prime holiday destination for indulgence. However, holiday-makers don't necessarily need to take the hedonistic route, as Phuket also offers a wealth of sporting activities, many of which are fun and challenging, while bringing you close to nature, so you can have a fit and active holiday.
Run
Thinking about your next running or racing holiday destination? Here's why you should put Phuket right on top of your list.
The Laguna Phuket Triathlon is considered Southeast Asia's premier triathlon event with one of the most challenging and spectacular bike and run courses on the triathlon calendar. The 21st edition of the event will be held on 22 November 2015, and will again feature an age group competition, the corporate team relay and a 6Km Fun Run. Distance: 1.8K swim – 55K bike – 12K run
Held this year on 29 November 2015 Challenge Laguna Phuket is the culmination point of the 10-day Challenge Tri-Fest that also features the Laguna Phuket Triathlon. Distance: 1.9K swim – 90K bike – 21K run
Of course for runners, it always comes back to the legendary 42.195km challenge, and this year, the Laguna Phuket International Marathon expects to draw 7000 international runners to its 10th edition. The AIMS-certified course is incredibly scenic, offers generous cut-off times, and hydration points at every 2.5km. The pre-race Pasta Party and Post-Race BBQ Farewell Party make the entire event an unforgettable experience!
Play
Sports and adventure lovers will be spoilt for choice in Phuket, with a wide variety of activities to participate in. Show off your skills, or try something new!
Watersports
With its beautiful marine wildlife, the clear and calm and warm tropical waters of the Andaman Sea are perfect for snorkelling. Snorkelling can be done year-round in Phuket, but the best time of year is November-April, when the is most calm. During the May-October low season, the undertow can become dangerously strong along the west coast. With water temperatures at 27-28°C snorkellers don't need to wear wetsuits. Snorkelling gear can be purchased, or rented for the day at one of the many shops around the island.
Phuket is rated amongst the top 10 diving destinations in the world. Diving day trips from Phuket to Phi Phi Island and the Racha Islands operate throughout the year and are suitable for all levels. Visit sites like the King Cruiser wreck close to Anemone Reef, and the exciting diving at Shark Point. Master divers can consider Similan and Surin Islands in the Andaman Sea.
Phuket's West Coast is the best place for surfing in Thailand. There are three main annual surf contests in Phuket. The Phuket Surfing Contest is held at Kata Beach, and has been running for the past seven years, while Kalim Beach hosts the Kalim Surf Contest and Kamala Beach hosts the Go Surfing Contest. The latter two are local competitions. These three beaches, alongside Surin Beach and Nai Harn Beach, make up the five top surf spots in Phuket.
Exploring
Elephant trekking is a popular activity in Phuket. Some concerns had been raised regarding the welfare of the animals, but
under the supervision and control of the Asian Elephant Foundation of Thailand, most Phuket elephant camps take good care of their animals today.  A large majority of the elephants used for trekking in Phuket are female, with a gentler and more stable temperament than males. While all of these Discovery, Nature, Trekking or Explorer tours feature elephants, they differ in other activities. Some include visits to plantations, bamboo rafting or canoeing, visits to a Monkey Cave Temple and the Tsunami Museum, or cooking demonstrations.
Small group tours on ATV allow you to explore Phuket without the crowds. Plunge into the countryside along natural tracks and paths through rubber plantations, forests and rivers; meet the local forest workers, learn about the environment and discover local plants you never knew existed in this unspoiled environment.
Prefer a more eco-friendly method? Half and full-day bike tours mix paved and dirt road surfaces, taking you through small market towns, plantations and rice paddies, past places of worship and fishing villages, and through areas of natural jungle rich in plant life and fauna. The distances covered are not excessive, and riders are often followed by support vehicles to board when they get tired, so anyone with a reasonable level of fitness will be able to enjoy this cycling tour.
Traditional sports
Witness a dramatic round of Thailand's national sport, of which origins are claimed to stretch back to the wars with the Burmese during the 15th century. Although it's still a violent contact sport, many changes initiated to make Muay Thai safer, reducing the incidence of death and injury. Muay Thai courses offered by Tiger Muay Thai & Mixed Martial Arts Camp are broken down into group classes which run twice a day and beginner, intermediate, advanced and professional fighter invite-only classes.
If you have the time to go farther afield, just a few hours away from Phuket are some of the most challenging and beautiful rock climbing sites in the world, attracting both novice and hard core climbers. Most of the action is on the towering limestone rocks in the headland between Tham Phra Nang (Phra Nang Cave Beach) and Railay East beach in Krabi.
Phuket offers six golf courses, all designed to exploit the island's tropical climate and unique topography. The beautiful landscaped courses, which make use of the local abundance of water and trees to full effect, frequently draw international golfers. High standards ensure that the greens are green and the holes are challenging enough to stretch new and experienced players alike. Some of the courses have been used for international competitions and world championships. People looking for a unique mini golf experience can check out the 18-hole miniature classic golf course at Phuket Adventure Mini Golf in Bangtao. Equipment is included in fees, but you are welcome to bring along your own favourite putter too.
Extreme
Thrill-seekers needing an adrenaline fix can jump 50 metres over the green-blue water of the Jungle Lagoon at the Jungle Bungy Jump in Kathu. Set over a picturesque pond, formerly an old tin mining site, it is now a safe location for experiencing big-time thrills. The jump site is the only licensed one in Thailand, and the only insured site in Asia.
Flying Hanuman offers a chance to discover Phuket's rainforest canopy from an aerial perspective as you enjoy the sensation of"flying" 40 metres above a jungle on ziplines. Eco-friendly and well executed, it is extremely safe. The safety carabineer and lanyard are attached to the safety lines on each platform and act as a backup attachment when on the ziplines, which can hold multiple tonnes of force and are checked regularly for signs of wear and tear. All platforms are made of wood and are supported by industrial-strength cables, and each group (even if you're only one guest) will have a minimum of two safety guides with them.
Paramotoring is one of the safest forms of flights. Sky Club Asia is operated by serious and professional enthusiasts who have long experience in flying with paramotors. Most of them started with paragliding before adding the engine and propeller, offering them more opportunity to explore. No time to learn, or inclination to fly solo? Try a tandem flight! The equipment from top-notch German brands are perfectly maintained, and before each flight, all security issues are double-checked by the pilot/instructor, who verifies each retention strap, carabineer and instrument.
Theme Parks
Located in a manmade freshwater lake, Phuket Wake Park near Kathu Waterfall offers seven play obstacles and exotic views of the surrounding trees and hills to beginners and expert wakeboarders. The cable speeds start at 28kph and participants are closely supervised. Wakeboards, gloves, life vests, and helmets can be rented while free basic lessons are provided by professional instructors.
One for the kids, Splash Jungle Waterpark at Mai Kao Beach offers a great day out on exciting water slides, rides and more all in one themed water park. With short and fast queues, adequate facilities such as the Kids Aquarium, Kids Slide Pool and multiple water slides of varying heights and speeds for the little ones at Splash Jungle, free entry for children under five, this is a must-do for families.
Eat and Relax

Of course, no holiday in Phuket is complete without a spa visit, and a feast of local delights.
After all the excitement of running, racing, and various sporting activities, nothing hits the spot better than a much-deserved session of Thai massage for some relaxation and rejuvenation. Feel the knots and tension melt away at the expert hands of massage therapists. More than just a beauty treatment, the traditional concept of spa therapy focuses on addressing ailments through touch, meditation, and herbal remedies and ultimately restoring physical and mental well-being.
You would have undoubtedly worked up an appetite running around, and Phuket offers plenty in the way of gastronomy. The perfect moment to indulge in local specialties of fresh fruit, seafood, curries and salads, and coconut-based dishes, let your body be nourished and your palate tantalised. From street vendors offering Thai fare, to your hotel lobby restaurant boasting international cuisines, dining is cheap and accessible in Phuket.
So what are you waiting for? AirAsia flies direct to Phuket daily from Singapore. Upgrade your travel and pre-book Premium seats that offer extra leg-room for your comfort. From as low as SGD 5, you can also pre-book and enjoy specially curated delicious Thai cuisine in the air, such as Green Curry, Mango Sticky Rice and Basil Chicken. Travel in comfort with AirAsia to Phuket for a veritable sports-filled holiday experience. Visit airasia.com for low fares now!
This article is sponsored by AirAsia.