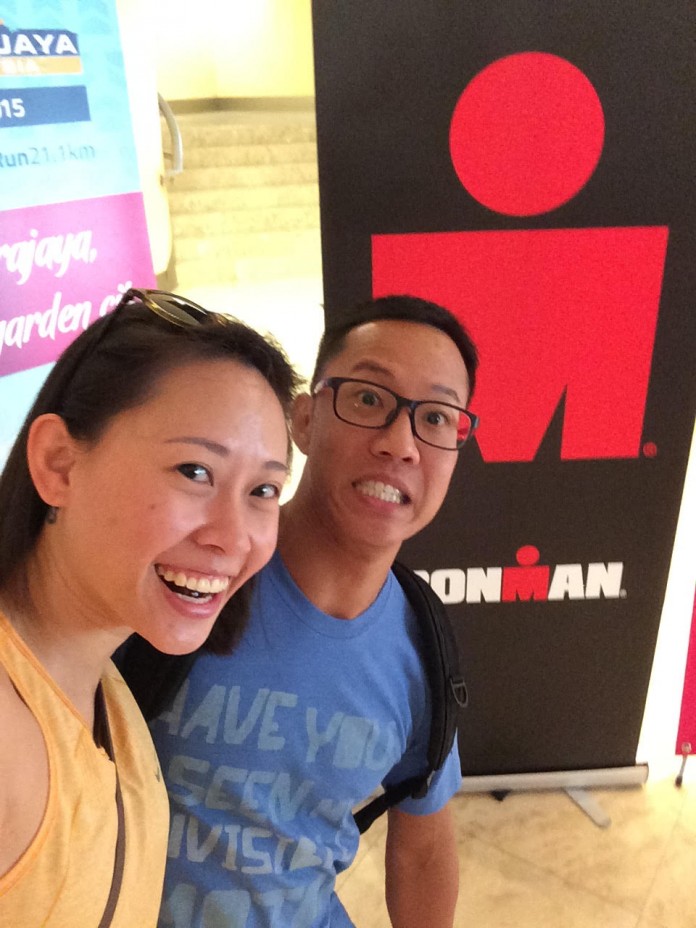 From weekend warrior to IronMan triathlete fundraiser. Sometimes, we find inspiration from heroes with the most unassuming backgrounds, but a quiet will to succeed, and a charitable heart to return something to society. This week, JustRunLah! chats with Ian Ang, who shares with us how he started running, transitioned to triathlons, and in the process of chronicling his journey, managed to inspire his friends towards adopting a more active lifestyle, while raising money to support the underprivileged in society.
Read on for more details…
Triathlon
JRL: What's your running background, and when/why did you decide to do a triathlon?
Ian: My first serious run was probably the Standard Chartered Marathon in 2006; it was a bucket list item and I ran like 5 times a week ranging from 5-15km. Running was not as popular then, and I (foolishly) didn't really seek any training advice, so I was just running whenever and however I wanted. 6 months later, I crossed the finished line and I told myself that I'll never do anything like that ever again! I still have thoughts like these after finishing races these days.
Fast forward to 2012, I signed up for the Cold Storage Triathlon on impulse, called up a friend to borrow his bike, and headed to Mandai in the evenings. I had been cycling a bit on my fixed gear bike a couple of months before, so that helped make the training a little bit easier.
JRL: Remarkably, you trained for your first IronMan Triathlon (Zurich 2013) in 10 months. What were the biggest lessons you took away from the training and race day experience?
Ian: Just days after completing my first triathlon, I stumbled upon the infamous Ironman video, the World Championships in Kona which has gotten so many people hooked and signing up for their first Ironman. Next thing I knew, I was on the Ironman website looking for a race to sign up for. I wanted to do one quick, before I lose motivation or interest in the sport.
Armed with almost zero knowledge, and not knowing many people in the triathlon community, I had (once again) foolishly thrown myself into the deep end of the pool. I bought a tri bike, went online to look at generic training plans on "how to complete an ironman in XX months". I tried swim lessons initially but I sucked so bad that it too was embarrassing to continue, so I eventually learnt swimming freestyle from watching videos on YouTube.
The triathlon community in Singapore is definitely a friendly one. There were many people online giving advice, and I joined people on rides and swims here and there.
I toed the start line in Zurich 10 months later and the experience was magical. As much as I hated the chaos of a mass start swim, I had goosebumps for the first 10 minutes of the swim, struggling together with 2000 plus swimmers, fighting for space in the lake. The bike course took us to beautiful parts of the city and through many small towns located along the outskirts of the city centre. The views were as breathtaking as the hills I had to climb. By the time I hit the run, I was just holding on for dear life, feeding off the energy from all the supporters. My girlfriend Jaime would be there screaming her lungs out every lap; that feeling was like downing 4 energy gels at a go. Crossing the finish line for that race was like nothing I've ever experienced, and definitely the hardest thing I'd ever done.
JRL: Swim, bike, run. Which is your forte, and which is your favourite?
Ian: I definitely like running the best. While I'm overseas at work, it's the best way to go sightseeing in the city. I also really enjoy trail running and try to head to MacRitchie every Sunday.
JRL: What advice would you give to runners contemplating a triathlon?
Ian: I'm probably the last person to give sound advice on doing a triathlon; the times that I do, my friends end up signing up for Ironman races and start blaming me all the way till they cross the finish line! On a more serious note, I always share with friends that consistency in training is very important. Start with shorter races, they are really exciting and not to be underestimated. I don't think any other sport has a "sprint-distance" race taking over an hour to complete.
IronProject
JRL: What's the story behind IronProject?
Ian: The idea was first conceived when I decided to do my first Ironman. A blog was set up to log my journey when an idea struck – to do this as a fundraising effort for a charity. Eventually, the first IronProject managed to garner $7000+ in donations for Home Nursing Foundation Singapore.
JRL: What are the main objectives of IronProject?
Ian: We are just a group of friends who are training for races, and while doing so, we have pledged to donate based on the number of hours we train (i.e. $1/hour of training). Not all athletes are triathletes. We have had friends who are rock climbers and a floorball player joining in. I just wanted to inspire some friends to take up a more active lifestyle and also give back to the community in one way or the other.
JRL: Are you currently training for an IronMan challenge? If so, which one? If not, are you training for something else?
Ian: My next big race is Challenge Roth in Germany, an IronMan distance triathlon in July. It's a really popular race, and the 2000+ slots were sold out within minutes of registration opening. We are about 12 weeks out from the race, so the training hours are piling up at this phase of training.
JRL: Tell us about Friends of the IronProject, and how people can show some support.
Ian: Friends of Ironproject started after my first race; a couple of friends came forward and wanted to pledge donations with their races as well. Each of us would choose a charity to support and try to garner support from family and friends to donate. Donations are all made through the giveasia website, which channels all the donations to the chosen beneficiaries.