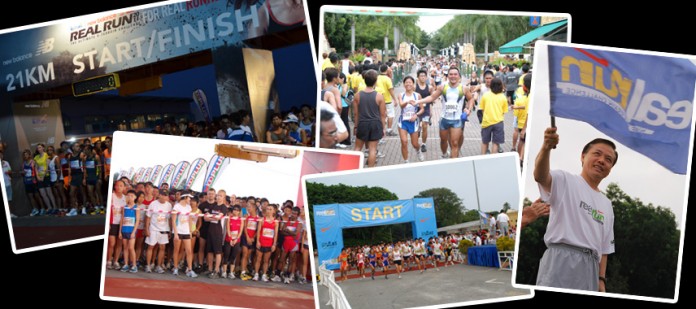 The HomeTeamNS REAL (Regular Exercise, Active Lifestyle) Run has gained exponential popularity over the past two decades and established itself as the multi-terrain run of choice for Home Team NSmen and the public.
The combination of Road, Trail and Sand will excite running enthusiasts who are looking for an extra challenge through winding trails, asphalt and energy-sapping sand.
Dedicated to provide an "Ultimate Running Experience", the REAL Run was incepted in 1996 by then Singapore Police Association for NSmen (SPANS) with the aim of promoting healthy lifestyle among the SPF National Servicemen through exercise. Over time, HomeTeamNS REAL Run expanded internationally to embrace like-minded athletes from various countries.
In 2015, age and fitness level will not be a barrier! With the latest HERO Trail (5km, 10km), 3-NS Generation Run, and Kids' Beach Dash categories, this home-grown event is well-received by many families, and you can definitely look forward to a day of fun at Sentosa! Presenting the ONLY run in Singapore organised by NSmen for NSmen. So don't wait any more and take part in this year's edition of REAL Run!
Key facts
28 August 2005
6,600 participants from 32 countries take parts at The New Balance REAL (Regular Exercise, Active Lifestyle) Run at Sentosa
28 October 2007 – New Balance REAL Run
Sum of $500,000 was raised and donated to the President's Challenge 2007.
Race was moved from Sentosa to Changi Exhibition Centre to cater to more participants.
President SR Nathan flagged off participants for 10km and 15km races.
2009 HomeTeamNS – New Balance REAL Run
Race extended to 4km
10,000 participants
2011 REAL Run @ Changi Exhibition
For the first time – 21 km race route
First multi-terrain half-marathon locally
Covered by local broadcast media and press