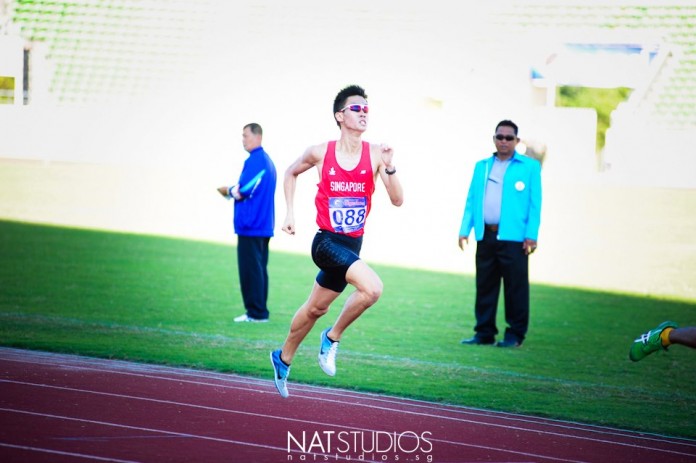 As the SEA Games 2015 draws ever closer and Singapore is stepping up its preparations to host the 28th edition of the events, its representative athletes are working just as hard to ready themselves for June. In this interview, JustRunLah! catches up with middle distance runner, Soh Hua Qun. Despite the 24-year-old's recent struggle with injuries, he ran the 1500m in 4:06.02 and 800m in 1:58.79 at the recent Inter-Varsity Polytechnic (IVP) Championships, earning first and second place in the respective events. With his ability to perform in the face of adversity, he's dubbed Singapore's best hope in the 800m and 1500m events.
Read on for more details…
JustRunLah!: What's your running story? Who/what got you running?
Hua Qun: I've loved playing sports since I was young. I relished the adrenaline rush whenever I played catching or blind mice with friends, when I could inject quick bursts of speed at will and escaped the clutches of my friends.  It was only at the age of 10 when I started taking part in a proper track race and won all the races (200m, 400m and 800m and 4x100m) with school shoes. Mr Affendy, the track coach of Townsville Primary (my primary school), spotted me and wanted me to join their track team. My mother was strongly against it due to my commitments to studies and CCAs – I was already involved in badminton, robotics, swimming and art and craft classes but I managed to convince her by working harder in my studies.
My love story with running began with this track team when I started working on the specific areas of sprints such as drills and accelerations. I enjoyed the camaraderie with my team-mates as we worked on every aspect of baton-passing and accelerations, practising our passing more efficiently. It was hard work but it paid off when my 4x100m team managed to emerge champion in the Nationals in 2002. I also attempted many events but the 800m seemed to intrigue me most, especially the part when it comes to fighting the lactic rush. Even though I came in 7th for 800m during Nationals in 2003, I was hungrier for more.
When I enrolled in Catholic High, I embarked on distance running as my coach felt that I have more potential in longer distances. My endurance has enabled me to sustain a fast pace for long distances and coupled with my passion for speed workouts, I came to enjoy tactical races such as 800m and 1500m. My breakthrough in 1500m came in 2005 when my coach Mr Alan Koh worked greatly on my running economy to enable me to run more efficently and fast even under great training load. This enabled me to emerge champion and 1st runner-up in 1500m during Nationals in 2005 and 2007 respectively.
It was in Raffles Junior College when I got to dabble with my favourite events, the 800m and 1500m. Mr Steven Quek (JC coach and current coach) incorporated sports science and pace management in his training. Furthermore, he made me realise the importance of taking care of one's lifestyle habits, taking note of the rest, diet and training to maximise the benefits of training. His program that he planned for us in Raffles had enabled us to juggle studies and training well. Taking note of these distinctions had also aided me greatly to bring my middle-distance running to greater heights.
I took a break from competitive running during my National Service but decided to try out middle-distance events again, as I missed the adrenaline rush of sprinting. Furthermore, it was my dream to qualify for the SEA Games and win a medal for Singapore. Mr Steven Quek has aided in the planning of my training program and I managed to have the opportunity to work with many passionate athletes along the way to push our limits. Besides improving the timings of my races, I came to enjoy running much more in university when I got to meet like-minded peers who shared the same passion and joy for running. My breakthrough came when I managed to hit sub 4 for 1500m and 800m in 2012, but I failed to meet the qualifying mark for the 2013 SEA Games squad. It was then I set my sights on 2015 SEA Games.
I endured a setback in late 2013 when I had an accident during a fall and tore my patella tendon. I had surgery and I was wheelchair-bound for quite a while. I worked really hard during my rehabilitation as I had the desire to prove to other people that it's possible to pursue their dreams despite the circumstances, as long as one doesn't give up. Thankfully I am recovering well and currently working hard for my SEA Games dream and hoping to make my breakthrough soon.
JustRunLah!: You are currently a student at the National University of Singapore. What are you studying, and how do you balance your academic and athletic commitments?
Hua Qun: I'm currently studying Accountancy in NUS. I try my best to do away with any time-wasting activities during training to shorten the training hours. I also make sure that I sleep early and have adequate rest so that I can make the best use of the time in the day. I try to read up before and after lectures and tutorials to understand the materials faster.
JustRunLah!: You recently participated at the Institute-Varsity-Polytechnic (IVP) Championships, and bagged several impressive wins, placing 1st for the 1500m, 2nd for the 800m and 2nd for the 4x400m events. Congratulations! Can you share with JustRunLah! readers, what has been the highlights of your running career/journey?
Hua Qun: My breakthrough came when I managed to run 1:55min in 800m and 4:03min in 1500m during Singapore Open 2012. I managed to perform well under race conditions in ASEAN University Games 2012 when I emerged 4th in both 800m and 1500m, losing the bronze medal by about half a second.
JustRunLah!: And now you've made it onto the Singapore Athletics Association SEA Games 2015 training squad, and have been dubbed Singapore's best hope in the 800m and 1500m events.
Hua Qun: Yes, I've been striving to excel in 800m and 1500m events ever since I returned back from my patella tendon injury. I hope to win a medal in these events at SEA Games on home ground. I have only attempted 5km and 10km events to evaluate my aerobic fitness from time to time.
JustRunLah!: How are you currently training and preparing for the SEA Games? You ran the ASEAN University Games with an ankle injury, is it better now?
Hua Qun: I have recovered from my ankle injury. My coach and I have raised the intensity and frequency of trainings to prepare for the upcoming SEA Games. I had also been working on more speed workouts as I foresee strong finishes by the foreign competitors.
JustRunLah!: What do you anticipate to be your biggest challenges at this event?
Hua Qun: I hope to win a medal for Singapore on home ground but a win is never predictable due to the tactics involved during a race. One of the challenges I will face would be to match up to the strong finishing kick that will be put up by the Vietnamese and Filipino competitors as they have great speed.
JustRunLah!: Conversely, do you feel there are any home-ground advantages to the SEA Games being held in Singapore?
Hua Qun: It would be the acclimatisation to the humidity and hot weather in Singapore, especially in the afternoon.
JustRunLah!: Who or what is your source of inspiration?
Hua Qun: David Rudisha, who continues to step up his game even when he met with countless setbacks.
JustRunLah!: Any advice for aspiring young athletes out there?
Hua Qun: Give your best in everything you do and be daring to pursue your dreams. Leave no regrets.
JustRunLah!: Any message(s) you'd like to share?
Hua Qun: I would like to thank my NUS cross country team, my coach, my training partners and my close friends who have gone through this arduous yet fulfilling journey with me. Also, I would like to thank my sponsors ASICS for the training gear-shoes and apparel that had allowed me to run at my best and USANA for the health supplements that had kept me in the pink of health.
JustRunLah!: Finish this sentence: Running is…
Hua Qun: Running is… symbolic of life; to push yourself to overcome the obstacles and when you feel you can't, search deep within for inner strength to realise that you are stronger than you thought.
Corrections: In an earlier version of this article it was stated that Hua Qun ran a sub-4 timing for the 1500m at the Singapore Opens 2012. The official time recorded for his performance at the event was 4:03.06.