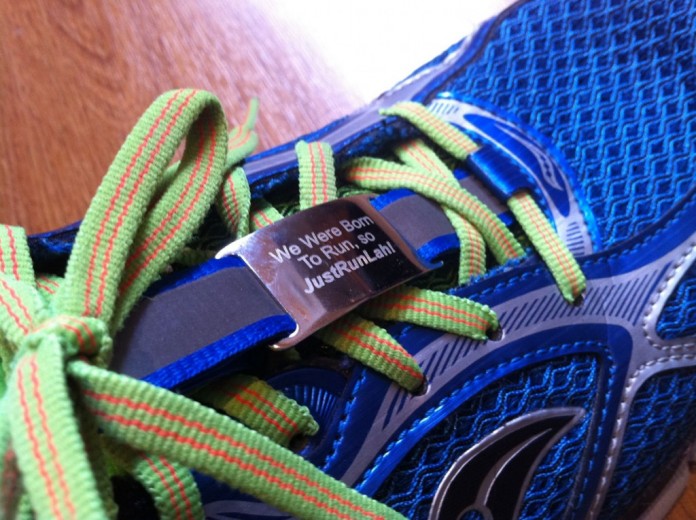 SleekTag: Grip
The Grip is part of SleekTag product family, that is, tags that come with an engraving of your choice.  The tags come in different formats, including wristbands (click here to read a review by fellow blogger The Ninja Turtle) for active adults and kids, as well as for your pets.
Since this is a completely customisable gadget, there are many ways how one can use it: You can engrave your favourite motivational quote or make matching tags with your friends or your significant other. More importantly, you can engrave vital information such as your drug allergies, your blood type or emergency contact number that will aid tremendously people who will help you in case the unimaginable happens when you are out.
I was given two pieces of the Grip, one in black and one in blue. I chose to engrave JRL's slogan on one, and a quote from a spectator's banner I saw while running Standard Chartered Singapore Marathon 2013. It took only 3 days to get the items delivered to my mail box after I placed my order.
Fitting the Grip on my shoe was very easy. It uses a velcro tape which offers a firm… grip! I have taken them out running a few times: they are steady and don't really affect your running at all. And, as you can see above, the blue Grip blends really smoothly with my new shoes.
Last but not least, the Grip has a highly reflective band (see photo below, taken with flash on) which is a must for those of us who prefer running at night.
What's more, you are not limited to placing it on your shoes: The Grip can be easily fixed on a bicycle, a running belt, a back bag or on any other sports equipment you usually bring out with you.
The tag size is 28 mm x 18 mm and it fits in a maximum of 4 lines (15 characters per line). You can choose the text you want to be engraved while placing your order online, and choose from different colours and polishing.
One thing I would like to see is the ability to engrave sketches and images, and another amazing enhancement would be GPS tracking integration – that would bring safety to a whole new level.
This post was sponsored by SleekTag.