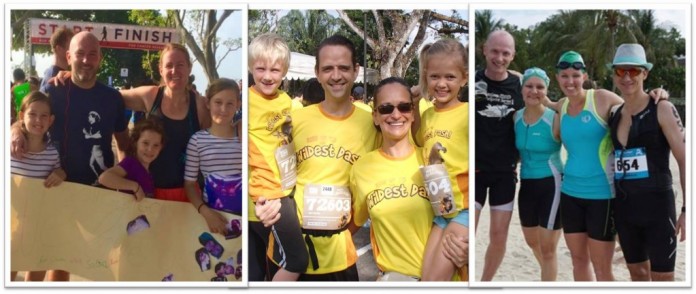 It was a weekend laden with racing activities.  Eight Team Costa members and two Little Leaguers* participated in three separate racing events on Sunday, 8 February.
Here's a snapshot of each event:
Terry Fox Run – East Coast Park
Organised by the Canadian Association of Singapore (CAS) in memory of Terry Fox, who was an athlete, humanitarian and above all a cancer research activist.  Terry died of cancer at 22 years of age in 1981.  However, prior to his death, Terry embarked on an ambitious "cross Canada run, to raise funds and awareness for cancer research".  He completed 5,373km out of 8,000km in 143 days before succumbing to ill health that forced his withdrawal.  During that campaign, Terry successfully raised $23,000,000.
Inspired by Terry's drive and determination, Isadore Sharp, founder of the Four Seasons Hotels and a father who lost his son to cancer, proposed an annual fundraiser in Terry's name.  A non-competitive fun run, where each participant could run, walk or ride was born in September 1981.  Now in its 34th year, the Terry Fox run is an international event reaching every single continent, except for Antarctica of course.
Which brings us to Sunday and Singapore's Terry Fox fun run.  A non-competitive race, free-of-charge was held on East Coast Park. Registration was purchasing a t-shirt or donation to the cause.  Flag-off was at Big Splash with 10km route heading to Bedok Jetty return and the 5km route heading to Fort Rd return.  This would have minimised congestion given the narrow paths in the Park.
Paul and Caitriona, husband and wife team, tackled the 10km category at paces of 5:05 and 5:57 respectively.   When asked why they chose this run, Caitriona says: "…because it's close to home, first race of the year, a good cause and we get an idea of time before the Green Corridor race".  The run ticked lots of boxes for the couple, especially with East Coast Park as their backyard and familiar running territory.  It also made it easier to have their support team in attendance; their gorgeous girls.  Whilst the last kilometre became challenging for Caitriona, mostly heat related, she still accomplished her sub-60 min target and shaved six minutes off her last 10km race.
Aquathlon – Sentosa
First one off the ranks for this year's series of multi-sport races, the Aquathlon took place on Palawan Beach, Sentosa.  A combination of swimming and running, it affords athletes the opportunity to spread their wings and bring diversity into their regular training.
Four of our members participated, with Stan and Marcus completing the Sprint category (750m swim / 5km run), and Michelle and Lisa the Discovery category (250m swim / 2.5km run).  This time a year ago most of them were committed runners and participating solely in running races.  During one of those "Friday night by the pool" moments and perhaps too much liquor the brilliant idea of participating in a triathlon was born.
Stan completed his first sprint triathlon in April 2014, which was quite a fete given that swimming was a different endeavour for him.  A natural runner and cyclist, swimming presented Stan with new challenges and a new sport to develop.  Will, determination and a healthy dose of curiousity of what he can accomplish, saw him complete another Triathlon in August 2014 and shaving 12 minutes off his finish time.
After several years of running races and repeat routes, Michelle, another committed runner, was seeking new athletic horizons.  Ten months ago she took her first swimming drills session with our swim coach, Desmond Ho, and has progressed from barely completing a 50m lap to taking 4th place in overall women's position in her first mini-triathlon just four months later.  She has since competed in another Triathlon and last week's Aquathlon coming in 10th out of 86 all women's category.  Let's just say that Michelle has never looked back and is enjoying the diversity in her athletic pursuits.
Marcus and Lisa, are another husband and wife team, who compete when time affords it.  Whilst Marcus is no stranger to multi-sport races, for Lisa it's all very new.  Having only just begun running four months ago and not usually a swimmer, the Aquathlon certainly stretched her current athletic skills.  Yet, Lisa crossed the finish line in 14th position out of 86 female competitors.  I'd say that is a fantastic effort for her first multi-sport race.
As multi-sport races gain traction in 2015, so will Team Costa's participation.  As the MetaSport's 'Metasprint Series' culminates in a triathlon in April, the Tri-Factor Series commences with the swim followed by cycling, running and finishing with the Tri-Factor Triathlon in August.  Team Costa will certainly be busy both racing and training for the these series along with other races in between.
Safari Zoo Family Race
Now this was one big fun day for us.  Given the racing mania going on in our family and being huge fans of both the Singapore Zoo and Night Safari, it was a no brainer for us when it came to registering.  We hijacked Michelle's older son, whilst she was racing her Aquathlon, and together with our daughter we bought the 2 adults/2 children early bird family package for $152.  Joined by good friends it increased the fun value to both adults and kids.
We tackled the 6km route beginning with the Night Safari.  The highlight was seeing animals that you wouldn't normally see during the day, such as the Malayan tiger, near-white Asiatic lions and Indian rhinos that look like they're wearing metal armour.  Half way through the race we crossed into the Singapore Zoo to finish off the rest of the race.
Whilst we took off together, it wasn't long before Justin's legs needed more speed and John had no choice but to follow suit.  Trini and I were left in the dust.  Not that it mattered.  We enjoyed every single animal pitstop which was enough of a rest before continuing on. By 3km Trini was struggling but her unfailing spirit kept her going with plenty of walking in between.  It took John and Justin just over an hour to complete and Trini and I an extra 10min.  To us adults their effort was unbelievable.  We were concerned that the length of the race would be too long but we were happily proven wrong.
Once the race was complete, medals collected and lunch devoured it was time to hit the wet play area for a couple of hours.  With their unwavering energy, we ran some more, splashed a tonne and lay beneath the jumbo water bucket that rained a tropical downpour.
As a family who likes to extract every ounce out of an event, we took the opportunity to visit the River Safari with our complimentary tickets from the race.  Needless to say by the time we all arrived back home some 10 hours later, we were all well and truly wrecked.
This particular race is a wonderful and well organised event for families with children.   Three zoos in one day, wet play area, race tee, medal, zoo towel and carnival for $38 each (early bird); that's what I call value for money.
* Little League is a parents organised sports games held in our condo.  Team Costa is training its next generation of athletes of which two of its members, Trinity and Justin, feature in this blog.