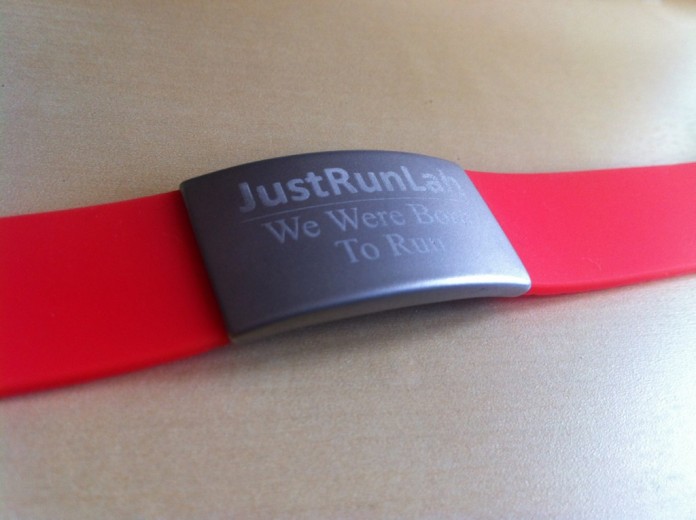 Sports wristbands: The new trend!
Judging from the recent goodie bags that have been distributed during the Under Armour's Burpees Challenge, Oakley's "Test With the Best" event and also, this year's Standard Chartered Marathon, it is clear that wristband is one of the trendiest sports accessory now. In fact, it has already been one of the top sports accessories for several years due to not only its convenience, but also, the myriad of vibrant colours that it can be offered in.
On top of that, to enhance the uniqueness for everyone's wristbands, customization and personalization services are available for them too! You can either have your name, your favourite quote or even, your race timings carved onto your wristband. Yet, despite its attractiveness, if one still finds that your wristband is either not unique enough or, it is not fitting enough, do not worry, Sleektag is here for you! As suggested by its name, Sleektag, unlike a normal simple wristband, has a metal tag clipped onto it. Besides having encapsulated all the functions and attractiveness of a normal simple wristband, it has more functions and sizes. I was fortunate enough to be able to get a Sleektag Lite S to test out its functionalbility, comfort and so on for my trainings for this year's Standard Chartered Marathon.
Good for all sizes!
Having a small wrist, wearing a wristband can be a hassle for me. Most of the time, the wristband would either be sliding off my hands or, would be stuck around my elbows. Yet, not wanting to be left out as one of the trendy sports people, I still do wear them for fun and sporty events. Fortunately, Sleektag offers me a wide range of sizes. I managed to get one- Sleektag Lite S, for myself and I have to say, it is one of the most comfortable hand accessory I have ever worn whilst exercising. For those with larger wrists, do not fret! Sleektag offers Sleektag Prime, which has an adjustable silicon band. It mimics how watches are worn.
You might say that you do not care about style when you are exercising so there is not a need for you to get a Sleektag. Yet, what if it aids your health too? Sleektag offers Sleektag Power which helps in blood circulation, alleviating pain and also, fatigue. Not to forget, it contains negative ion, tourmaline, far infrared ray and so on.
Stay motivated.
Besides, from my experiences, I feel that Sleektag can also add as a convenient source of motivation for your marathons. How so? Sleektag offers you the service of carving your own quotes or even, nicknames, onto the metal tag that is clipped onto it. In my case, I have carved- Sore today, Strong tomorrow. During this year's Standard Chartered Marathon, it acted as a great source of motivation for me as whenever I felt like giving up, all I had to do was to catch a glimpse of the quote that was carved onto my Sleektag to recharge myself for another few kilometres ahead. With Sleektag, you do not need any motivators to encourage you to push on for the marathon, you do not need any music to distract yourself from the pain you have gotten from the marathon, you do not need any nice scenery to make your marathon easier. All you need, is Sleektag.
Stay safe.
Not to forget, Sleektag can be really handy for emergency purposes. If you want to prevent your kids or pets from going missing in a crowded area, all you need to do is to carve your address, your contact number and so on onto his/her/its Sleektag. This will allow passers- by to bring your kid or your pet back to you safely and quickly. If you are worried about losing your item, you can grab yourself a Sleektag Grip. Carve your address and contact number onto it and attach it to your valuables so that they can be returned to you if anyone finds them.
Anyone would have thought that such an item that is focused on personalization and customization would be expensive. Yet, Sleektag proves you wrong. Ranging from 15. 90 SGD to 35 SGD, Sleektag proves itself to be more than affordable.
With its wide range of sizes, its variety of colours and its varied functions, Sleektag is a fashion item that proves itself to be more than one. I will definitely get one for my family and friends and would confidently say that this is one of my best buddies for my trainings and marathons. So, stop hesitating and grab one for yourself or friends and family too at sleektag.com!
This post is sponsored by SleekTag.