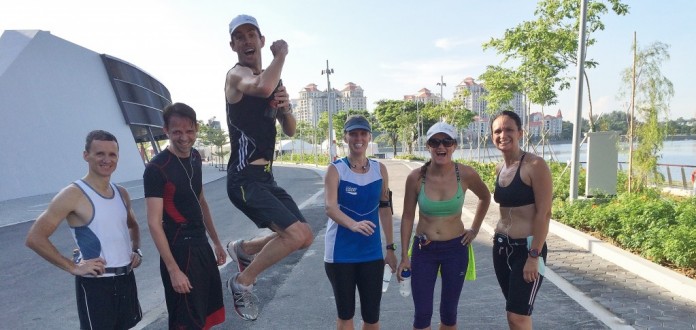 Following my blog on the Evolution of Team Costa, the team had its first run out of a planned series of ten routes. Born out of a CNN Travel article entitled 10 Best Places to Run in Singapore that covered popular sites like the Green Corridor, MacRitchie Reservoir & Keppel Bay, the team figured it would be a great monthly outing as a group as opposed to our individual training sessions.
First one off the rank was the Kallang-Tanjong Rhu 8km loop.  A terrific morning, we took off at 7.30am from the Bedok Jetty via the East Coast Park and cycled to Cafe Melba where we locked up our bikes.  Geared up with music and good company, Michelle, Chris, Stan, Veronika, John and myself headed west towards Tanjong Rhu on the south side of Geylang River.
Maintaining a steady pace we carried on until we reached beneath the ECP and then scrambled our way up the stairs to get onto the ECP footpath where we were met with a brilliant view of the Singapore Flyer, Marina Bay Sands, Gardens by the Bay and the CBD itself.  It was hard not to appreciate and a five minute stop for some group selfies was in order.
Chris was the route organiser, so for me a run on the ECP itself was a terrific surprise.  I enjoyed every minute of it.  The morning sun was just right, the traffic was sleepy and I was grateful for dragging myself out of bed on a Saturday morning to experience and absorb it all.
Getting off the ECP was not as straightforward as getting on since the stairs to get off came to a dead end.  It basically went nowhere.  So we had to jump over the rail, climb down a grassy knoll, cross over Republic Avenue and essentially find ourselves beneath the ECP again.
Having reached the halfway mark, we made our way north-east towards Kallang Stadium.  Here a stretch of the run was alongside the Kallang Basin on a nicely paved footpath until we reached Nicoll Highway and climbed some more stairs.  Single file we continued our run towards the Stadium and lo and behold we ran into my brother who, whilst visiting from Melbourne, was off on one of his crazy 25km walks.
From here it was a home run.  We were more than three-quarters of a way through and some of us, namely me, quite sluggish and thirsty and hungry and wishing for it to end but still enjoying the torture session simply because I was outside, with my friends and exploring Singapore in another way.
The final stretch took us from the Stadium on the north side of Geylang River to the Tanjong Rhu Suspension Bridge where we crossed and I stopped for a couple more pics.  The view was fantastic.
As the final kilometre stretched before us, I'm fairly certain each of us were thinking of breakfast, coffee and lots and lots of water (a beer might have been on our mind but it was still only around 9ish am).  As we reached the end Stan departed to nut out some work related issues and the rest of us toddled off to Cafe Melba for food and water.  We clocked up 8km in about 52min.
It was a great start for the Team Costa Series.  Not too complicated, not too far from home and you could say a mini duathlon in reverse since we had to cycle home.
I think most of us were in auto pilot whilst riding, I certainly remember struggling with my quads and thought at some point they will just lock up.  Funnily enough we had to ride past an actual duathlon that was run by the Metasprint organisers.
This run took place late November.  With the festive season and way too much indulging we agreed to reschedule December's event.  The January, Singapore River-Marina Bay event took place on Sunday and a blog should be posted in a couple of days.  With 10 participants it turned out into a great event and yes, we had beer this time.  Stay tuned.  Cheers.