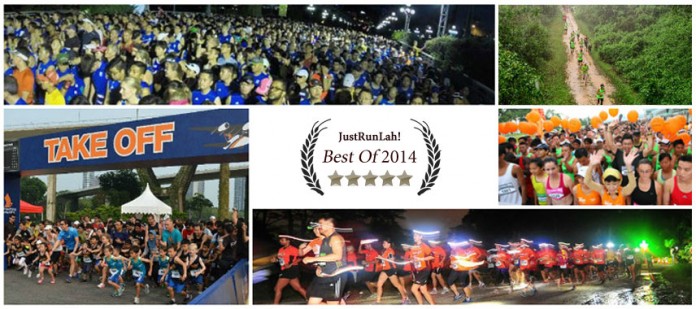 And the winners are…
For our selection process, please refer to our introduction article on the series, Special Edition: JustRunLah! Best of 2014.
In Part I of the Best of 2014, we present to you the winners of the following categories:
Best 10km Run
Best 21km (Half-Marathon) Run
Best 42km (Marathon) Run
JustRunLah! Best 10km Run 2014
With an excellent overall race experience rating of 4.2/5, these 3 races are on par as the Best 10Km Run of 2014, namely the Great Eastern Women's Run, NTUC Income RUN 350 and Yellow Ribbon Prison Run.
Great Eastern Women's Run 2014 took place on 9 November and was flagged off from the Float @ Marina Bay. Race reviewers were most satisfied with the race day expo and activities. This race event offered complimentary race day photos of every participant which are downloadable online by entering their unique bib number or name on the official site, as well as fun fringe activities such as Tupperware cooking class, body combat and fitness training classes at affordable rates. It is no wonder that Asia's largest all-women race is such a highly-anticipated event each year, where women get to enjoy special bonding moments with their family and friends while keeping fit, healthy and empowered.
NTUC Income RUN 350 was flagged off from the F1 Pit Building on 27 April and this event fared best in areas of route planning and runners' entitlement. The entitlements for participants included a Race Entry Pack that had multiple food and beverage items, Brooks Running Singlet and an environmentally-friendly finisher medal, which was made partly from recycled materials. Despite the cancellation of the 21km event due to the unforeseeable wet weather condition and channeling the 21km category participants into the 10km run, there were no signs of congestion or overcrowding along the race routes and the event organisers provided clear and efficient communication via SMS and internet to participants regarding any updates on the actual race day. As such, the success of this race event is credited to the commendable race route planning skills, responsive and efficient event organisers in adapting to challenging situations and not forgetting the helpful and caring race volunteers who sheltered participants with umbrellas from the heavy downpour on the race day.
Yellow Ribbon Prison Run took place on 14 September at Changi Village. This race differentiated itself from the rest with its unique race route featuring several historical sites in the Changi area such as Johore Battery, Changi Chapel Museum and Old Changi Prison Wall.  The race journey reflects an ex-offender's path of reintegration into society, with the race finishing line strategically planned on the route leading from the conserved old Changi Prison Gatehouse to the new Changi Prison Complex. This meaningful race event managed to raise a total of $130,000 for ex-offenders, allowing them "to pick themselves up and to get back on track".
JustRunLah! Best 21km Run 2014
Topping the charts of the Best Half-Marathon of this year include the 2 of the winners for Best 10km Run – Great Eastern Women's Run, NTUC Income RUN 350 (see previous category), and the 2XU Compression Run.
The 2XU Compression Run took place on 2 March and was flagged off from Nicoll Highway and has been raved about by many participants for its hydration resources and runners' entitlement. According to Type A, B or C, runners were able to receive multiple 2XU sports apparel including the original 2XU Dryfit Run Singlet, Limited Edition Running shorts, Compression shorts and Visor, which made the slightly higher-than-average race rates totally value-for-money. Clear distance signposts, picturesque landmarks along the race route and comfortable running areas were also some memorable moments the race participants experienced from this event.
Furthermore, the hydration provided was sufficient and enjoyable as the organisers were seen handing out more than enough chilled water and isotonic drinks for every runner along the hydration stations which were appropriately distanced to ensure that runners are properly hydrated throughout the entire race. The refreshing cold towel, amongst the food and drinks provided upon race completion, came as a pleasant surprise to many and was a thoughtful gesture worth applauding the 2XU event organizers for.
The Great Eastern Women's Run had an exciting and fun-filled race day expo and activities that gave female participants and their families and friends great bonding opportunities and shared moments worth reminiscing. Snapshots of all race participants putting their best feet forward during the race are available for download from the official website by entering their unique bib number or name. Runners were also rewarded with plenty of post-run benefits such as delicious food and beverages and mass workouts kept race finishers up on their feet as they wait for their fellow race buddies to complete the half marathon. With each aspect of a race event such as capacity of amenities, pre-race logistics, route planning, hydration and runners' rewards well-managed and taken care of, this event gives every woman a race she truly deserves.
The half-marathon event for the NTUC Income RUN 350 had to be cancelled due to heavy downpour and thunderstorm during the flag-off time. That decision did not come easy and organisers were praised for their timely updates on the flag-off time for the 10km event and all 21km runners were entitled to join in the 10km race as a 'fun-run' without an official race timing. The wise decision resulted in an enjoyable and comfortable race with no signs of overcrowding along the well-planned race route. Runners' entitlement included a generous race pack filled with food and beverage items, a finisher's medal partly made from recycled materials which was in line with their aim to create environmental awareness and massage area for the well-deserved race participants. Kudos to the volunteers who sheltered race participants from the heavy rain and the responsive, efficient race event team for giving the disappointed runners a pleasant race to remember.
JustRunLah! Best 42km Run 2014
The 2XU Compression Run on 2 March 2014 was highly-rated by participants as it had outstanding ratings on the hydration facilities and fared well in other aspects of the race including the amenities, runners' entitlement, route planning and race day expo and activities. The run had 3 events: 10km, half-marathon and full marathon and was flagged off at Nicoll Highway.
Firstly, participants were very satisfied with the generous supply of water and chilled isotonic drinks and the strategic positioning of the hydration points. As such, runners were all well-hydrated and energized for their run under the scorching heat. In addition, the distance markers were clear and visible from far such that runners were able to know the distance they have covered, when to make turns and hence kept them on the correct running course and direction. Restrooms were located at convenient places that were not too far apart. Also, muscle rub stations were seen along the race route as well to provide muscle ache or cramp relief. Another thoughtful inclusion by the organisers.
The well-planned race route resulted in a smooth run for most as there were little or no congestion experienced. The starting point was wide enough to prevent runners from blocking one another and despite having the 21km and 42km runners utilizing the same route at parts of the race, there were no bottlenecks or overcrowding. As such, it was a safe, enjoyable and scenic run for participants along the route that features the majestic Singapore flyer, Marina Bay Sands and other iconic infrastructure of the Singapore skyline.
Furthermore, the finishers enjoyed numerous welfare provided by the organisers including a banana as a post-run fuel, Pocari Sweat Isotonic drink and a refreshing cold towel. The cold towel came as a surprise to many and served as a great cool-down essential. As for the race pack collection day, there were no signs of long queues or waiting time and the event staff were efficient in their services.
Runners were entitled Original 2XU Dryfit Run singlets, exclusive finisher medals, limited edition 2XU running socks, visors and compression shorts, depending on the Type they participated in. An E-Certificate is given to all participants and finishers' tee were given to half and full marathon runners as well.
Overall, it was an enjoyable and satisfying marathon event for most runners because of the well-planned running route that resulted in a comfortable run, pre and post run welfare and activities that left a wonderful memory for participants to join the race again the next year. If there was one thing to nitpick on, some runners suggested a later flag-off timing for the full and half-marathon because 4am and 4:45am is slightly dark and the limited vision might result in possible injuries as road hazards might not be visible despite additional lighting provided by the organizers.
Click here for Part II: Best Cross-Country Run / Best Fun Run / Best Charity Run
Click here for Part III: Most Used Apparel: / Race with the Most Unhappy Runners / Race with the Most Happy Runners