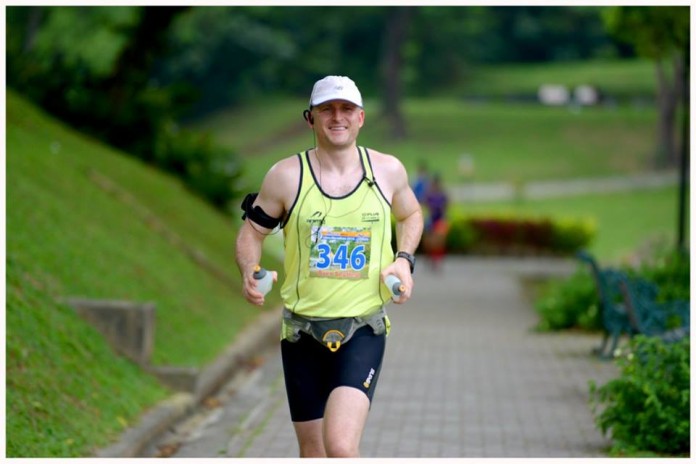 First 2015 Race for Team Costa
Team Costa has had its first race for 2015, solely represented by Sven Seyffert.  No better way to kick off the new year than by entering the MR25 Ultramarathon.  Held at Macritchie Reservoir the race is only considered finished when the participant completes 5 laps of 10.35km each, totalling 51.75km.  The winner is the person that completes the most laps within the race's 12 hours period.
Whilst we considered Sven a little crazy, he is no stranger to challenging races having completed the SAFFRA half-marathon, SCMS marathon (x2), the Newton Challenge 32km (x2), North Face 100 (50km version), and the Twilight 16hrs Ultra where he knocked up 80km as a spur-of-the-moment walk-on almost three hours after that race had started.
The Event Organiser
The MR25 is organised by the MacRitchie Runners 25, a Singapore registered athletic club.  Little information can be gleaned from their website but what I gather is that the club focuses on progressive runs and time trial sessions around MacRitchie Reservoir.  To qualify for a club membership one has to complete 5km time trial (4.6km for ladies) in under 25 minutes on a cross country course.
The Event Location
MacRitchie Reservoir is a lush 12 hectare park surrounding one of the oldest reservoirs in Singapore.  A terrific location for cross-country races, trail trekking and nature enthusiasts, MacRitchie is rich in native biodiversity and creatures such as the long-tailed Macaques, funky little monkeys who can either be friendly or snatching (so mind your goodies when around them).
The running route is a combination of boardwalk and trail paths, and each lap consists of a total ascent of 66m and maximum elevation of 70m. No easy feat for any participant especially for 50+ km.
The Race
On a pleasant sunny Sunday morning, over a poolside coffee Sven was quizzed about the race, his preparation, his mental stamina, his physical management and overall experience of the race.
And here's what he had to say:
Me: Your last race was the Standard Chartered Marathon.  What further training or preparation did you engage in for MR25?
Sven:  A hectic work schedule and forthcoming festivities limited my ability to undertake a rigorous training session.  The most I managed was a 21km run and 44km bike ride.  Instead I focused on hydration and nutritional preparation a few days prior to the race.
Me: This isn't your first Ultra but I am a relatively new runner.  My question is how did you manage the mental stamina to keep you going for 7 laps?
Sven: My plan was to break down the event into small manageable chunks.  I focused on one lap at a time by aiming to do something different for each lap, thereby giving me something to look forward to.  For instance, I chose not to listen to any music on the first two laps.  I spent them listening to my body, my breathing and admiring my surroundings.  MacRitchie is a beautiful nature reserve and easy to appreciate.
As the third lap was approaching, I was looking forward to switching on my music and by the fifth lap my wife joined me and got me past the minimum 50km requirement.
At this point I could have stopped, collected my medal and finisher tee but I still felt strong and in the zone.  I was also well fed and hydrated and figured why not another lap.  Off I went and two laps later I happily crossed that finish line at 72km in 10:58hours.
Me: It's not unusual for participants to undernourish their bodies or rely on water stations only for hydration.  How did you manage your breaks, hydration and sustenance?
Sven: My initial breaks were a bit slow with one of them taking 28 minutes.  Unfortunately I underestimated the weather.  The food I had frozen overnight, so that it would remain cold during the race, didn't defrost in time for my earlier breaks.  I lost too much time hacking away at it trying to get some sustenance into my body, followed by hydration, insect repellent, suntan lotion top up, and bathroom pit stops.  On the other hand this gave my legs plenty of rest and allowed me to pace myself to minimise cramping and/or injuries.  On the upside, I managed to get better with each break and reduce the last one to a mere 7 minutes.
Quite often you could end up injured as the muscles seize up from lack of electrolytes in the body.  My strategy was to carry two small bottles that I would drip feed during the lap and top up at the hydration stations.  To get some variation from all the Pocari, I used berry flavoured electrolyte tablets at the start/finish point.  All that kept me hydrated and my legs free of severe cramps.
In terms of sustenance I indulged in bananas and my own homemade frozen smoothie that I would spoon a few mouthfuls at the end of each lap.
Me: How did you feel physically throughout the race?
Sven: After the first 10km, my legs felt really heavy and I doubted that I would complete the course.  As I worked my way through the second lap, my legs didn't get any worse which encouraged me to keep going.  At around lap 6 my left quad and right hamstring were starting to slightly cramp but it was manageable and didn't seem to get any worse.
Quite surprisingly my fastest lap was the last one (the 7th) where I even managed to run one part of the loop at a 5.46min/k clip during a state of runner's bliss.  I finished this last lap in 74 minutes.  Had I not lost so much time during my early breaks I would have been able to complete another lap but with only an hour left, I knew it wasn't long enough.
Me: This was your first MR25 experience and I'm sure you've learnt a few things that you would do differently.  What would that be?
Sven: The frozen food was my biggest problem that I could easily rectify by having a refrigerated container for the first half and a frozen container for the second half of the race.  I won't be spending any time hacking and losing precious minutes.  Ideally, I also segregate my hydration and meal needs into individual packages so I minimise how much time I waste rummaging through my bag finding things.  The same with the individually wrapped electrolyte tablets that I struggled with at times to take the plastic wrapping off due to sweaty/greasy hands.  Getting the plastic tube version makes dispensing much faster and easier.
Me: What was your view of the event organisation?
Sven: The event was fine.  Perhaps the organiser might consider better signage at turning points.  There were marshals along the way for the first two laps but if a competitor was unfamiliar with the route and in the zone, he/she ran the risk of missing a turn, losing valuable time.
Me: What was your overall experience?
Sven: This was my first MR25 and overall it was a good race.  I was happy that I suffered no injuries and managed more than the minimum requirement.  I think the way I managed my hydration and rest period helped minimise cramping and fatigue.  I would however, refine how I organise my bag and the format of my breaks in order to make it more efficient and reduce time.  Needless to say, it would be helpful to actually train for this!  Running just once during the month leading up to the MR25 and having done only one other trail run in 25 years is utterly insufficient to maximize performance and minimize the risk of injury.
Me: Would you do it again?
Sven:  At first, I didn't think so but now that I am rested and reflecting on the experience, I can't wait for the next crazy run…
Thanks Sven, for your time.  It's always fun talking about your racing experiences, nutrition and overall sporting activities.
As the year gains traction so does Team Costa with a full schedule of running and cycling races, triathlons, aquathlons and obstacle courses.