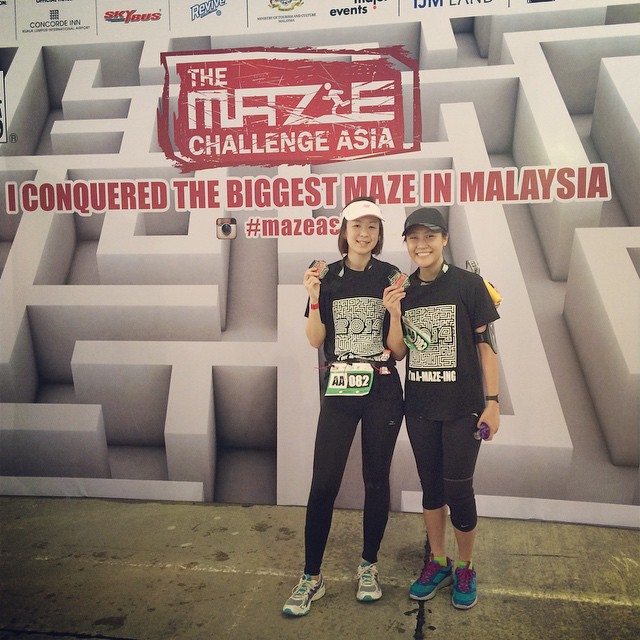 Getting to the event
Both Dudi and I took a coach bus from Singapore to attend the inaugural Maze Challenge Asia which was held at Sepang International Circuit on 29-30th November 2014.
The Maze Challenge Asia was a world's first running event that featured a giant complicated maze with physical obstacles in its course. It was more than your usual race, offering both a body and mind workout, through visual perception, coordination and critical thinking!
We had the privilege to stay at Concorde Inn KLIA over the weekend and had our carbo-loading sessions with buffet lunch and dinner at the Melting Pot Cafe.
Strategising
Even though we had to wake up at 5.30am for breakfast, both of us were excited over this race and we secretly hope that we can win a place in the top 10. We brainstormed several ideas to help us navigate through (e.g: using compass, etc), but after all, in reality, we just kept running aimlessly along with other participants! =p
Time to run!
Our race slot was for Sunday, 30th November. At the race venue, there were booths providing free drinks from chocolate milk to reviving isotonic drinks! The race was flagged off at about 7.35am with several other awesome participants in great hype!
Want to get an idea of how it was running the maze? Check out this video we took!
Obstacles
1. 'The Crawl'
The race started with us crawling under wires on a slimy floor and getting slightly drenched from water sprinklers.
2. 'The Climb'
My pearl izumi gloves certainly came to good use! With the encouragement and advice from the helpers at the tip of the inverted V-shaped structure, I conquered my fear of heights and completed the obstacle in a piece. From my vague memory, I think this was slightly higher than 'The Highrise' from Run For Your Lives. I hope the race could end after this, but this was only the beginning. :p
Managed to take photos of my buddy before climbing and while she was descending from this tall inverted V-shaped structure.
3. 'The Dip'
Next, we came to a big pool of cold freezing water. There were tyres hidden in the water and I unknowingly slipped on some of them.
4. Maze
Finally, the maze appeared right before our eyes. The maze master told us to choose one of the four entrances to enter. We randomly chose the second one and dashed in.
After walking around for 10 minutes, we realized that we were going in circles as we reached the same hydration point for a few times!
Luckily, we bumped into other participants and we managed to find the exit door together! After which, there were another two more obstacles such as muddy trails and climbing before we approached the finishing line.
Lastly, a big thank you to the race organizer, Concorde Inn KLIA and JustRunLah! for this a-maze-ing experience in the largest maze ever, and my travel buddy Dudi for completing it with me! =)