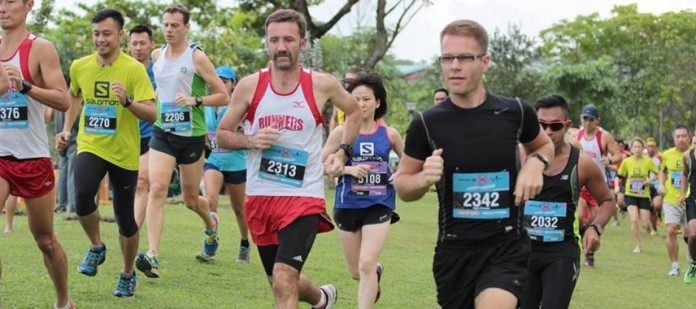 A quick review of this year's installment of the Salomon X Trail Series.
I did this in 2012 just after I arrived in Singapore. As with this year, it was during November, and as with this year I was supporting 'Mo-Vember'  and sporting a fine (thats my opinion, not shared by most of my family) moustache.
In 2012 the event was at Tampines Mountain Bike Trail (not sure if that was always the home of this race – perhaps Singapore Running Historian Reawakened Runner can advise 🙂 ? ) But that was a proper trail, mud, jungle, streams, roots and all. I remember that it was tough. (Funny annecdote – here's a pic of me at 2012 Salomon – see that guy running just in front of me? Didnt know him then, but he's now one of my main 'Running Kaki's'  we only realised we both ran this race and were running so close about 2 months ago – SG such a small place – especilly in the Running Community).
Fast forward to 2014 and the run has been moved, since Tampines Mountain Bike Park has been/is being demolished. I wasnt going to enter, but Lexus from F1 persuaded me and so I put an entry in.
I am now in the final run up to SCMS in two weeks time, so my plan for yesterday was a final hard/endurance day – Park Run 5k in the morning, and X Trail in the afternoon. 15k in total, all at race pace. Decent final hard workout before the taper begins.
Park Run was good, ran the whole thing with Ben, including re living our own Coe vs Ovett moment in the last 200m, lucky for me Coe had an off day and my Ovett reincarnation won the sprint finish. Stuart had already won the race by about 2 minutes, but I was very happy to come away with a PB of 18:31 and a rare win over Ben!
Part 1 complete, now to see what impact that exertion would have on my 10k performance in the afternoon.
Punggol, never been here before. A fair drive up the TPE and I arrived around 4.15 with Shug, my race buddy, who is recovering from an ITB case and will use this run to test out his knee.
Race Village is in a really nice setting, with a broad expanse of Park and Pulau Ubin visible in the distance.
Great organisation and fairly low numbers make the whole bag check, toilet visit and line up very simple and we flag off ontime at 5pm.
First section is in the park and through a sort of building site, then we are out onto the boardwalk for abbout 5k. This is 1) all wood and concrete 2) a lovely place to run and 3) not very trail like! but I am ok and enjoying the run, shug is ok at this point also and we go through 5k in about 21mins having spent about 800m off road!
Loop back at the end of the boardwalk and head back towards the finish, still on the Park Connector, Shug can feel some pain so he's eased off, I'm feeling pretty good, so I push on and overtake a couple of guys heading into the last 3k.
Surely there must be some trail coming some time?
Finally, we turn off up a bank and into the woods – finally we get 1500m or so of hardcore trail, there's no path, just the flattened grass of the few runners ahead, we're running along a ridge through the trees – I have a guy just behind me who i overtook going up the hill and so we have a good 7-8mins of racing through the jungle – most fun part of the whole race.
We emerge from the jungle, run under the MRT line, and then climb the hill I saw from the start line, along the ridge again and back down hill for the final blast to the finish. My jungle trail buddy and I go head to head all the way through the last 3k in some great old fashioned racing and we finish together in just over 43 mins.
Course Route Map and KM Splits courtesy of my Garmin Fenix 2 and Strava:
Lexus later confirms I finished 10th, sadly no MAsters category and prizes for top 5 only (I would have been 4th masters/over 40 if there had been), but I am very happy with the run, with how good I felt in the second half and with my overall effort for the day of 15k in 1 hour and 1 minute.
Nice atmosphere post race, I'll say again, this is a great spot to start/end a race – hopefully we will see more events moved to this beautiful part of Singapore. I will certainly sign up the next opportunity I get.
In Summary, this was a great race, well organised, pretty good marshalling and hydration, nice items in the race pack –  only two negatives for me really, being 1) on the hill down from the trail there was a turn which wasnt flagged – me and my race buddy overshot it and had to turn back after going 50 m in the wrong direction and 2) the very small amount of actual trail – for me this was fine as I am just as happy road running, but I can imagine a pure trail runner wouldn't have been so happy.
If I had bought a pair of $200 Salomon trail shoes to do the race in I would have felt a bit mislead!
So now I am going to start my two week SCMS taper, eat loads of pasta and drink a tonne of water, hopefully I can get it right come Sunday Dec 7th and hit my target.
Good Luck to everyone in the same position, hope you can ahieve your goals and have a great race.
Happy Trails….