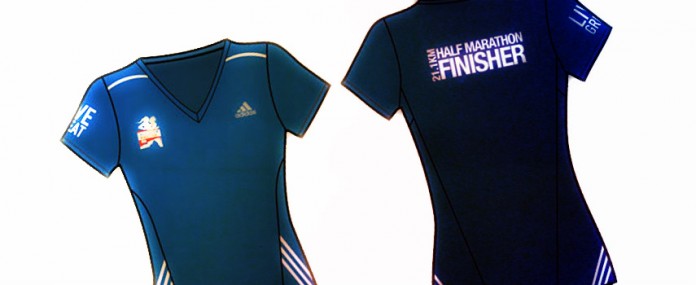 Completed my first ever half-marathon!
My unofficial timing is about 2 hours 30 min which is what I aimed for. I am happy that I am able to complete and reach my goal timing for this half-marathon but I am sure that I can do even better in the future races.
Before the race
It was raining the night before the race and I thought that it is good as I assume that it won't rain on the day of the race. But who knows that this rain is so persistent. As we waited in the start pen, the drizzle is getting larger and larger and thus all of us, the 21.1 km runners together with the overseas and elite runners started the run in this cold and wet weather.
First 7 km of the race
The elite runners were flagged off first and after about 2 min, we were off to complete the 21.1 km GE Women's Run 2014. The pacers from Running Department were very visible with their balloons that were attached to them. I started off overtaking both the 2:30 and 2:20 pacers as I know that I will slow down as the race continues. The rain did not bother me as much as I have my cap to block off the rain from my face. Although I still have to take note of the puddles on the road which I did stepped into it a couple of times. I think I started off at a really good pace and the pace was actually faster than my usual runs. I believe that running in events like this always spurs you to run quicker and perform better. This first 7 km is manageable and I am feeling really great despite the rain which lasted about 30 min into the run.
Next 7 km of the race
This is where it gets difficult. Luckily I did put on some yoko-yoko before the race and I could feel it heating when my muscles are started to feel the strain. At about the 9 km mark, the hydration point was giving out the Maxifuel Viper Active Gel. It was stated in the map that they are giving it out at the 13 km mark but I am grateful that it came earlier as I think that my muscles were going to cramp soon. I got the Lemon Lime flavour and it is really nice and easy to eat. I tried another type of energy gel which is of a jelly consistency that is harder to consume as compared to this liquidy  Maxifuel gel. After having the gel, I felt that I have more energy to continue with my race (maybe is just mental, but whatever). However, due to the lack of training (I think), my energy quickly diminish.
Last 7 km of the race
The pacers were very enthusiastic and have really high energy. They were shouting loads of encouraging words and push us runners to run and continue. As my pace slowed down, I am able to hear them catching up to me. Every time when I hear them, I started to run a little faster till I can't hear them. This goes on for a couple of times until I finally do not have the energy to continue with the 2:20 pacers at the 15 km mark. At this point onwards, it is again a very familiar road that the Puma Running Club usually runs at when we have our runs at the MBS area. It is also at this point that my feet starts to hurt due to the fitting of the shoe which caused me to have blisters on my arch. I need a new pair of shoes! There are loads of photographs and supporters at this last stretch of the race. I struggled to complete the race with my blistered feet and burning legs. I stopped a couple of times but almost always get back running as more and more ladies passed by me. Finally, at the last km of the race, I started to increase my pace on the Esplanade bridge. However, at the midst of it, my toes and hamstring starts to tighten up and I can feel a cramp coming up. I was forced to slow down my pace till I reach Esplanade and finish my race with an unofficial timing of 2 hrs 30 min =D
Post-run
There are loads of food provided for the runners after the run like Nandos, Subway, chocolate milk and many others. They even have True Fitness to lead a mass workout Sh'bam while waiting for the rest of the 21.1 km runners to return. By the time I return, the 10 km and 5 km runners have started their runs.
Congratulations to all ladies who completed the runs. And to all who achieved your PBs, good job!
Also to all who are like me, first timers in a half-marathon event, LET'S DO IT AGAIN!
-runforfun.justrunlah-