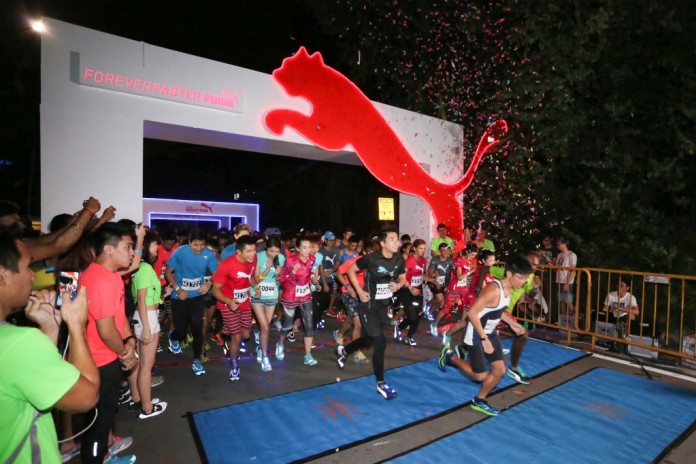 Puma Night Run first event in Singapore, Saturday 1st November, 2045 flag off at Sentosa.
This race ended up in the middle of a very busy racing weekend for me. I ran the Stadium Run at the Singapore National Games on Saturday morning (4.4k), good news there – I was able to hang on for 7th Master and F1 Runners masters mens team won the team event. Then on the Sunday I did 4×400 masters for F1 at the same SNG event, here we managed to grab Silver, but definitely confirmed that none of us is 'track fit' any longer. We joked with the winning team (proper sprinters) that next year we would take them on over 4 x 5k ! 🙂
So, with those races going on, I decided to try a new way of running an event in Singapore – I decided to 'Just Run Lah'. A few of my fellow 'Mount Sinai Striders' were running, so I planned to pace my mate 'Scouse Pete' to a sub 50 pace. At the same for this event, I would do all the 'fun' stuff that I never normally do at races to get into the 'Puma Night Run' vibe.
VIP treatment
I was very kindly given a free slot at this race by Puma courtesy of this blog, which was awesome. Joshua from Puma's PR company Mercury MC met me at the VIP Registration Desk and took me around the race showing me all the various activities and ideas Puma had put together for the run. Wavestation at Siloso Beach makes an incredible Race Village, the beach club vibe fitting really well with the overall 'cool' of the event.
Josh explained the event was capped at 3000 runners, due to set off in two waves and it had been a sellout. I arrived at the village around 7.30PM and the place was already buzzing. I dropped my bag in the VIP area (haha! I am going to keep saying VIP throughout this blog, cos it doesn't happen to me very often) [editor's note: see? we like saying it too, we even used it as a heading for you :D] and headed into the village to drop off my lucky dip ticket, get a temporary tattoo and grab a handfull of glowsticks to decorate my shoes and make a lovely glow necklace(!).
These are all things I never ever do when I am racing, so it was kind of fun to get into it all. I would have got an Instagram pic taken, but the queue was way too long for my low boredom threshold. So I went back to the VIP (sorry / notsorry) area to see what was going on.
Joshua told me that there were a group of (real) celebrities who had been chosen by Puma for a running bootcamp over the previous 6 weeks – they seemed like a nice bunch,who obviously are enjoying their night and seem to have a great team spirit. Since I'm an old guy I dont know who any of these people are, but judging by the number of runners who are crowding around the VIP area for a look at these guys, they are very popular!
(Blog update – the Puma Night Cats are : Tabitha Nauser, Darius Chia, Kimberly Chia, Mahdir Mustaffa, Gavin Teo, Vivi Yeh & Justin Vanderstraaten)
Two enthusiastic MC's introduced the famous people to great applause on the stage at the Wavehouse and everyone seemed to be having a great time on a warm, clear evening on Sentosa. The lighting is uber-cool, the music is loud and all the beautiful people are here.
After my Newton Challenge experience last weekend I went early to the start pen so as not to end up in the second wave. It's about 400m further down the road towards siloso beach and it's also looking awesome. The whole beach front road from Siloso to Tanjong Beach is closed off for the run, giving it a real professional event feel. I join the start pen, meet my mates and wait for the flag off.
Plan with Pete tonight is to run around 5min/k's to get him somewhere in the 49-50 mins zone. We know there are a few hills on the route, but we'll try to stick to the pace as best we can.
Flagg off!
Flag off at 2045 and we are off up the road, feels great, with a nice crowd and enthusiastic support from the bars and restaurants along the first km section towards Beach Station. The course is well marshalled, well lit and plenty wide enough for the number of participants.
We make a solid start and we're on pace through 4k when we turn just at Tanjong Beach Club, we then hit the first climb up the hill to the golf course (seems a lot less steep when I am driving up there!), the course takes an interesting route them through a buggy tunnel at Seranpong and loops around the Telecoms Station. It's very quiet here, but well lit and a good route decision.
Back onto the main Sentosa road for the last 4k home, we steam down the hill back to Palawan beach and push for home. I told Pete the golf course hill was the last one, but I forgot the slight incline up to Beach Station, so we push up there, still more or less on our pace, last 1500m has a real 'big race finish' feel about it so it's easy to find the extra strength and motivation for a final burst over the line. We're all done in 50:14 and feeling great. Meet the volunteers at the finish line for a banana and a nice cold bottle of water, collect our medals and the team re groups.
Shug (my regular racing buddy) was racing this one, he finished 6th in 39:17, so he's very happily wandering around with the '6th place' lanyard around his neck, Shaun and Rob finished just ahead of me and Pete so we all wander back into Wavehouse together, our work for the evening complete.
The after-party
I head into the VIP area to pick up my bag, grab a shower and change clothes, there's a nice F&B spread put on in here so I grab a coke and some watermelon then head out to meet the boys for a well deserved beer and the essential 30 minute 'my race went like this' de-brief session.
We stick around and watch the presentations, Mens Race is won by a Kenyan guy in 31 mins (big respect), Womens is won in 44 mins, which is kind of surprising, but there are a lot of other events this weekend which I assume attracted the faster ladies.
The post race vibe is just as buzzing as it was beforehand so we stick around for a few drinks enjoying the atmosphere. One big plus of a smaller race size and a race village like this place is that you can get an actual seat to chill on, rather than sitting on the grass at the Padang, plus its late at night, it's a bit cooler, so it's very relaxing to sit, chat, drink and listen to the bands.
Reflecting on the evening now I can definitely say this was one of my favourite running experiences to date in Singapore. Usually after a race I am mainly thinking about my performance, did I go out to fast, did I go out too slow, should I have done this, should I have done that blah blah blah. But this time, I just ran, at a very comfortable pace, chatted to my mate (bugged the hell out of him throughout) and enjoyed the night.
It gave me an opportunity to see the event the way (I think) many people see it – less about the running performance, more about the overall experience – and I really enjoyed it. Puma got the balance right between sports/performance and fun/atmosphere and in doing so created a really special event. I'm really happy to have been part of the inaugural Puma Night Run and I'll certainly be back next year. I did hear that the regular baggage collection station was a bit chaotic (not sure why they needed to wrap all the bags in big white plastic sacks – sounds like they made it very difficult to spot identify each bag), but apart from that everything was well managed and executed.
Meanwhile, the competitive runner in me returns and next time out I'll be fretting about seconds, splits, when to push, breathing patterns and all the other rubbish that usually occupies my mind when I'm running.
Happy Trails!