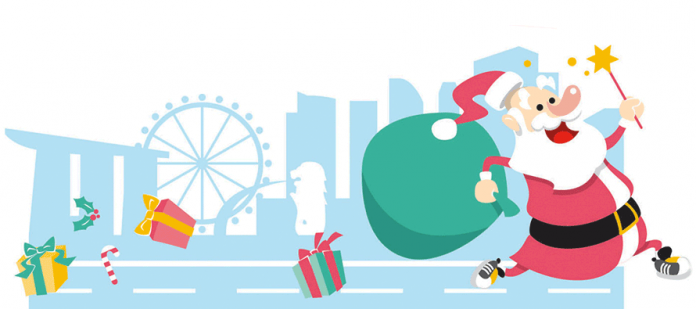 Santa Claus is coming to town!
Thinking of the best Christmas gifts to get for your loved ones, flipping through catalogues to decide which is the prettiest and tastiest logcake, decorating a Christmas tree- Yes, those are what many people do to kick off their preparations for Christmas. Yet, this year, you get the choice of starting of your preparations for Christmas in a unique way. In fact, it is one of the healthiest and most charitable ways to kickstart your Christmas preparations too!
Santa Run for Wishes 2014 will be held at The Promontory @ Marina Bay on the 29th of November 2014 from 4pm to 10pm. There will be 2 categories for this run for both adults and children- 2.2km and 5km. For adults, the race fees are going at 58 SGD for both categories whereas for children, the race fees are going at 38 SGD for both categories. Not to forget, every single cent and dollar of the race fees collected will be going to Make-A-Wish Singapore, which is an organization that grants the wishes of children with life-threatening medical conditions between the ages of 3-18 years. Isn't this one of the most charitable ways to kickstart your Christmas preparations?
Besides, you get to dress as Santa for the run itself! The race tee itself will mimic Santa Claus' costume and in each racepack, one will receive a Santa hat too! In addition, you can dress up as an elf, a reindeer, Olaf the Snowman and so on to enter in the Best- Dressed Competition. Most importantly, after completing the race, you will get to receive a medal that is modelled after a Santa Claus. Who can ever resist the Santa- filled goodies of this run?
More than a run
Looking at the title of this event, it is inevitable that many of you will be mistaken that the run is the only highlight of the event. Yet, this is not true. Besides the run, a spectacular carnival of more than 20 different family-oriented and fun-filled stations will be there too! Not only will there be food stalls, many game stations, ranging from archery fun shoot to bumper boat and even, bouncing castle, will also be available. You might think that only runners or the friends and family of runners can get to enjoy this carnival. Do not fret! Public can enjoy it too! The public just have to pay 10 SGD to enjoy the carnival. Children under the age of 3 will not be charged with any fees.
Be a Santa and bring a gift
Share in the joy of giving and bring smiles to another! All runners are welcome to bring a gift which will go to the beneficiaries of Make-A-Wish Singapore. The gift will be a wonderful surprise and make the children's Christmas extra-special. Feel free to be creative and bring along anything that you feel a child age 3 – 18 years old will enjoy. Our only request is that the items should be brand new. There will be a gift collection area at the race venue. Thank you for being an extraordinary big-hearted Santa this Christmas!
Sounds exciting? Cannot wait to be part of this joyful event? Eager to be Santa Claus? Well, stop hesitating and register here!
Hope to see all of you there!