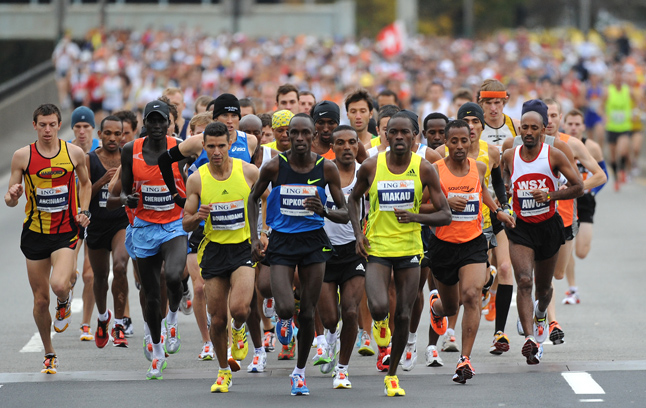 So, you registered for a marathon.
Faced with the challenge of running 42.195km all at once, you start looking up the web for marathon training schedules and shocked to see marathon training differing from one website to another.
Yes, the quote "one man's meat is another man's poison" is extremely applicable here.
There are runners out there whom prefer LSD (long slow distance) and swear by it. There are others who hold the belief in speed and dragging the speed bit by bit and endure for as long as possible.
There are some who believe base training on mileage is important while others believe speed training in off season comes in before acquiring the necessary mileage.
There is no right or wrong in terms of marathon training. What's important is that you believe in whatever you are doing and gains confidence seeing yourself progress through the different stages.
Disclaimer: I'm not a marathon elite and please take the following guide at your own risk. I've completed HKM twice at 3:3x:xx.
Introduction:
So you signed up for a marathon huh. 42.195, not 4.2km. For the regulars, the peak weeks trainings will come by and seemed far fetched at week 1 while for the beginners, you probably feel you regretted signing up for it. This is perfectly normal. Trust yourself and the magic shall unfold before you know it.
IMO, marathon training typically last for a minimum of 13 weeks, the more weeks the merrier. Have an aim. This is extremely important else you might lose motivation midway through the training. 3 months is not a short time considering there are some weeks you'll run some crazy distances. Now, realistic aim. If you have no idea what kinda aim to set, use your recent 10k and 21km timings. For example: My PB for half marathon is 2:00. The target for my full marathon should be 4:00 (aggressive) , 4:15 (achievable) , 4:30 (conservative).
Week to week mileage should not be > 10% overall mileage per week. This is crucial as you will soon understand 10% is quite abit during the peak weeks!
I believe in these workouts:
Easy runs
Tempo runs / Intervals
Long Slow Distance
Recovery runs
Easy runs are runs whereby you run easily at shorter distances. These distances ranged around 8-10km
Tempo runs are runs whereby you run at a pace thats hard but comfortable. You should not be able to talk but shouldn't be at a pace where you could feel yourself puking. For a start, tempo runs can be at marathon race pace and run faster as you get fitter
Intervals are runs at 5k/10k race pace on the track. Distance for full marathon intervals are recommended from 600m to mile intervals (advanced runners). Typically you should aim for 1km intervals when you get fitter.
Recovery runs are runs whereby you run at a pace that is slower than easy pace. The easiest way to describe that kinda pace is such as you feel relaxed, could chit chat, and felt better after the run. These runs are to aid your body in recovery.
Stage 1 – Preparation (3 weeks)
For the first few weeks, i try to ease myself into running regularly throughout the week. For beginnings, you might want to focus on running 3-4 times a week consistently in the first 2-3 weeks. If you are already running 3-4 times consistently, perhaps you should aim for 5 times a week. In my opinion pace is unnecessary in the first few weeks. The intention is to get your body to slowly adapt to the rigors of running regularly, at whatever pace feels comfortable to you. As you approach the 3rd week, you'll slowly feel yourself getting stronger and could vary your speed on different days. For example, some days you might feel like going faster, just go.Remember, these weeks are your HAPPIEST weeks of marathon training and you shall try to enjoy every run as much as you can. Its perfectly ok to jog through all your runs this few weeks, especially on days you feel sluggish, take a break.
I am a believer in guiding the mind to gradually accept that 42.195 is not as impossible as it seemed. Thus one of the runs in the week, preferably on weekends if you work regular hours, has to be a "long slow distance aka LSD".
LSD is a run whereby you run comfortably for long distances. The pace should be relatively comfortable but not at a pace where you could sing a song and jump around like a bunny, no. Perhaps on the 1st week, you might want to incorporate a 10km run on a saturday at easy pace, followed by 12km and 14km on the second and 3rd week. IMO this is the run that is crucial for your preparation of marathon training.
For me, i hold the belief that pace will eventually come on race day and can be ignored in these 3 weeks.
Stage 2 – Actual training (7 weeks)
After 3 weeks, your mind should be confident that you could run 4-5 times a week regularly. Now its time to have some structured training.
Sample 5 day workout table:
Monday: Rest
Tuesday: Tempo/Intervals
Wednesday: Recovery
Thursday: Easy
Friday: Recovery
Saturday: Rest
Sunday LSD
The crucial workouts here are the tempo/intervals and LSD. LSD gives you the strength to last he distance while tempo workouts trains you to run the speed you wish to achieve and gives you confidence as you're at it.
Week 4 which is the first week of stage 2, you could run say, a 8km tempo, 8km easy, 6km recovery and 16k LSD. The total mileage shall be 38km. Tempos could be switched with intervals. Typical workouts include 800m repeats at 10k race pace with 400m jog/1-1 rest. 1-1 rest meaning the time you ran for 800m shall be your rest time for the set.
Sample 7 week mileage table:
Week 4: 8km tempo, 8km easy, 6km recovery and 16k LSD – 38km
Week 5: 8km tempo, 9km easy, 6km recovery and 18k LSD – 41km
Week 6: 9km tempo, 10km easy, 6km recovery and 21k LSD – 46km
Week 7: 9km tempo, 11km easy, 7km recovery and 23k LSD – 50km
Week 8: 11km tempo, 11km easy, 7km recovery and 25k LSD – 54km
Week 9: 11km tempo, 12km easy, 7km recovery and 28k LSD – 58km
Week 10: 11km tempo, 12km easy, 7km recovery and 31k LSD – 61km
The above table should suffice for anyone trying to complete a marathon at a decent time, say 4:15 – 4:30. Of course, this table is not rigid and if you run 5 times a week or have a longer marathon training plan, that's even better as you could include another easy run in there and shift the distances around. For me i run 5 times a week during marathon training and 6 times a week from week 8-10, with LSD mileage of 32km, 34km and 36km.
The key is to ensure your body is accustomed to running > 30km in a single run and gives you extreme confidence tackling the 42.195km.
Stage 3: Tapering (3 weeks)
You must be wondering now, all I've ran is 31/32km, how the hell am i going to finish 42.195km in one piece?!?!
Look at the table carefully, it is true that you ran a 31km LSD only, but if you look closely, you ran 61km the entire week.
During these last 3 weeks, you concentrate on tapering. Tapering is essentially an art, there's no science about it, to me its mainly placebo and a logically correct thingy to do. Afterall, running a marathon is about logic and having mind ruling over matter.
Week 11: 7km tempo, 8km easy, 5km recovery and 20k LSD – 40km
Week 12: 6km tempo, 7km easy, and 12k LSD – 25km
Week 13 (race week): 6km tempo, 7km easy, – 13km
TAPERING WEEK! THE WEEK YOU HAVE BEEN LOOKING FORWARD TO!
Trust me, tapering is perhaps the most difficult part in the marathon training plan. This is because there's no guarantee you will recover fully with these workouts. Many things could happen mentally during this period. But to me, its important to allow your muscles to recover from the rigors of peak weeks in stage 2. Every run in these 3 weeks should give you the feeling where you feel relaxed and "i could have did harder/faster/more".
Of course, some runners experience sluggishness as you reduce mileage dramatically during these 3 weeks. That is common and it once happened to me. Google and you'll find that a common phenomenon to other runners as well. You may termed it as "withdrawal symptoms" akin to a smoker.
During race week, you should knock off the sluggishness and feel the excitement in you. Excited, fit and yet unable to estimate the last 10km of the marathon (don't worry it happens to all of us), you should complete the last 2 workouts with ease. The important factor here is not to "overdo" it, such as running at threshold pace during a tempo run and running a tempo race in an easy run. The key is to save the energy for that all important day, race day.
Now, you're all set and ready to go!
I hope this sample helps you in determining if you are on track for the SCMS. For those participating in next year's Tokyo, HK or Taiwan marathon, this guide would probably be ok for a beginner to an intermediate runner whom wish to run a first marathon.
Remember, the training is to ensure you have a great race experience. You could also chose to not train for it, you could still complete it. I did 5:3X for my first full marathon and walked 15km. It was a torture and I'm sure it'll be a torture for you if you choose not to train.
Nonetheless, always respect the distance. 42.195km is a long journey. There are no guarantee you could perform well just by doing your training. Nothing is for sure, but what's important is the chances of you performing to your optimum increases if you train for it.
Good luck everyone!
– skinnykenyan
Photo credits:
www.sporttechie.com
blog.intersport.es
www.runnow.eu
www.active.com
www.newhealthalert.net