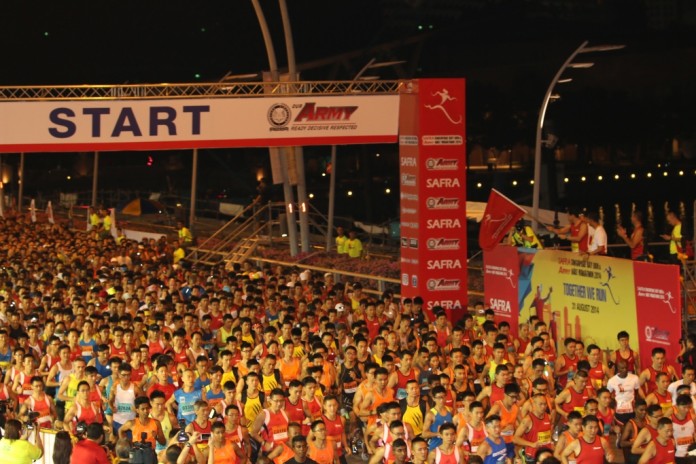 More SAF servicemen running longer distances at SAFRA Singapore Bay Run & Army Half Marathon 2014
About 46,000 runners geared up this morning to pace down the Marina Bay skyline for the SAFRA Singapore Bay Run & Army Half Marathon (SSBR & AHM) 2014. Second Minister for Defence and President of SAFRA, Mr Chan Chun Sing graced the event as Guest-of-Honour and flagged off the SAFRA 5km Fun Run as well as the Families for Life 800m Father and Child Challenge.
Jointly organised by SAFRA and the Army to promote bonding and fitness as a lifestyle among Singapore Armed Forces (SAF) national servicemen and their families, the event continued to garner strong support of more than 35,000 SAF regulars and national servicemen, and more than 3,500 of their immediate family members.
This year's event also saw more SAF regulars and national servicemen challenging their endurance by running longer distances. Among the 21,800 runners who competed in the 21km AHM, 84 percent of the participants were SAF regulars and national servicemen. This marks an increase of 8 percent in their participation or about 1,600 runners more than 2013.
BG (NS) Tung Yui Fai, Director of National Service Affairs, Ministry of Defence, and Vice President of SAFRA, commented, "We are very happy to see more servicemen taking ownership of their fitness and challenging themselves to run longer distances. We hope for more servicemen to be motivated to make fitness part of their lifestyle."
Apart from advocating a healthy lifestyle, the event aimed at promoting family bonding through a specially-themed SAFRA 5km Fun Run and the Families for Life 800m Father and Child Challenge. The latter is part of SAFRA's ongoing partnership with the National Family Council and it received strong support from NSmen and their families with a record number of participants.
Mr Ching Wei Hong, National Family Council Chairman said, "I am delighted to see so many NSmen coming forward to take part in the Families for Life Father and Child challenge. The race is an excellent opportunity for father and child to bond, create shared memories and strengthen family ties. Through partnering SAFRA, we hope to inspire more NSmen who are fathers to make a conscious effort to place family bonding time as one of their priorities."
This year also marks 5th time retired Army Officer Ang Ah Kiang, who has ran every edition of the Army Half Marathon, is running with his son, Ang Kwan Yang.
Said the elder Ang who turns 64 this year, "It was great this year, with regular water points and a smooth run. I hope my son and I will be able to run together for years to come."
The younger Ang, 33, agreed, "I've learnt to appreciate time spent with my dad. He has always urged me to challenge my limits and never settle for comfort. This year's route is better, smoother and I finished with my best timing yet!"
Since it started in 1992, the SSBR & AHM has received strong and consistent support from NSmen taking part in the race both individually and/or with their units, and family members.
Families for Life 800m Father and Child Challenge
The Families for Life 800m Father and Child Challenge is one of the activities under SAFRA's partnership with Families for Life (FFL). Through this partnership, SAFRA and FFL aim to organise activities for NSmen and their families to interact and spend quality family time together and build strong family ties.
As part of the effort to encourage family-centric activities, two new records were set in the Singapore Book of Records for the "Largest gathering of people to wear masks" and the "Largest Father and Child Race". Handheld masks were distributed during the warm up formation and each father-and-child pair ran hand-in-hand throughout the race.
The "Largest Father and Child Race" had a total of 737 pairs qualified for the new record at this year's challenge, surpassing the previous record of 671 pairs in 2013. The "largest gathering of people to wear masks" saw 1,191 people set the Singapore record.
You can rate your running experience and see race collateral and key information Singapore Race Database.