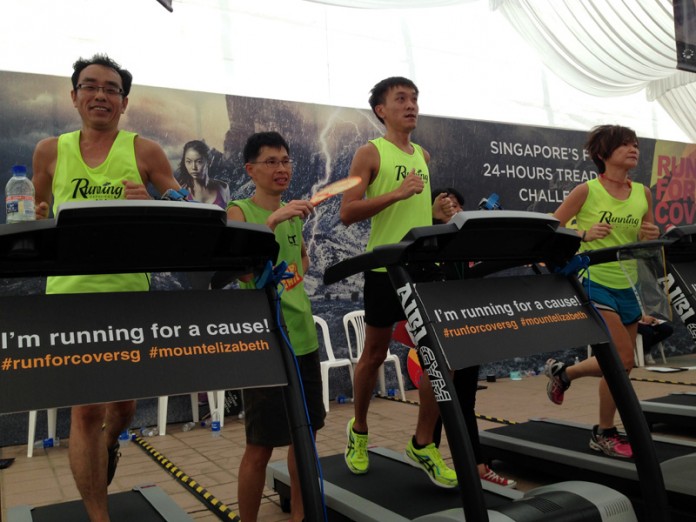 Run For Cover 2014
Last weekend, 10 teams consisting of of eight runners each, took turns and pounded the treadmill at the Ngee Ann City Civic Plaza. This was because they were all taking part in the Run for Cover event – a 24-hour treadmill endurance challenge.
Within the 24 hours, the ten teams had to clock the most mileage on the treadmill, in order to walk away with the top prize – 10 years of free health insurance by the race organiser, the Mount Elizabeth Hospital.
The winner of the challenge was the DTCC team, comprising of NUS students and alumni. They chalked up almost 319 kilometres on the treadmill, with each member taking turns to do half-hour sessions.
MR25 came second with about 305 kilometres and Team Tze Char rounded off the top three with just over 292 kilometres clocked on the treadmill.
The Sweltering Heat
For most of the runners, the sweltering heat proved to be their biggest obstacle. Temperatures easily reached up to more than 30 degrees C, so runners had to continuously fan and mist each other, in order to stay cool. At the same time, having constant hydration was also very important.
Fortunately, the race organisers had foreseen this though and there was more than enough isotonic drinks and water to cater to the thirsty and exhausted runners.
Running For A Cause
But the charity component definitely helped to keep the runners going despite the difficulties.
This is because with every 30km clocked in this challenge, a needy person would receive a free cataract surgery. Knowing that they were running not just for themselves, but also clocking the miles to help someone else, definitely helped to spur runners on.
Public Treadmills
As well, public treadmills were also provided at the event and passers-by could jump on and contribute their miles to the cause as well.
This definitely proved to be very popular and these public treadmills were constantly in operation throughout the whole 24 hours. In fact, they were so well received that I found it hard to book a slot myself during the challenge, but I was fortunate and managed to contribute about half an hour of mileage to the cataract surgeries.
A total of 3,500 kilometres were clocked altogether. This was by both the participants and members of the public.
Click here to read more about the Run For Cover treadmill challenge.