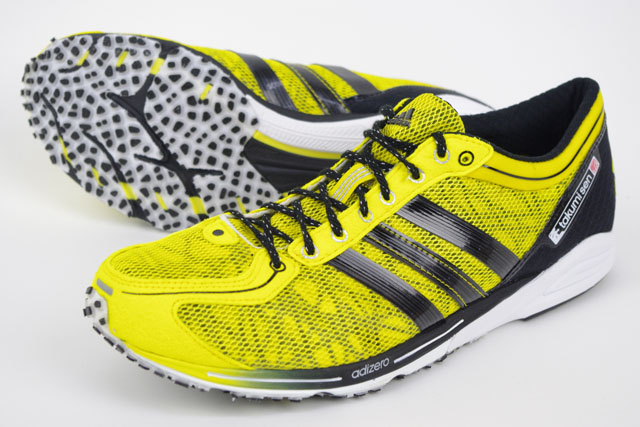 Adidas Takumi Sen
The quest for a marathon flat can be taxing. For the most of us, it could get boring racing and training in the same shoe again and again. Most end up getting new flats to race and in turn realize, awww this shoe is not for me.
I saw the takumi sen in Hong Kong and never looked back. I was on a trip with my girlfriend and she purchased this pair of racing flats for me as a gift. It cost 1099 hkd in Jan 13.
This shoe felt really good on the feet. Initial impressions seemed positive. I was jogging up and down the store at Tsim Sha Tsui and was convinced this is the shoe i need. The key decision criteria lies in how this shoe wraps around your feet comfortably and the responsiveness it provides on every stride. I could feel it just by jogging in it!
I could fondly remember my first test-run in it. I brought it out for a 10km tempo run and clocked a very good pace but didn't felt too hard. I describe the shoe as 'the shoe that doesn't slow down' to my friend!
Thereafter, I used it for all my tempo runs and crucial LSD leading up to my marathon.
This shoe gave me a PR in 10km, 21km and 42km. I'm not an elite runner but this shoe works for me at sub 5:10 pace in a full marathon.
500km into runs and there's significant wear and tear underfoot. The responsiveness is wearing off but hey, its a racer. 500km is hard to come by nowadays. I have this shoe for more than a year now and I'm still using it.
There's new colorway for the shoe. Its widely available in Hongkong. SG is selling it through runners gait.
A man's meat is another man's poison. This shoe works for me and i highly recommend it to runners looking for the following attributes:
Low stack heights
Light weight racer
Meshy Upper
High Responsiveness
Midfoot / Heel-strikers (For heel strikers, do note that the outsole will wear out faster)
Minimal cushioning
No habit of going sockless
The Adidas Takumi Sen is available at Runners Gait at S$229.