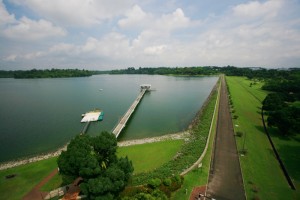 Escape the hustle and bustle of city life and soak in the magical glow of the breath-taking sunset over the reservoir.
The Seletar Reservoir was built in 1920 and officially opened by Her Royal Highness, Princess Alexandra, The Honourable Lady Ogilvy on 10 August 1969. In 1992, it was renamed as the Upper Seletar Reservoir and was marked a historic site in 1999. Today, the Upper Seletar Reservoir is one of the four reservoirs that bound the nature reserves, others being the MacRitchie Reservoir, the Lower Peirce Reservoir, and the Upper Peirce Reservoir.
The Upper Seletar Reservoir Park is a world of its own, filled with lush greenery and rich history. With 15 hectares of natural vegetation, the park is teeming with flora and fauna, making it a favourite spot for nature lovers. It is also a popular place among sunset lovers.
You may go for a short 3-4 km run around the park while admiring the serenity of the reservoir and the majesty of the park's iconic rocket-shaped tower. A climb up to the top of the tower will reward you with stunning panoramic views of the waters and adjacent greenery. Alternatively, for a longer distance, you may run from Upper Peirce Reservoir Park to Upper Seletar Reservoir Park.
Photo 1 credit: https://untouristsingapore.wordpress.com
Photo 2 credit: https://thelongnwindingroad.wordpress.com
This can be yours!
The Upper Seletar Reservoir Park Virtual Run is now open for registration!

Just
Move
Asia challenges require you to run or walk past some of Singapore's prettiest landmarks.
You can use any GPS-enabled app to record your run. Once your run is verified, you will receive your medal with free delivery!
Complete the collection: 13 Locations, 13 Finisher Medals

Click here to learn about Singapore's Geo-based Virtual Runs
!
Route at a glance:
Suitable for:
Short runs (Less than 5 km), Medium runs (5 - 15 km)
Surface:
Pavement
Profile:
Moderate
Suitable for night runs?
Yes
Public transportation:
Nearest Bus Stop: Bus No. 138
---