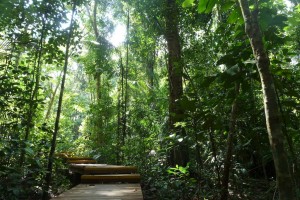 Easily the best nature parks in Singapore with plenty of flora and fauna, the two parks are also known to have the most beautiful sunrises and sunsets.
Both Lower and Upper Peirce Reservoirs are impounding reservoirs, created by damming the lower reaches of the Kallang River. They are located near MacRitchie Reservoir and Upper Seletar Reservoir. These four reservoirs together with  the surrounding forests form the Central Catchment Nature Reserve. The nature reserve acts as a water catchment for the reservoirs in the area.
The Lower Peirce Reservoir Park boasts of a mature secondary rainforest and is still dotted with numerous rubber trees and oil palms – visible reminders of a past when vast areas of Singapore were covered with plantations. The Upper Peirce Reservoir Park is also a serene and tranquil park nestled just next to the Upper Peirce Reservoir. Adding to its scenic beauty is the surrounding secondary forest which was protected as a water catchment area when the reservoir was built.
Lower Peirce Reservoir is easily accessible from the main road (only 200 m along Old Upper Thomson Road), while the entrance to Upper Peirce Reservoir is located further down Old Upper Thomson and is more than 1km from the main road. Long distance runners can complete the full route from Lower Peirce Reservoir Park to Upper Peirce Reservoir Park, which are connected by a 4.5km stretch of road. Otherwise, unless you have your own mode of transport, the Upper Peirce Reservoir Park can be tricky to get to.
Route at a glance:
Suitable for:
Medium runs (5 - 15 km), Long runs (Over 15 km)
Surface:
Pavement
Profile:
Hilly
Suitable for night runs?
Yes
Public transportation:
Nearest bus stop:
Bus numbers 163, 167, 169, 855, 980
---