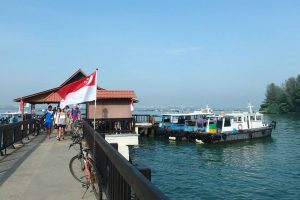 Run back in time to the 1960s for rustic beauty and simplicity of Singapore
Pulau Ubin (Granite Island) is a boomerang-shaped island which is situated offshore around the north-eastern corner of Singapore. It used to be a cluster of five smaller islets and become united as a single 1,020-hectare island. Life on this island retains the rustic beauty and simplicity of Singapore's villages or kampongs back in the 1960s.
Today, abandoned granite quarries remain as picturesque relics of Ubin's history, while forests and grasslands have regenerated to cover up the ravages of the past. Avid trekkers, mountain bikers and trail runners flock the island for its adventurous and challenging trails that involve many hills, forests while enjoying the sights and sounds of the laidback village life. Depending on the trail route you choose, the routes average to about 15km long and differ in
A trip to Pulau Ubin is not complete without at visit to Chek Jawa Wetlands, one of Singapore's richest ecosystems where six major habitats meet! Run along the one-kilometre-long boardwalk and marvel at the different species co-existing within the mangrove. Climb the 21-metre-high Jejawi Tower to enjoy the spectacular sight of Pulau Ubin from above.
Photo 1,2,3 credit: National Parks Board
Photo 4 credit: RipleyRuns.blogspot.com
Route at a glance:
Suitable for:
Medium runs (5 - 15 km), Long runs (Over 15 km)
Surface:
Gravel, Grass
Profile:
Hilly
Suitable for night runs?
No
Public transportation:
Take the MRT and alight at Tanah Merah Station, take Bus 2 to the Changi Bus Interchange
Next, take the bumboat from the Changi Point F erry Terminal, which is about 3 minutes walk from the Changi Bus Interchange.
Boat ride is approximately 10 minutes and is available from 6am to 8pm.
---