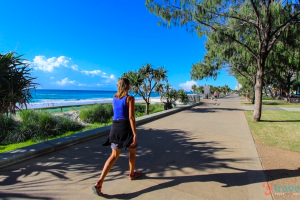 36 km walkway along the magnificent Gold Coast beach
Even die-hard Gold Coast fans may not realize this but there is an official section of the coast known as the Gold Coast Oceanway, a 36-kilometre network of pathways which connects The Spit at the north to Point Danger in the south.
This innovative initiative is actually a series of sections which range up to four kilometers long and are popular with walkers and cyclists. There's accessible viewing platforms for people with disabilities and the entire route is serviced by the local Surfside Buses. With salt in your hair enjoy blue ocean waves, golden sandy beaches and green dunes.
You'll encounter birds, dolphins, fish, and whales along this award-winning route popular with those who like to swim, fish, sail and sunbake. There's also plenty of public facilities such as barbecues and toilets along the way. So take your time, breath, relax and enjoy as you connect the dots between the Gold Coast Seaway and Coolangatta
Photo Credits: ytravel
Route at a glance:
Suitable for: Long runs (Over 15 km)
Surface: Tarmac, Pavement
Profile: Flat
Suitable for night runs? Yes

---
Your photos:
---