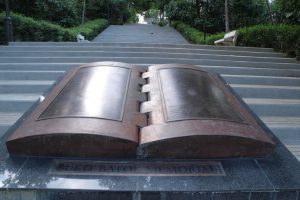 If you are looking for a place to do a peaceful nature walk? Bukit Batok Nature Park can be your choice!
There are many ways to explore Bukit Batok Nature Park. You can take a leisurely stroll on the meandering footpaths which lead you to the secondary forest and admire the beauty of the lush greenery or if you want to have a good workout, you can run on the park's undulating terrain. You can even hike through the forest and enjoy the serene ambience of the surroundings.
Things to do:
Stop by the park's entrance to marvel at the picturesque pond that lies at the foot of a high cliff wall.
Walking along the forest tracks through lush secondary forest.
Looking at interesting species of trees and shrubs with their fruits and flowers
Climb the look-out points that reach more than 10 storeys high for stunning views of the quarry.
Bird-watching along the trail and at the bank of the quarry pool
Observing fauna such as squirrels, monkeys, monitor lizards and birds.
Visiting a World War II memorial site.
This can be yours!
The Bukit Batok Nature Park Virtual Run is now open for registration!

Just
Move
Asia challenges require you to run or walk past some of Singapore's prettiest landmarks.
You can use any GPS-enabled app to record your run. Once your run is verified, you will receive your medal with free delivery!
Complete the collection: 13 Locations, 13 Finisher Medals

Click here to learn about Singapore's Geo-based Virtual Runs
!
Route at a glance:
Suitable for:
Medium runs (5 - 15 km)
Surface:
Gravel
Profile:
Moderate
Suitable for night runs?
Yes
Parking information:
If you are driving, you can park at the car park along Bukit Batok East Ave 2.
Public transportation:
Bus services 61, 66, 157, 178, 852 and 985 will take you to Bukit Batok East Ave 6.

The park is also accessible via the entrance at Lorong Sesuai and from Hillview Park Connector.
---