Polar M600 Sports Watch Powered by Android Wear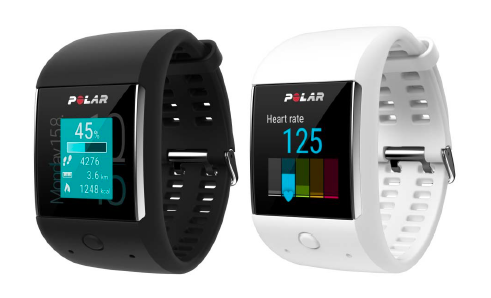 Published on:
1 October 2016
Polar M600 combines the best of both worlds: leading heart rate technology and the power of Android Wear.
Polar, the leader in heart rate sensors, activity trackers, and wearable sports technology, announces the Polar M600, a waterproof sports watch powered by Android Wear. Built on Google's Android Wear smartwatch platform, Polar M600 features Polar's proprietary optical heart rate technology and provides wrist-based heart rate measurement via a 6-LED solution, using an algorithm designed and tested for maximum reliability. Polar M600 also provides integrated GPS, 24/7 activity tracking and Polar Smart Coaching features via the Polar App for Android Wear.
Designed for active training as well as a stylish accessory for a connected lifestyle, the Polar M600 is waterproof and boasts a high quality, sleek design with a 1.3 inch color touch display, a dedicated front button for quick and easy training control, and a battery life of more than 48 hours when connected to Android devices. The soft, comfortable silicone wristband is available in black and white, with a new red band coming later this year.
"Polar is known for bringing smarts into sports," says Marco Suvilaakso, Chief Strategy Officer at Polar. "Polar created the first heart rate monitor, the first activity tracker and now we're the first true sports wearables company to announce a smartwatch truly made for sports. Powered by Android Wear, Polar M600 offers our customers countless opportunities to customize their smartwatch and still rely on the unique Polar sports wearable experience that is at its core."
Pairing the evolving world of Android Wear with Polar's training expertise gives customers access to Polar's unique sports offering including Smart Coaching features such as Activity Guide, as well as Android Wear capabilities. In addition to training and insight into daily activity and workouts, users can access Android Wear's voice control, customize watch faces, receive calendar notifications, read and reply to texts when using an Android phone, scroll through social media feeds and access more than 4,000 third party apps via Google Play. Polar M600 offers 4 Gb of internal storage and customers can sync their music through Google Play and listen to it also without their smartphone.
Polar Flow allows users to view their activity, heart rate training and sleep details via the iOS and Android apps, and the web services offer even more in-depth insights into their fitness, recovery and progress. Polar M600 users can also benefit from the new Polar Running Program, a personalized and adaptive training plan, available now for free in Polar Flow. Runners choose an event (5K, 10K, half-marathon or marathon), and the Running Program creates a training plan that fits their current fitness level, adapts to their progress and offers easy-to-follow instructions that help runners focus on what's important for improvement.
Polar M600 available in Charcoal Black and Powder White for S$569. Changeable wristbands in Polar Red will also be available later this year.
All images courtesy of POLAR. All product names, logos, and brands are property of their respective owners. All company, product and service names used in this website are for identification purposes only. Use of these names, logos, and brands does not imply endorsement.
Brand: POLAR
Browse more new releases

Please contact us to submit a press release
.