Nike Joyride Run Flyknit: Bringing the Latest Innovation in Running Shoes
Published on:
16 September 2019
Nike Joyride joins Nike Air and Nike React as the latest proprietary innovation within the company's diverse array of cushioning platforms. Joyride is engineered to help keep legs fresh by delivering a personalized underfoot experience with great impact absorption in a surprisingly light, energy-returning package.
Nike Joyride is a Nike-only, proprietary cushioning system made of thousands of TPE beads. Why beads? Because they're soft, they're bouncy and they form the core of an innovative new cushioning system designed to help make all of the ways you move feel easy—even running.
The beads are placed within zonally-tuned pods, which allows the foam to expand in all directions (known as multi-dimensional displacement). The system creates a dynamic footbed that forms to your foot and feels personalized to you.
"Oh my gosh, there's so much cushion in them … it feels like you're on a cloud. Super comfy! And the fit is perfect. I'll definitely use these for recovery runs … they're easy on my legs and feel great on my feet".
– Craig Engels, Professional Distance Runner, Nike Oregon Project
The pod scale is based on how the foot strikes the ground when in motion. The heel pod, for example, is bigger to absorb impact, while those at the forefoot are prepared to facilitate a smooth transition forward.
The engineering behind it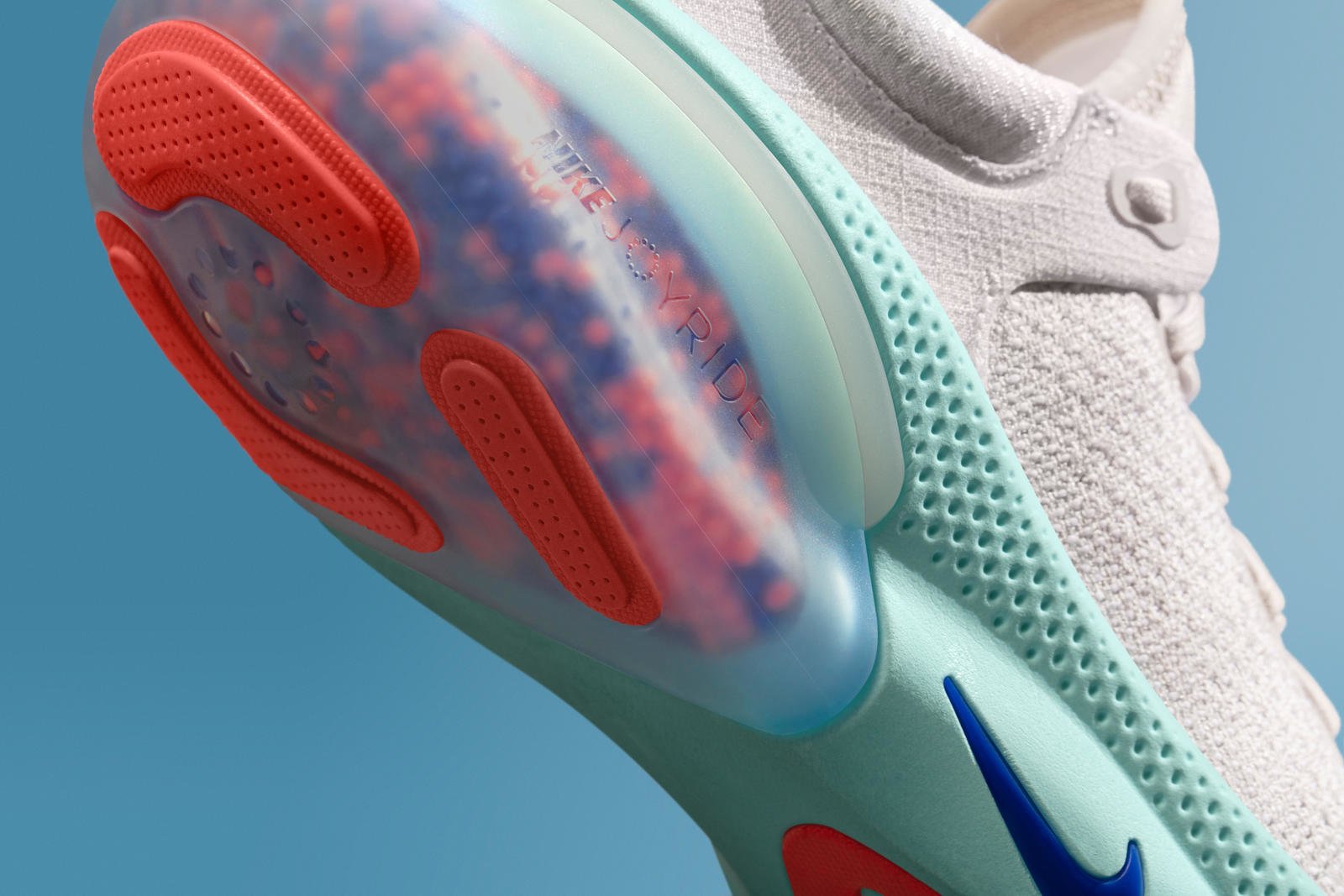 Joyride is the result of intense, iterative trialing. One hundred and fifty materials were tested before landing on a TPE (a copolymer of plastic and rubber) for the beads.
Engineering the Pods also helped solve the problem of the beads migrating too much around the foot and becoming uncomfortable. With Pods, Nike designers were able to create a zonal-tuning for each respective iteration of Nike Joyride.
Beads are dispersed within the pods to match the zonal-tuning that aligns with the performance needs of specific points in your stride. (For example, if there are 8,000 total beads in a running shoe, some 50 percent of the beads would cover the heel strike while 5 percent would offer cushioning at the toe.)
"Every runner faces the same problem: stress from pounding the pavement. We knew we needed a completely new cushioning system".
– Will Moroski, Senior Product Line Manager for Nike Running
Feels Fresh On Every Run
Nike Joyride is designed to work for every runner, at every stage of their journey. It helps keep your legs and feet feeling fresh, so you'll want to go again—whether yesterday was the longest run of your life or your first run ever.
Nike Joyride technology releases first in the Nike Joyride Run Flyknit. Designed for all runners, the soft cushioning and smooth transition helps ease impact — important whether you're a seasoned marathoner taking a shake-out run or a novice looking to find your true stride. The Nike Joyride Run Flyknit is available to Nike Members July 25. A global release follows August 15.
All images courtesy of Nike. All product names, logos, and brands are property of their respective owners. All company, product and service names used in this website are for identification purposes only. Use of these names, logos, and brands does not imply endorsement.
Brand: Nike
Browse more new releases

Please contact us to submit a press release
.