MADE TO WIN – Adidas' ADIZERO Franchise Offers A Shoe For Every Runner In Pursuit Of Speed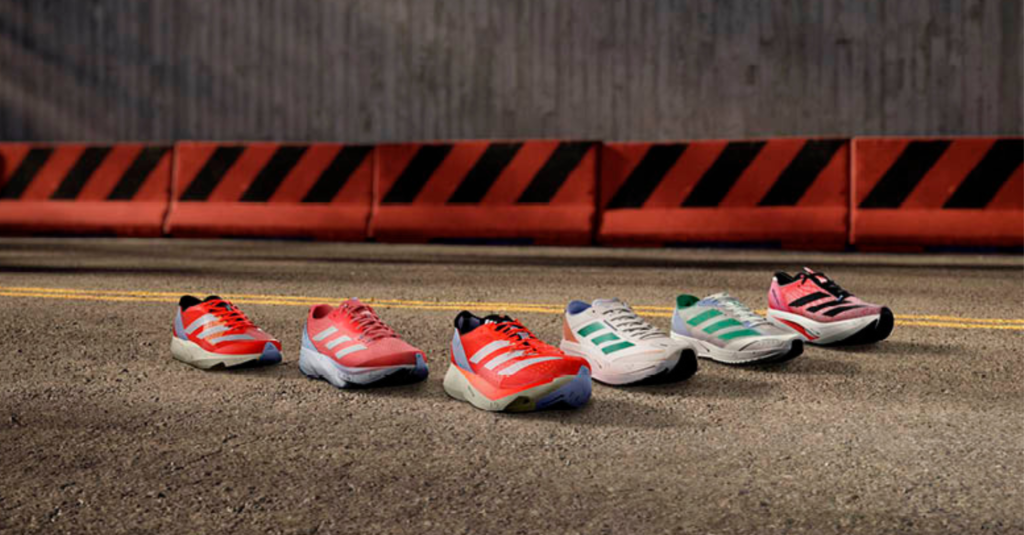 Published on:
31 March 2023
Available in:
Asia, Singapore
With eight World Championship titles, two broken World Records and 50% of all Major Marathons won, 2022 belonged to adidas' ADIZERO-wearing athletes
For runners striving to break records or dominate races, adidas' wide-ranging ADIZERO franchise offers the perfect shoe for any ambitious runner
The whole franchise launches in bold new colourways and will be available globally via the adidas app, online and in store from today
Singapore, 30 March, 2023 – In 2022, the ground-breaking technology fuelling the ADIZERO franchise helped elite athletes and ambitious runners to dominate races on the road and the track alike. With 10 World Championship titles secured, two broken world records and 50% of all World Major Marathons won, the ADIZERO franchise topped the podiums.
Alberto Uncini Manganelli, General Manager / Senior Vice President Running & Credibility Sports at adidas, says: "2022 was an unprecedented year for the ADIZERO franchise and our athletes. But we never stop, we always believe that we can push ourselves further to develop the best products for our athletes by working alongside them and our ambitious running community and tapping into the latest innovation and technology. That is why, with the first World Major Marathon on the horizon, we are confident that 2023 will be no different to last year – ADIZERO will be the most winning franchise again."
This prediction is off to a great start with Abdesa Tola Adera and Tamirat Tola storming to victory in the Dubai marathon last month wearing the ADIZERO Adios Pro 3.
FAST, FOR EVERY OCCASION
Verified by the records – and developed over the past 19 years alongside its elite athletes and running community – the ADIZERO franchise provides the perfect shoe for the individual needs of every ambitious runner – whether they want to race to win, or train to race. This season, the whole franchise launches in a bold new identity with a fresh colourway update (including Solar Red and Coral Fusion).
RACE TO WIN
Benefitting from adidas' record-breaking technology, including LIGHTSTRIKE PRO and Continental™ Rubber outsoles, the race day shoes in the ADIZERO franchise are: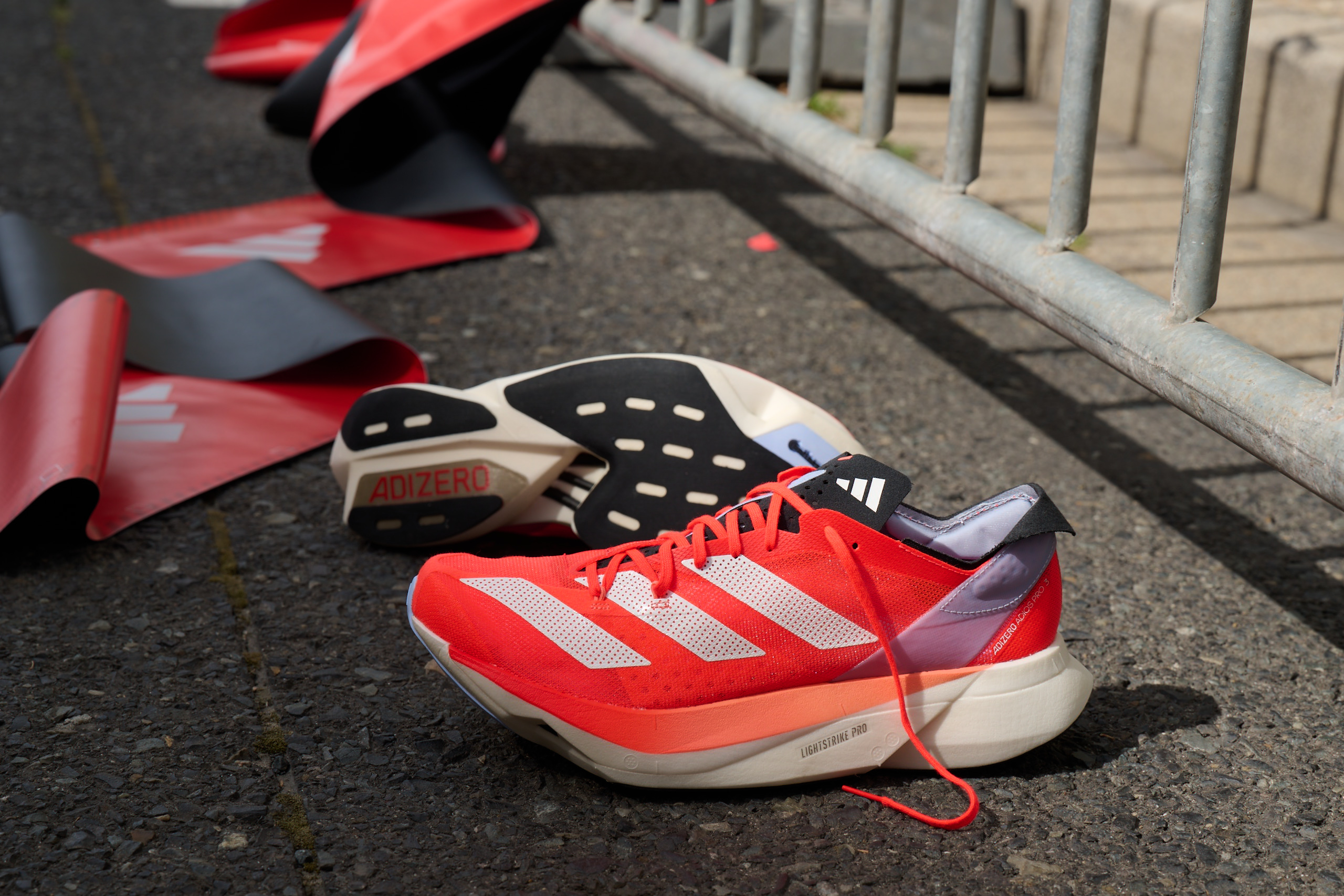 ADIZERO ADIOS PRO 3 – adidas' ADIZERO hero model that took 2022 by storm, winning three major marathons within the first five months of launching. The ADIOS PRO 3 is built for speed on race day and features adidas' record-breaking ENERGYRODS 2.0 technology from heel to toe, for harmonious stiffness and energy return.
ADIZERO TAKUMI SEN 9 – adidas' leading 5-10KM racing shoe, the world-record breaking TAKUMI SEN 9 is for runners looking to dominate speedy, short-distance road races.
ADIZERO ADIOS 7 – Including superlight cushioning and an energy torsion system, the ADIOS 7 is a low-profile, lightweight racing shoe. Designed for speedy races up to 21KM.
ADIZERO PRIME X STRUNG – adidas' first ever ADIZERO running shoe with a STRUNG upper, the ADIZERO PRIME X STRUNG features innovative technology, including layers of carbon-infused ENERGYRODS and LIGHSTRIKE PRO foam, pushing the boundaries of running into new realms and breaking new ground in next-gen progress.
TRAIN TO RACE
Featuring race-day technology such as LIGHSTRIKE PRO foam and a LIGHSTRIKE EVA midsole frame, the training models in the ADIZERO franchise are:
ADIZERO SL – Designed to help runners take their training to the next level, the ADIZERO SL represents the democratisation of winning – an elite-level running shoe with record breaking technology, at a lower price point.
ADIZERO BOSTON 11 – A versatile everyday training shoe, the BOSTON 11 is built for emulating that race-day feeling in daily fast training runs. It features glass fibre ENERGYRODS in the midsole, bringing racing technology to a training shoe.
Peres Jepchirchir, reigning Olympic Champion and three-time World Record holder, commented: "My training and racing schedule is always changing, in terms of distance, intensity and purpose. That is why it is crucial for me to have a different shoe for each aspect of my running – from daily training runs, to tempo runs and championship races. The ADIZERO franchise provides me with a great shoe for every occasion."
The new colourways retail from $169 – $399 and are now available for purchase via the adidas app, online at www.adidas.com.sg/adizero–running and at selected retailers:
adidas Brand Centre Orchard (carries all)
adidas Marina Bay Sands (only carries ADIZERO SL & ADIZERO ADIOS PRO 3)
adidas Suntec City (only carries ADIZERO SL & ADIZERO ADIOS PRO 3)
adidas Vivo City BCS+ (L1) (carries all except for ADIZERO SL W)
adidas ION Orchard (only carries ADIZERO ADIOS PRO 3)
All images courtesy of adidas. All product names, logos, and brands are property of their respective owners. All company, product and service names used in this website are for identification purposes only. Use of these names, logos, and brands does not imply endorsement.
Brand: adidas
Browse more new releases

Please contact us to submit a press release
.