Garmin Plays Up Active Lifestyle Range With Latest Smartwatch Additions – Venu, vívomove series, vívoactive 4 and 4S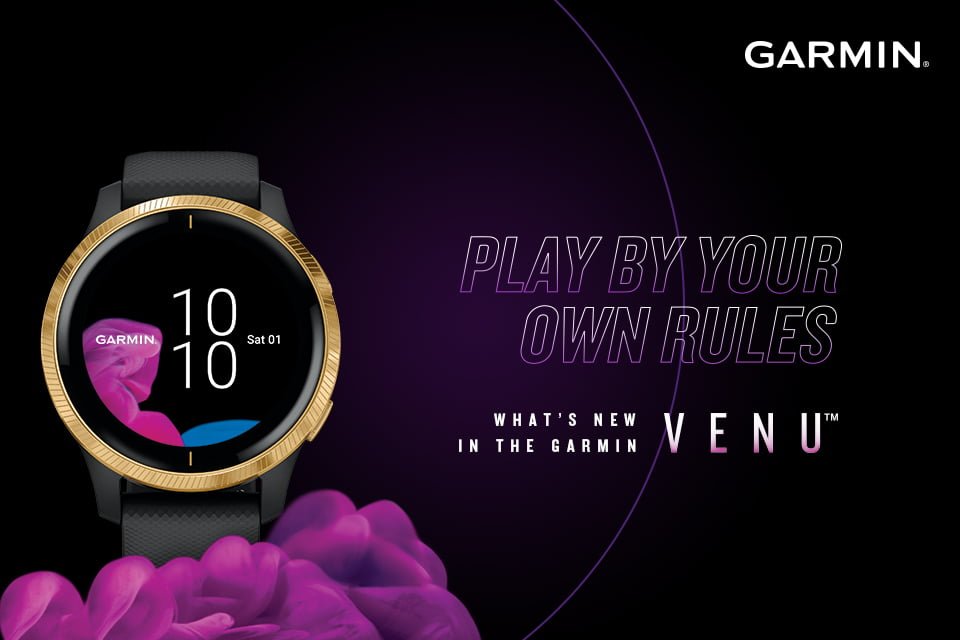 Published on:
23 October 2019
Available in:
Asia, Singapore
Smart wearables decked out with enhanced health and wellness monitoring features and battery lives set to impress
Singapore, 22 October 2019 — Anyone passionate about pursuing an active lifestyle would be delighted to discover Garmin's latest additions, which are designed to be a part of the user's everyday life. Garmin Singapore today introduced the Venu™ – Garmin's first smartwatch with a vibrant AMOLED screen, vivomove series – the latest collection of hybrid smartwatches and vívoactive 4 and 4S GPS smartwatches – decked out with the broadest available range of 24/7 health monitoring features in the market.
"We're thrilled to announce Venu, Garmin's first smartwatch with an AMOLED display, which will breathe life and colour into animated workouts on live watch faces," said Engelhard (Al) Sundoro, Managing Director, South Asia and India. "The newest additions to Garmin's active lifestyle range of smartwatches are designed to be essential tools for customers who want to track and improve their overall well-being and want the connected and health features of a smartwatch with a more fashion-forward look better suited for the office or dressing up."

Bringing fitness to life with animated and customised workouts
Working out at home with the Venu, vívoactive 4 and 4S is so much more fun with over 40 on-device animated workouts for strength training, cardio, yoga and Pilates. These easy-to-follow workouts demonstrate proper form and technique right on the user's wrist. The Venu, vívoactive 4 and 4S' robust suite of workout options includes preloaded workouts on the watch, preset workouts available to download from Garmin Connect™, and "create your own" customisable workouts. Whether training for a 5K or something longer, the smartwatches are compatible with Garmin Coach, free training plans adapted to a runner's goals and performance, complete with a virtual personal trainer for added motivation.
Stay connected, stay in style with the vívomove series
Designed with style in mind, Garmin's new hybrid smartwatch lineup – vívomove 3/3S, vívomove Style and vívomove Luxe – have the appearance of a traditional timepiece, with real ticking hands and elegant dial details. With a flick of the wrist, the hands dynamically move out of the way to reveal a hidden smart screen with health and fitness tracking data, and smart notifications for text messages, social media updates, calendar reminders and more.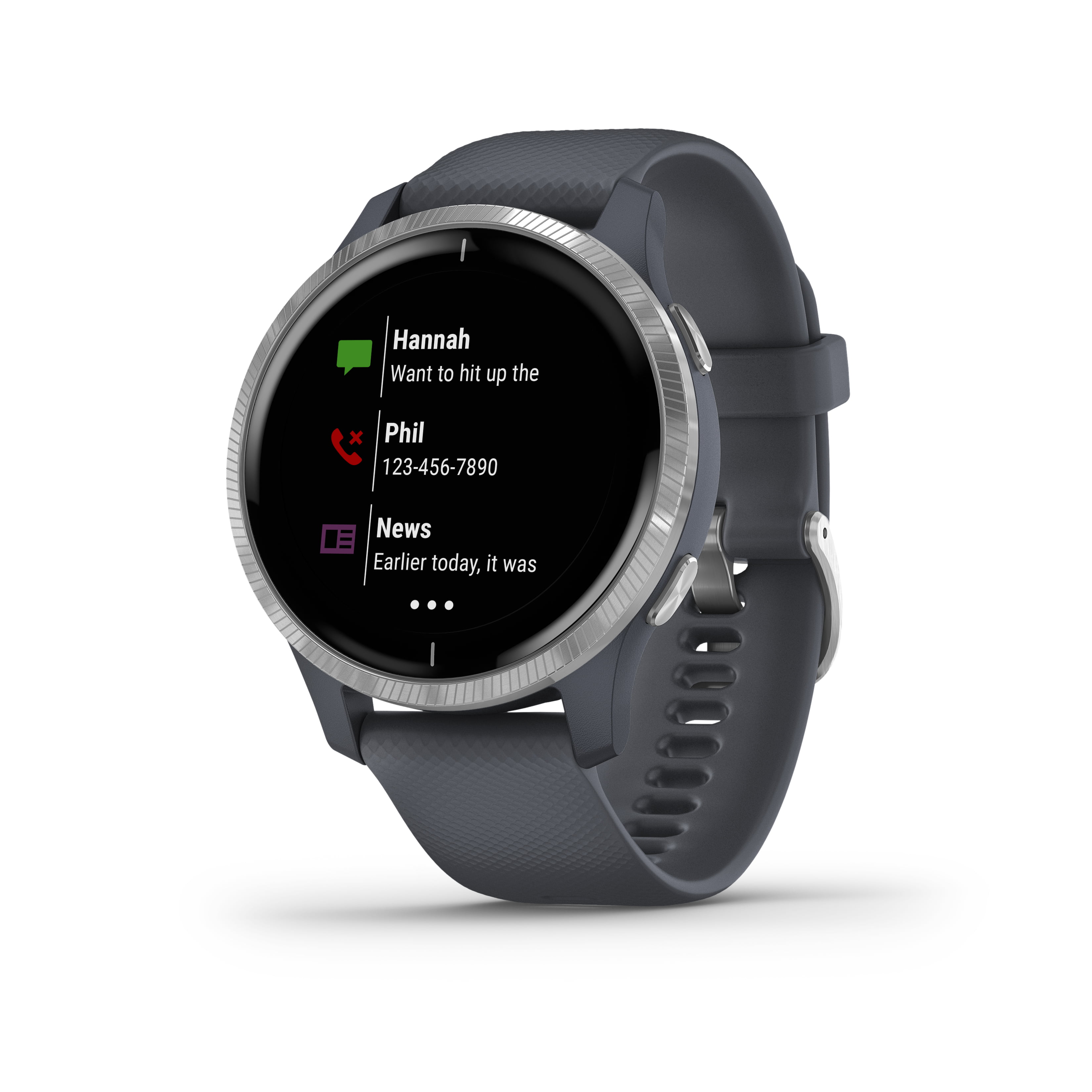 All-rounded everyday health and wellness monitoring
With GPS, Elevate™ wrist-based heart rate, and over 20 built-in indoor and outdoor sports apps including Pilates, yoga, running, pool swimming, golf and more, Venu, vívomove series, vívoactive 4 and 4S are packed with features to keep up with a varied and active lifestyle. Need to take a breather or boost mindfulness? The Venu, vívoactive 4 and 4S offer new structured breathwork activities designed to promote focus and relaxation.
The latest smartwatches boast the broadest range of 24/7 health monitoring features available in the market, including advanced sleep with Pulse Ox, new respiration tracking, abnormal heart rate alerts, menstrual cycle tracking, stress tracking with relax reminders, new hydration tracking, new breathwork activities and more. Innovative Body Battery™ energy monitoring lets users check energy levels at any given moment, which can help with scheduling workouts, rest times and sleep. Using a combination of data gathered from stress, heart rate variability (HRV), sleep and activity, a higher Body Battery indicates the time is optimal to be active whereas a lower number suggests rest is in order.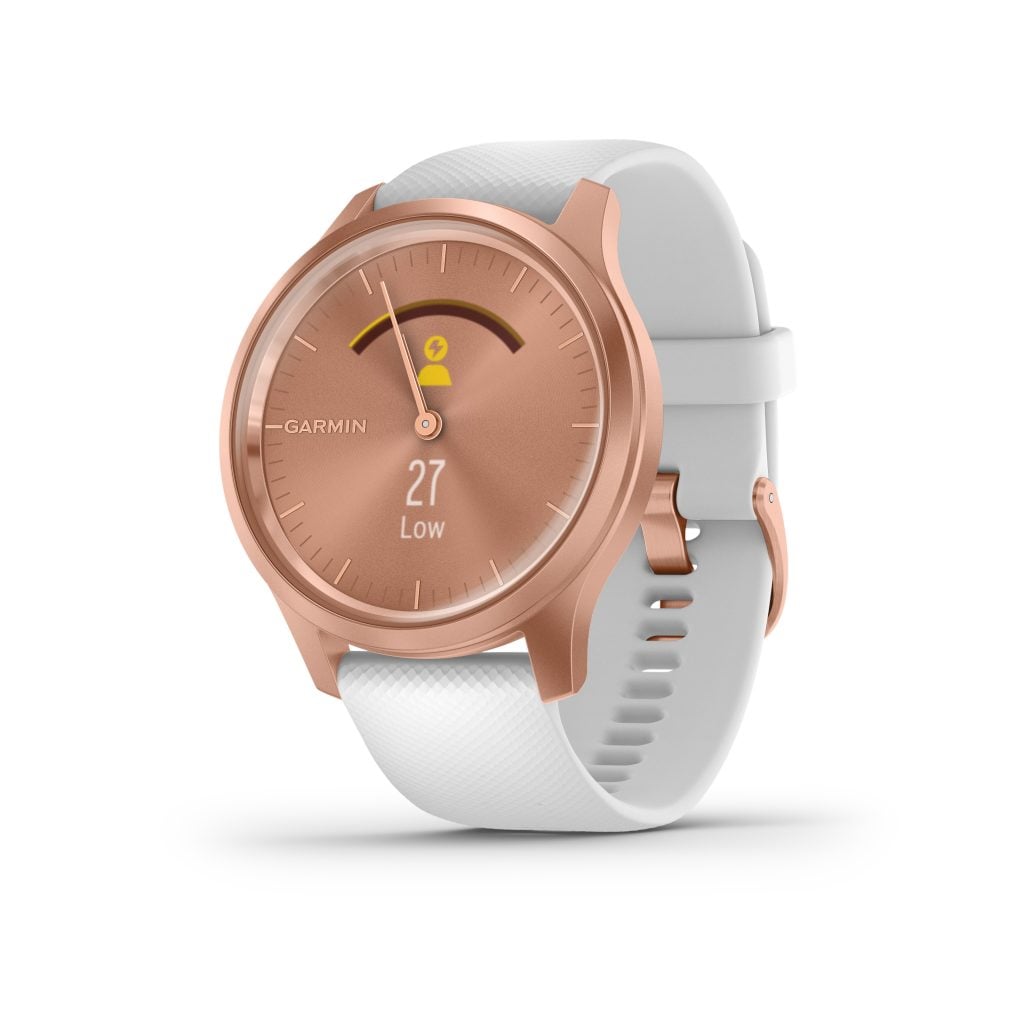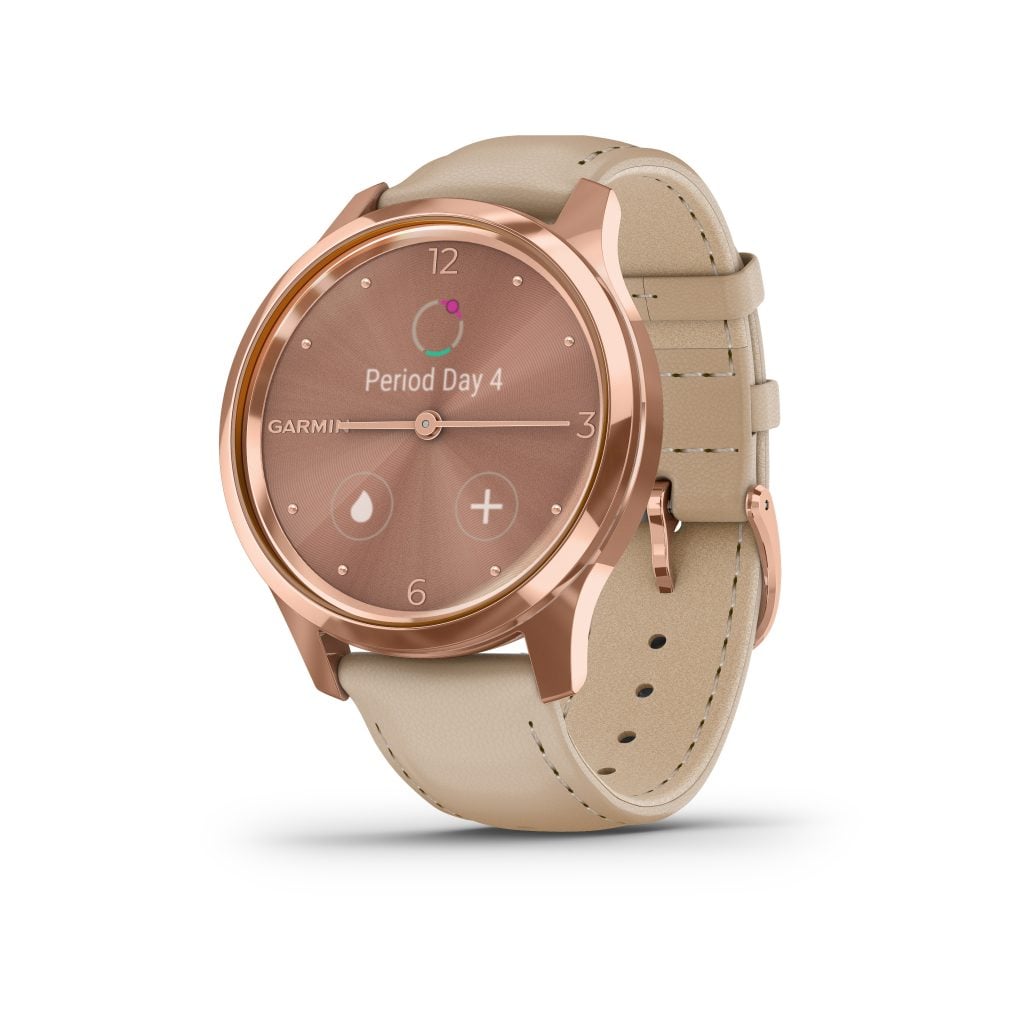 When it's time to wind down, advanced sleep monitoring estimates light, deep and REM stages of sleep. New respiration tracking measures the number of breaths per minute, and Pulse Ox gauges blood oxygen saturation levels. Together, this data can illustrate the sleep quality. Upon awakening, users can review their sleep stats in Garmin Connect to see whether they are getting the quality sleep they need to feel rested and recharged the next day.
Smart features for life on the go
The newest additions provide all-day connection and convenience with a host of smart features including:
Notifications: Receive smart notifications for incoming calls, text messages, social media updates, calendar reminders and more. Android users can reply to text messages from the device.
Music: Download songs or playlists including those from third-party music services like Spotify right to the Venu, vívoactive 4 and 4S.
Safety and tracking: Incident detection (during select activities) and assistance send real-time location to emergency contacts.
Garmin Pay™ with Transit: Contactless payment solution lets users leave their cash and cards at home. Garmin Pay can now be used at major transit systems around the world. Users simply tap and pay-per-ride with their watch – no transit card, phone or wallet needed. (Available on Venu, vívomove Style and Luxe, vívoactive 4 and 4S only)
Personalisation: Choose from a variety of gorgeous live watch faces, apps and widgets from the Garmin Connect IQ™ store app. Users can even upload their own photos and turn them into watch faces.
Compatibility: Use the latest smartwatches with almost any smartphone (compatible with Android™ and Apple® devices).
Design, Pricing and Availability
Venu
Venu features a 1.2" screen and is available in black with gold hardware, light sand with rose gold hardware, granite blue with silver hardware, and black with slate hardware. It features an impressive battery life of up to five days in smartwatch mode and up to six hours in GPS + music mode.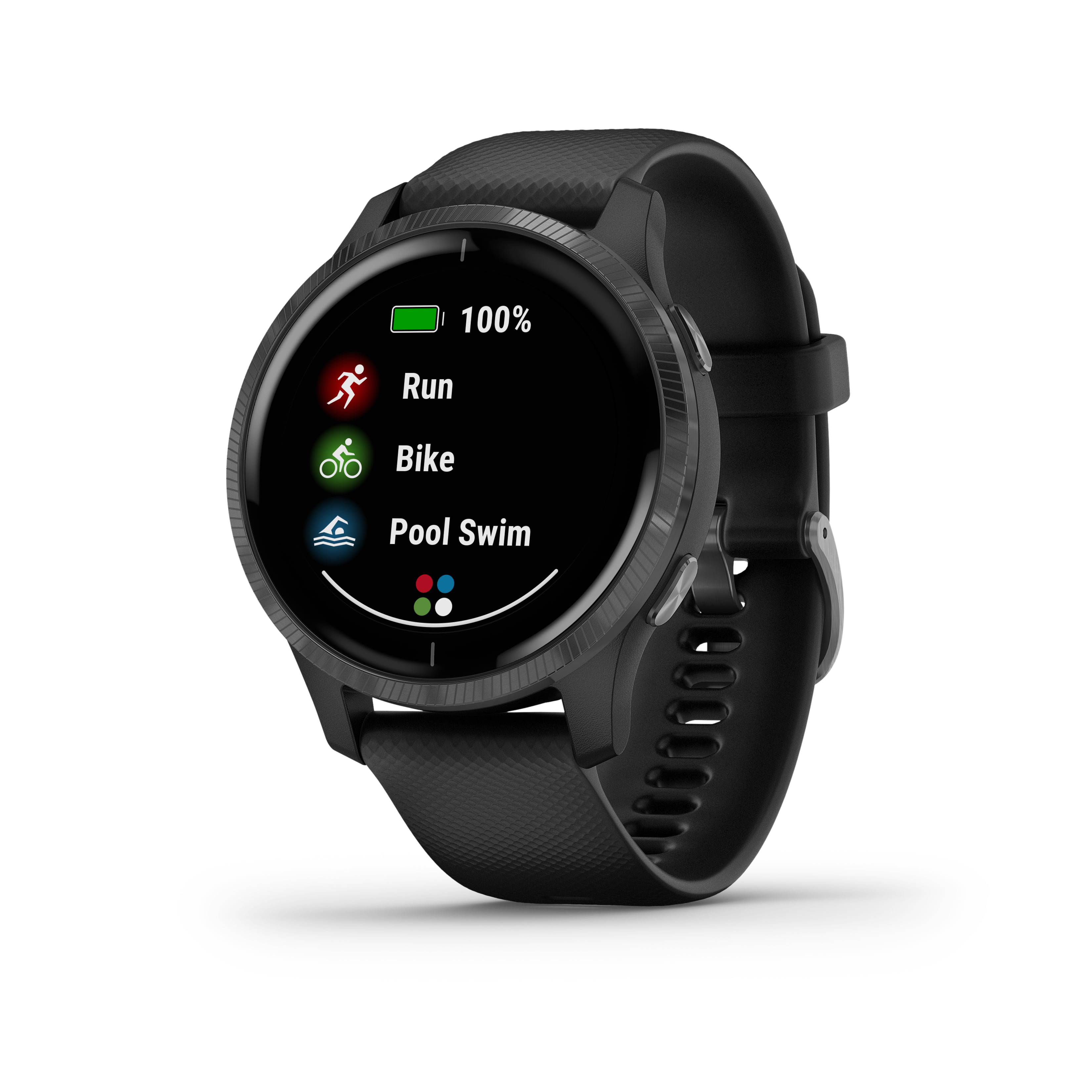 vívomove series
The premium vívomove Luxe has a 42mm stainless steel bezel and stainless steel casing with a choice of Italian leather or Milanese metal strap. It features hidden dual AMOLED color touchscreen displays with moving hands that interact with smartwatch graphics. With a domed sapphire crystal lens and elegant watch face details, the vívomove Luxe exudes round the clock style and sophistication.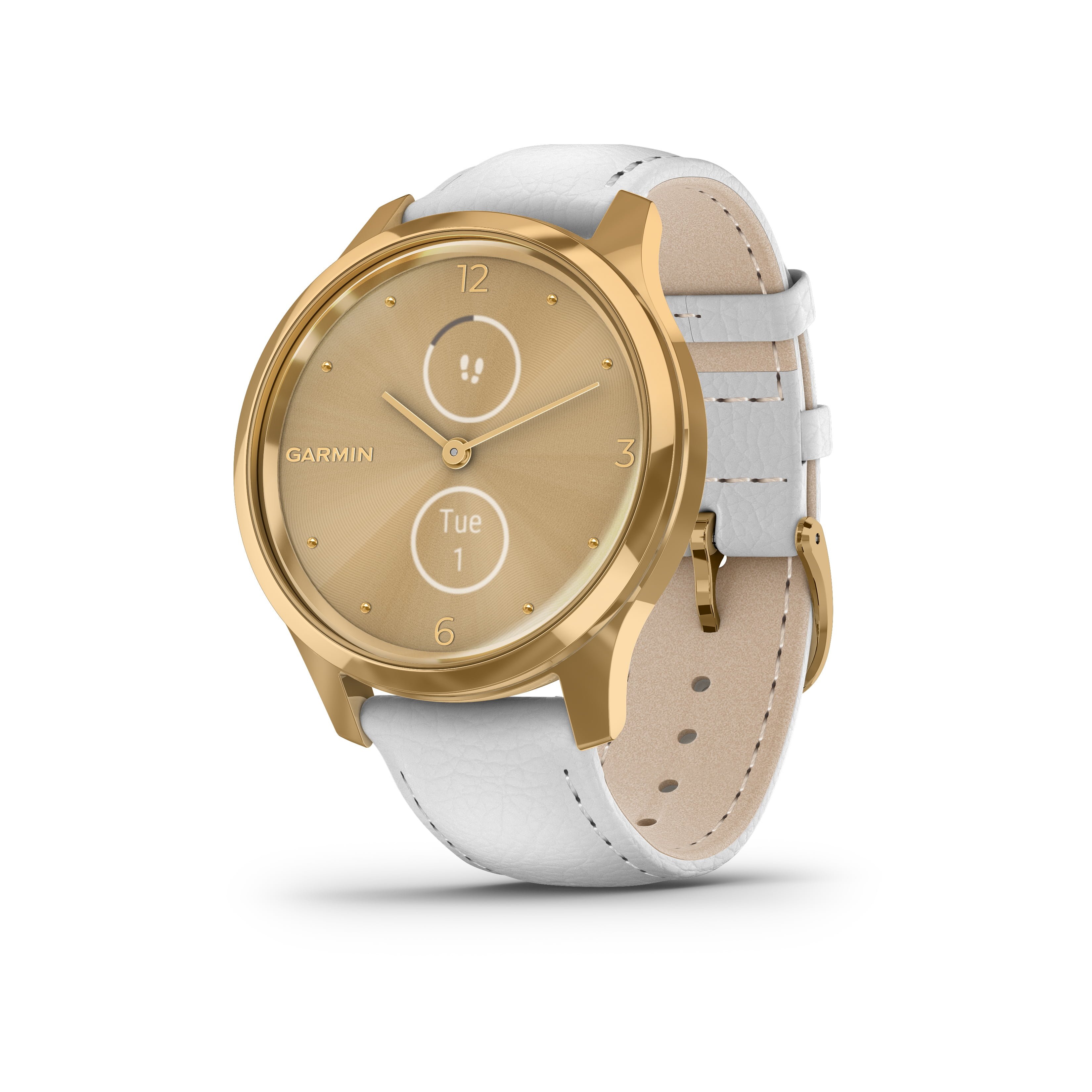 With a choice of a woven nylon or silicone band, the vívomove Style has a 42mm aluminium bezel and aluminum casing available in a variety of attractive metal finishes. It features a domed Corning® Gorilla® glass lens and the same interactive dual AMOLED displays as the vívomove Luxe.
Available in two case sizes (44mm and 39mm) the vívomove 3/3S is the perfect accessory with a stainless steel bezel, a selection of colorful silicone bands, and a hidden touchscreen display. The vívomove series has a battery life of up to five days in smartwatch mode and will keep ticking for an additional week in watch mode.
vívoactive 4 and 4S
The vívoactive 4 (45mm) has a battery life of up to eight days in smartwatch mode and up to 6 hours in GPS + music mode. The vívoactive 4S (40mm) has a battery life of up to seven days in smartwatch mode and up to five hours in GPS + music mode.
Venu, vívomove series, vívoactive 4 will be available at all authorized retailers from 22 October 2019 and vívoactive 4S will be available from mid-November.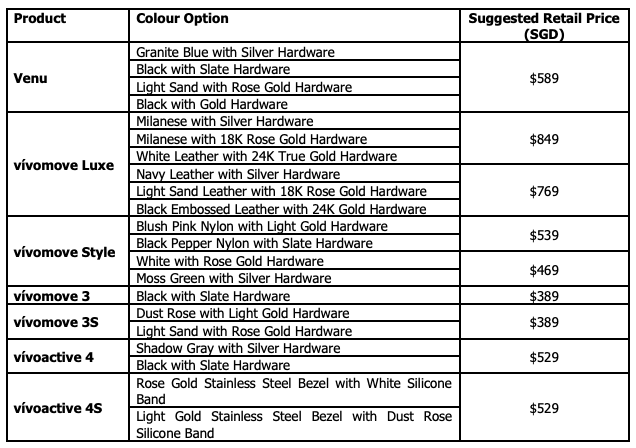 The Venu, vívomove series, vívoactive 4 and 4S are the latest innovation from the ever-expanding Garmin fitness segment that develops technologies to enhance and promote healthy and active lifestyles. Whether users are runners, cyclists, swimmers, multi-sport athletes, or simply looking to stay active throughout the day, there is a Garmin product that can help them reach their health and fitness goals. For more information, please visit http://garmin.com.sg/minisite/vivo/.
Join us at the Garmin pop-up from 22 October to 27 October 2019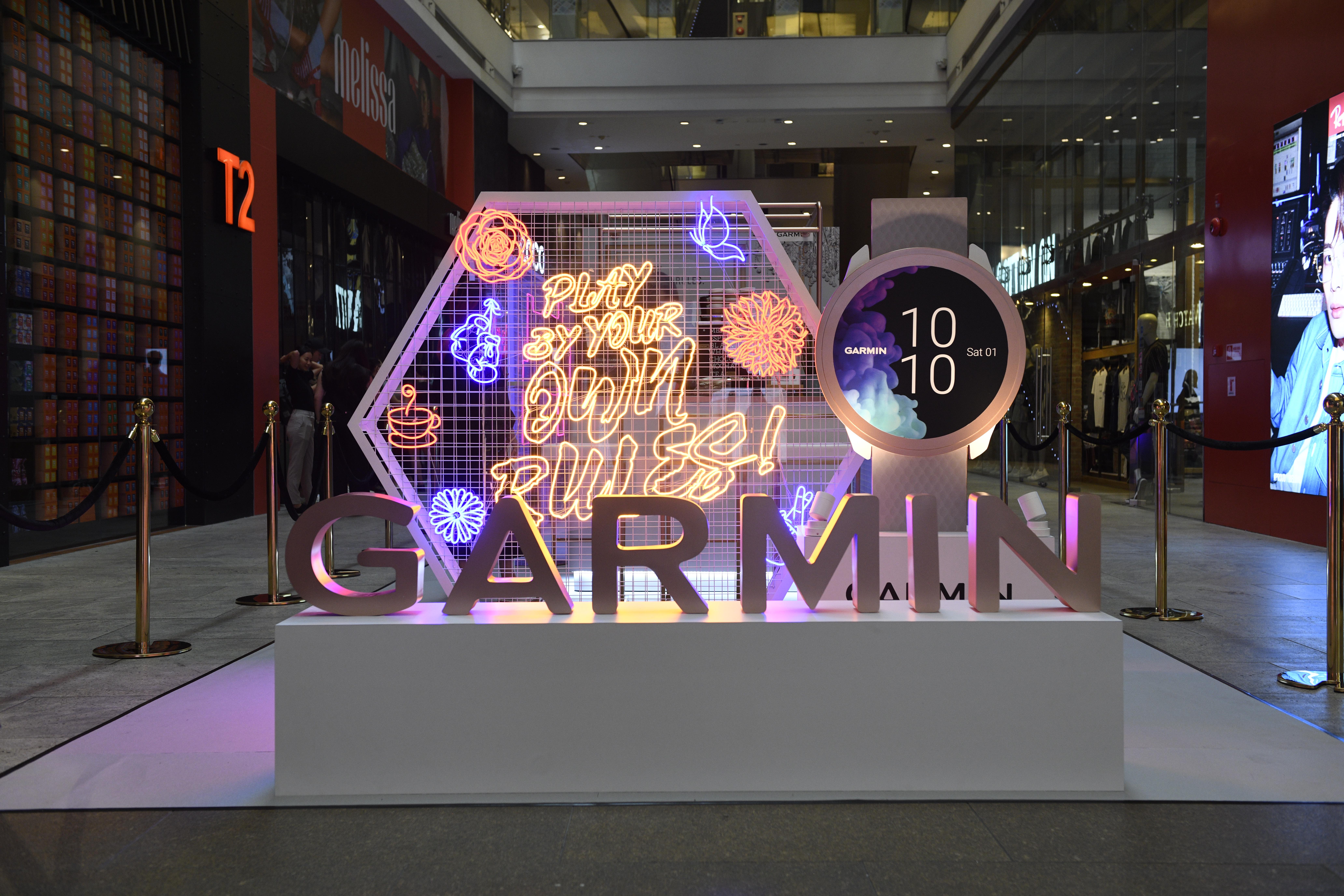 From 22 October to 27 October 2019, try out the watches at the Garmin pop-up at 313@Somerset Atrium, Level 1. From 23 October 2019, the first 50 daily to queue up at the coffee cart from 7 pm onward and 'Like' Garmin's Instagram page (@garminsg) will get to enjoy a free cup of coffee. The first 50 to purchase a watch at the Garmin pop-up will also enjoy a free cup of coffee and receive a customisable tote bag.
For the past 30 years, Garmin has pioneered new GPS navigation and wireless devices and applications that are designed for people who live an active lifestyle. Garmin serves five primary markets, including automotive, aviation, fitness, marine, and outdoor recreation. For more information, visit Garmin's virtual pressroom at garmin.com.sg/news/pressroom/, or follow us at facebook.com/garmin, instagram.com/GarminSG or youtube.com/GarminSingaporeMalaysia.
All images courtesy of Garmin. All product names, logos, and brands are property of their respective owners. All company, product and service names used in this website are for identification purposes only. Use of these names, logos, and brands does not imply endorsement.
Brand: Garmin
Browse more new releases

Please contact us to submit a press release
.