Garmin Launches vívofit® jr.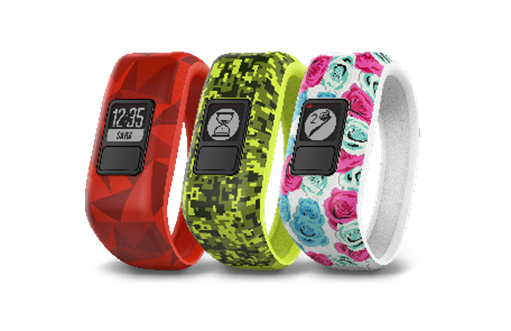 Garmin today announced the vívofit jr. – a motivator and activity tracker to encourage kids between the ages of three to ten to stay on the move. The stylish, kid-friendly design is comfortable, durable, swim friendly2 and features one-year battery life for 24/7 wearability. In addition to tracking steps, sleep and kids' activity on the way to their recommended 60-minute daily play goal, the vívofit jr. comes with a free, parent-controlled mobile app3.The app motivates kids with fun and educational mobile adventures, and family step challenges. It also includes helpful tools for parents to motivate kids, who can assign responsibilities and agreed-upon rewards for completed tasks. With the vívofit jr., kids have their very own activity tracker to help create healthy habits while they are young and keep them for life.
"We're excited to announce our first wearable just for kids in Southeast Asia – the vívofit jr.," said Mr. Engelhard (Al) Sundoro, Managing Director for Garmin South Asia. "The vívofit jr. was designed for interactivity between kids and parents in mind, from its durable and comfortable band to its engaging app that motivates kids to get moving, while keeping parents involved."
One-year Battery Life For Everyday Use
Easy to put on, the vívofit jr features a one-piece band that stretches over a child's hand to fit comfortably on their wrist. Its one-year battery life and water resistance mean kids rarely have to take it off, and its multiple stylish, vibrant band designs mean they'll rarely want to. With a high-resolution, sunlight-readable display, the vívofit jr. tracks kids' steps, sleep and active time on their way to the recommended 60-minute daily play goal. The watch face tells time, includes the date and even reminds kids to stay active with a move bar. It can also be personalized to include a child's name.
Parent-managed App To Make Task-based Learning Fun
The vívofit jr. also comes with an innovative, free app that features a mobile adventure trail to unlock for kids and task management for parents. From the app, parents can add multiple children and see their daily activity, responsibilities, sleep and more when the vívofit jr. automatically syncs to their smartphone. Turn every day into a fun competition as parents and kids compete as a family in a daily step challenge. As kids achieve their 60-minute daily play goal they'll unlock fun facts on the app's adventure trail, motivating them to keep reaching their goals.
The easy-to-use app allows parents to assign tasks that kids complete to earn coins that can be redeemed for agreed-upon rewards. Preloaded tasks are managed through the parent's mobile device and can be set to recur daily or weekly, or personalized chores can be created. And for those who tend to procrastinate, a timer is accessible from the vívofit jr. band for a reminder that time to finish their task is ticking down.
The vívofit jr. band is designed for ages four to nine and is available in broken lava, digi camo and real flower band patterns. The included band fits wrists up to 136 millimeters. If the included band is too small for the child's wrist, parents can contact Garmin for an exchange to the XL accessory bands. The vívofit jr. XL accessory bands accommodate wrists between 146 to 170 millimeters, or the vívofit 3 accessory bands may also be used.
From June 2017, the vívofit jr. will be available at all Garmin authorised resellers from mid May 2017 at a suggested retail price of SGD 129.
All images courtesy of Garmin. All product names, logos, and brands are property of their respective owners. All company, product and service names used in this website are for identification purposes only. Use of these names, logos, and brands does not imply endorsement.
Brand: Garmin
Browse more new releases

Please contact us to submit a press release
.