Garmin introduces the Forerunner 30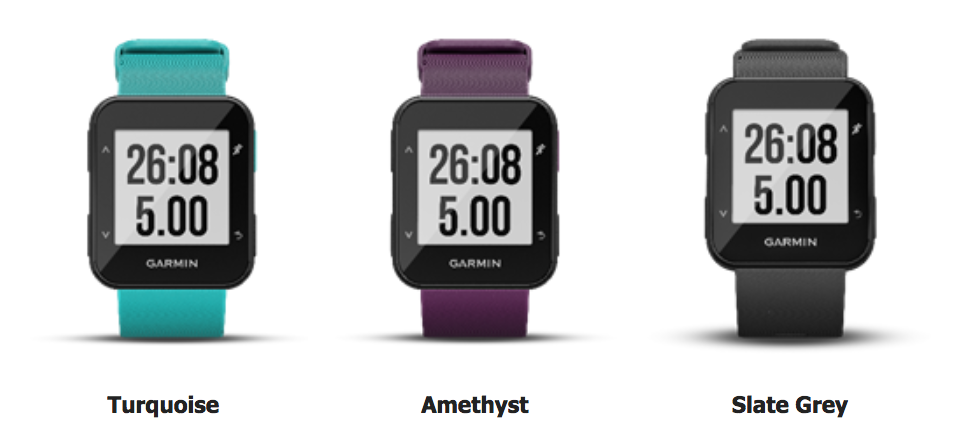 Published on:
16 October 2017
Your everyday GPS running watch with wrist-based heart rate!
Singapore, 16 October 2017 — Garmin Singapore, today announced the Forerunner 30, a simple-to- use running watch with built-in Garmin ElevateTM wrist-based heart rate technology 1that delivers streamlined running, activity tracking and connected features.
"The simplicity of the Forerunner 30 means athletes can easily take their running to the next level – all they have to do is put the watch on and go," said Mr. Engelhard (Al) Sundoro, Managing Director, Garmin South Asia. "With a variety of built-in features, the Forerunner 30 is the perfect tool for runners who want to stay fit, stay connected and share their progress."
Measure your progress with all-day activity tracking
Runners using the Forerunner 30 will get a better idea of their fitness level with the addition of VO2 max, a measurable indication of aerobic performance or fitness level, while training tools like Auto Pause®, Auto Lap® and pace/speed selection help provide athletes with an essential running experience. Garmin Move IQ™ technology will also detect and automatically categorize activities including running, walking, cycling and more. Whether out for a jog or training for a 10K, the Forerunner 30 tracks how far, how fast and where athletes are running without the need to carry a phone. In between runs, it doubles as an all-day activity tracker, keeping count of steps, calories and intensity minutes so users can record progress and activities even when they're not running. The Forerunner 30 features up to eight hours of battery life in activity mode and up to five days in smartwatch mode.
Stay connected without taking out your phone
Vibration alerts for incoming calls, voicemails and text messages help Forerunner 30 users stay connected without having to dig a phone out of their purse, pocket or bag. Throughout the day, the Forerunner 30 automatically uploads to Garmin Connect™ where users can share their workouts with friends and family in real time with Live Track, join fitness challenges, analyze training progress, set and track goals and much more.
Redesign of navigation buttons for ease of use
Improved from its predecessor, the Forerunner 35, navigating through the new Forerunner 30 is now more intuitive with the redesign of the navigation buttons. Users can select the corresponding up or down button as they scroll through the menu while still in a workout.
Pricing and availability
The Forerunner 30 is available in turquoise, amethyst and slate grey and will be available from 21 October from Garmin's official online store on Lazada for a suggested retail price of SGD 229. The ever-expanding Garmin fitness segment develops technologies to enhance and promote healthy and active lifestyles. Whether users are runners, cyclists, swimmers, multi-sport athletes, or simply looking to stay active throughout the day, there is a Garmin product that can help them reach their health and fitness goals. For decades, Garmin has pioneered new GPS navigation and wireless devices and applications that are designed for people who live an active lifestyle. Garmin serves five primary business units, including automotive, aviation, fitness, marine, and outdoor recreation. For more information, visit Garmin's virtual pressroom at garmin.com.sg/news/pressroom, or follow Garmin at facebook.com/garminSG, Instagram.com/garminSG or Youtube.com/GarminSG.
More information can be found at garmin.com.sg/Forerunner.
All images courtesy of Garmin. All product names, logos, and brands are property of their respective owners. All company, product and service names used in this website are for identification purposes only. Use of these names, logos, and brands does not imply endorsement.
Brand: Garmin
Browse more new releases

Please contact us to submit a press release
.