Garmin fēnix® 5 debuts in Singapore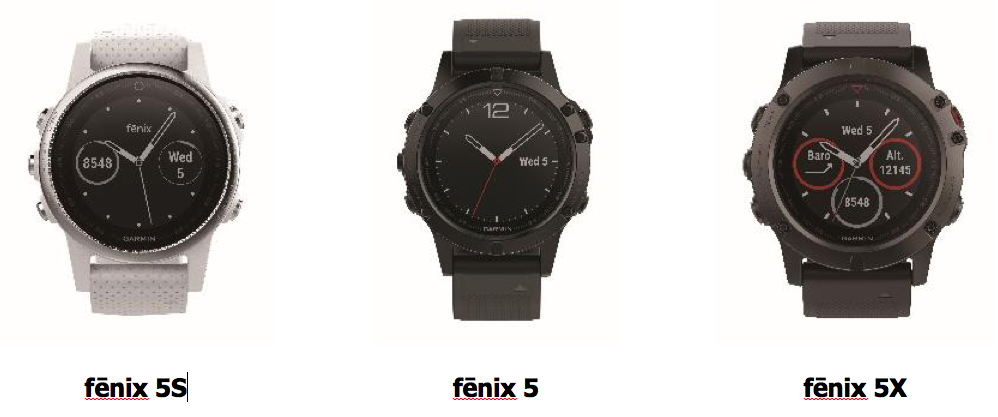 Published on:
10 March 2017
Singapore, March 10, 2017 — Garmin Singapore today announced new additions to its top-of-the-line fēnix series with the launch of the new fēnix® 5 line in three sizes – the first time Garmin is creating multiple sizes of a single product to reach more users with varying wrist sizes.
Multisport features for all fēnix 5 models
The fēnix 5 models come preloaded with full multisport features including running, hiking, swimming and biking. With built-in wrist heart rate technology Garmin Elevate, users get 24/7 heart rate monitoring whether resting or at the gym and without the hassle of a chest strap. In addition to the wide variety of sport profiles, the fēnix 5 models have daily activity tracking, so users can wear their fēnix as a daily timepiece and a rugged training tool. The Sapphire editions also offer a scratch-resistant lens for outdoor challenges.
Built-in navigation features include a 3-axis compass, gyroscope and barometric altimeter, as well as GPS and GLONASS support to track in more challenging environments than with GPS alone. Users can also keep their training stats right at their fingertips with a performance widget that shows training status, training load and more.
Each of the new fēnix 5 models is water rated to 100 meters3, and are built to withstand the elements with a stainless steel bezel, buttons and rear case. Users can also take advantage of the UltraTrac™ power saver mode to extend battery life even more.
Smart notifications and customization
In addition to the multiport features, the fēnix 5S, 5 and 5X boast a variety of connected features. When paired with a compatible smartphone, users can get calls, text and app notifications right on their wrist. All fēnix 5 models are compatible with Garmin's Connect IQ Store so users can customize their watch with apps, widgets, data fields and watch faces. To take watch faces one step further, fēnix 5 watches are compatible with the Face-It app, so users can set their favorite photo as their watch face. Sapphire models are Wi-Fi® Enabled, so users can connect their watch to their home network for automatic uploads to Garmin Connect™ when within range.
How to get them? 
The fēnix 5S, 5 and 5x will be available on for pre-orders at the IT Show 2017 from 16th to 19th March 2017, and will be available in stores end March. The first 50 pre-orders for the fēnix 5S and fēnix 5 at the IT Show will get a free QuickFit silicone band worth SGD 109.
The suggested retail price for the different sizes are as follows: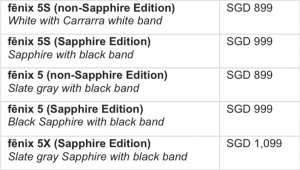 Launching alongside the fēnix 5 series are the latest range of QuickFit™ bands in silicone which allows users to easily swap, click and go to change out their watchband in seconds and without tools are available in a range of versatile colours and will retail at SGD 109.
The leather and metal QuickFit bands are also available for orders at SGD 169 and SGD 309 respectively.
To learn more, visit garmin.com.sg/fenix.
All images courtesy of Garmin. All product names, logos, and brands are property of their respective owners. All company, product and service names used in this website are for identification purposes only. Use of these names, logos, and brands does not imply endorsement.
Brand: Garmin
Browse more new releases

Please contact us to submit a press release
.