All Your Sweat, All Your Memories, All Your Personal Bests
Build your own running portfolio of race stats!
Introducing myRace Dashboard, the ultimate online tool for runners and race participants.
Discover events and save your finisher times, photos and e-Certs.
---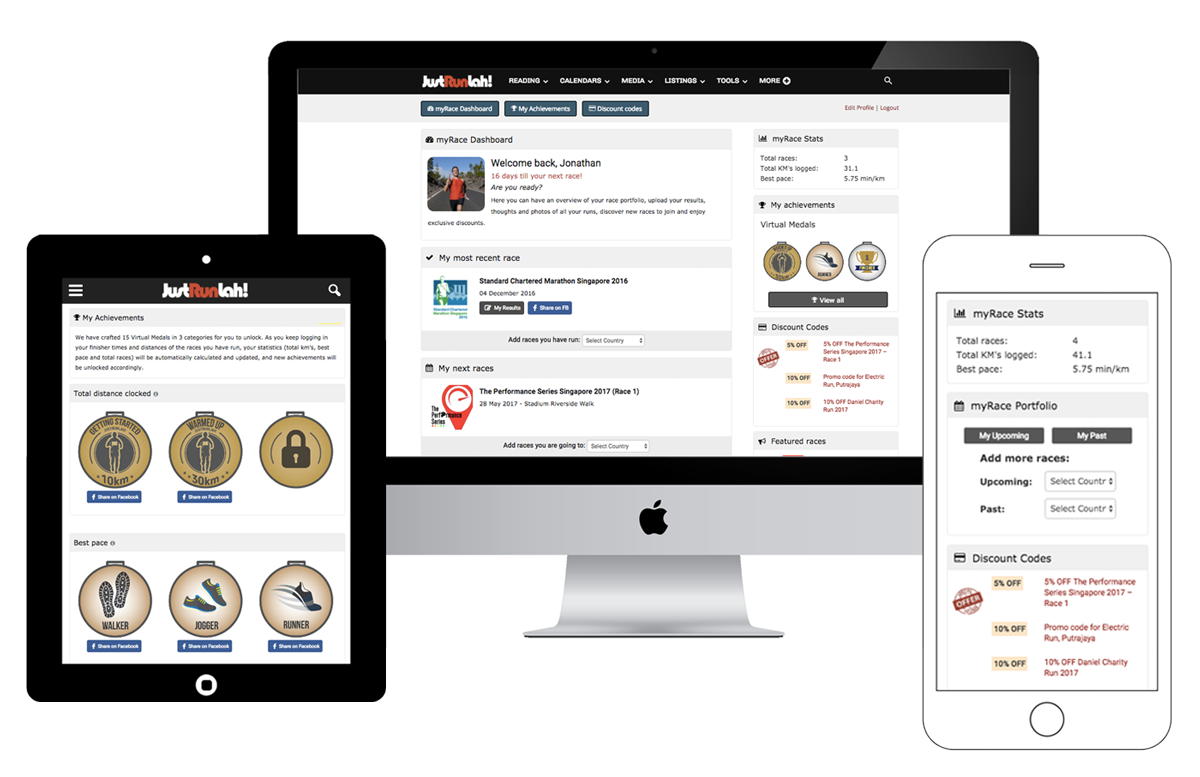 The game is on!
You can now discover new races and keep track of all the ones you have run.
Upload your finisher times, your comments, save your photos and e-Certs and share your results with your friends easily on Facebook.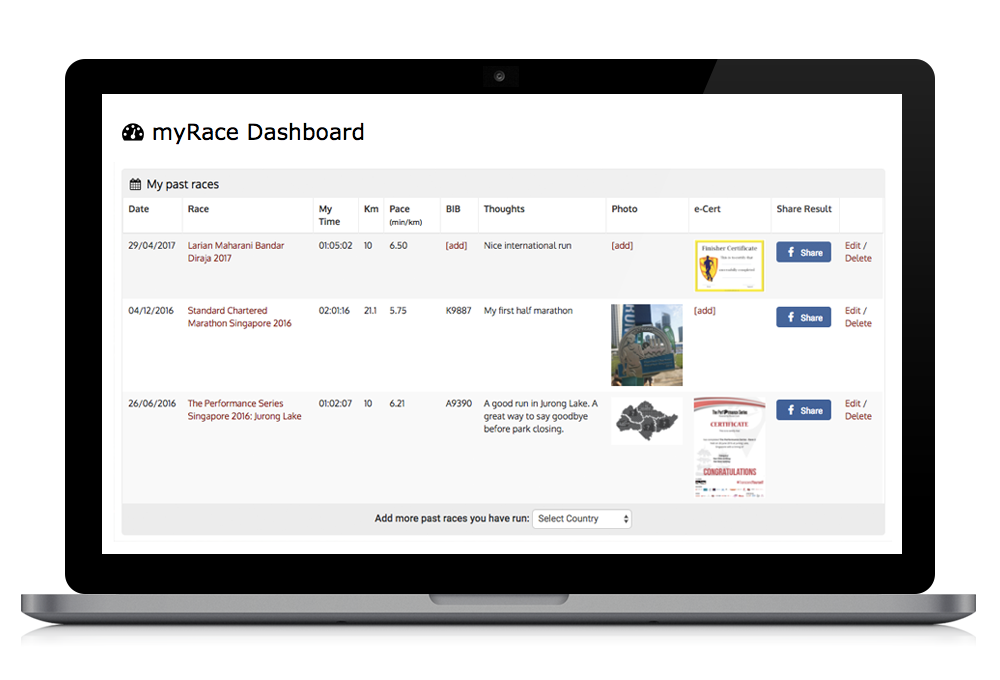 If you have previously created a mobile app account with
JustRaceLah!
you can use your credentials to
log-in
your web dashboard.
All your saved races will be available both on the web dashboard as well as on the app.
If you don't have an account, wait no longer and click here to
register
. It's totally free!
Virtual Medals: Run and Unlock!
We have crafted 15 Virtual Medals in 3 categories for you to unlock.
As you keep logging in your finisher times and distances of the races you have run, your statistics (total km's, best pace and total races) will be automatically calculated and updated, and new achievements will be unlocked accordingly.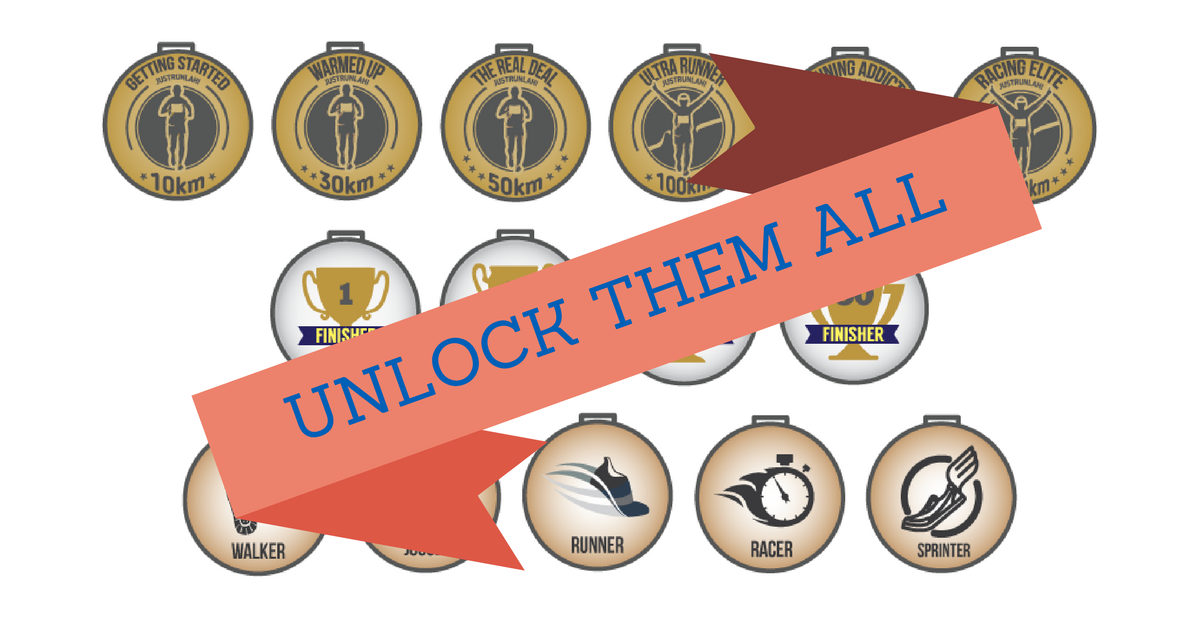 Total KM's clocked: The more distance you log in your portfolio, the more medals of this category you unlock!

10km - 30km: Getting Started
30km - 50km: Warmed Up
50km - 100km: The Real Deal
100km - 500km: Ultra Runner
500km - 1000km: Racing Elite

Best pace: The faster your pace gets, the more medals of this category you unlock!

Faster than 10 mins/km: The Walker
Faster than 7.5 mins/km: The Jogger
Faster than 6 mins/km: The Runner
Faster than 5 mins/km: The Racer
Faster than 4 mins/km: The Sprinter

Total races completed: The more races you run, the more medals of this category you unlock!

1 - 10 races: The Newcommer
10 - 20 races: The Casual
20 - 50 races: The Regular
50+ races: The Addict
Share your achievements!
With the click of a button, you can now share your virtual medals and also your finisher times together with your finisher photo!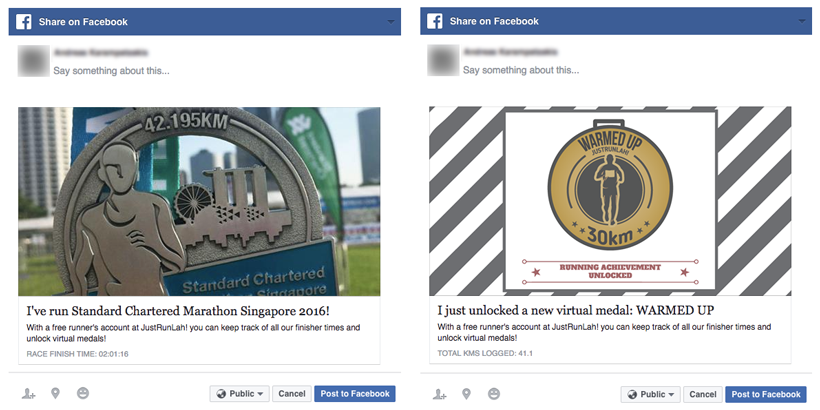 Create a runner's account and bring your racing to the next level

JustRunLah!
is owned and managed by
JustConnect Media