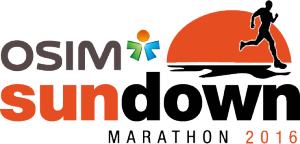 At a glance
---
Location Singapore

Happening in: March

Race categories: Full Marathon, Half Marathon, 10 km, 5 km

Next on: May 19th, 2018

Race website




Facebook page



The race
---
What started out as an epiphany during a training run has become an inspiration for the entire Sundown Marathon concept: We train at night. Why don't we race at night? For the past eight years, Sundown Marathon has inspired runners to push limits and break boundaries to achieve greatness. For the 9th edition of Sundown Marathon, we are back bigger and better, with the same mission of pushing people to outdo themselves and be truly, limitless.

Organised by HiVelocity Events, Sundown Marathon injected a jolt of energy into Singapore's running scene when it became the nation's first night marathon in 2008, and the event hasn't looked back since. From a humble attendance of just over 6,000 in the first year, Sundown Marathon's registration is expected to reach 30,000 in 2016, making it Asia's largest night marathon once again.

Being the nation's first night race to be nominated twice for the prestigious International Sports Event Management (ISEM) Awards and Marketing Events Awards, for the Best Sport-Oriented Event, Sundown Marathon has fearlessly gone where other running events fear to tread.