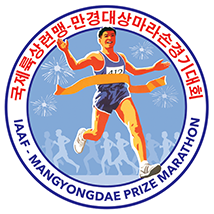 At a glance
---
Location Pyongyang, (DPRK) North Korea

Happening in: April

Race categories: Full Marathon, Half Marathon, 10 km

Next on: April 8th, 2018

Race website



The race
---
Starting in 1981, the Mangyongdae Prize Pyongyang Marathon was only opened to foreign amateur runners in 2014.
The race happens every April, and is run on a IAAF Bronze Label certified return course through the city centre with runners going past many of the iconic buildings, monuments and streets of Pyongyang, before heading out into the countryside just outside of the urban centre, before turning and running back again.

All three amateur races — the 10km, half marathon, and full marathon — start and finish inside Kim Il Sung Stadium (including a final lap of the stadium track). This means that everyone participating will get the chance to finish in front of a 50,000-strong capacity crowd of local Koreans who will be in attendance at the stadium.

After the race has finished, the top three in each amateur category (men's full; men's half; men's 10km; women's full; women's half; women's 10km) take their place on the stadium's podium for the award ceremony.

All non-Korean participants are required to enter the country as part of an organised tour group.
Route map(s):