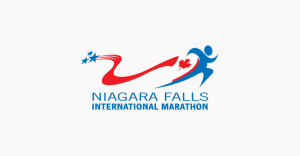 At a glance
---
Location Ontario, Canada

Happening in: October

Race categories: Full Marathon, Half Marathon, 10 km, 5 km

Next on: October 14th, 2018

Race website




Facebook page



The race
---
Inaugurated in 1974, the Niagara Falls International Marathon is one of the few marathons in the world that starts in one country and finishes in another. Border control is involved, so participants are bused across the border to the start, and pre-cleared by border officials by bringing their passports or I.D. These will be given back at the finish line or kept by the racer during the race.

The marathon course begins in Buffalo, N.Y., at the Albright Knox Art Gallery. The course runs 6.5km through the city before crossing the International Peace Bridge into Canada. Following a loop of historic Fort Erie, it takes runners along the scenic Niagara River Parkway. Runners are treated to the magnificent view of the Horseshoe Falls at the finish line.

It's a small racing field, with places for the full marathon capped at 1500. Nonetheless, last year's event managed to draw 4,500 across all running categories.
Route map(s):