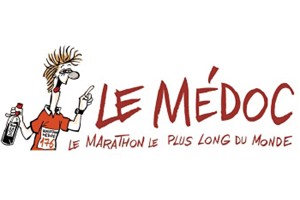 At a glance
---
Location Medoc, France

Happening in: September

Race categories: Full Marathon

Next on: September 10th, 2016

Race website



The race
---
Created in 1984 by a group of passionate marathon fans, the marathon nicknamed the "Medoc" has become a must for many marathon runners over the years. Le Marathon des Chateaux du Medoc is an unique race that offers red and white wine at water stations. Routed through 59 vineyards in the fabled villages of the Medoc region, this event appeals to the true connoisseur of fine runs. Over half of the field dresses up in costume and every year there is a new theme.

Despite the fun aspects of the race, the "Medoc" is nonetheless a real Marathon, 42.195 km measured officially. The fantastic organization and beauty of the course have placed it among the leading international marathons year in year out drawing an ever increasing number of foreign participants (over 20% of runners in 2006). In one single loop, this Marathon winds it way round a stunningly beautiful circuit of over 50 chateaux. The course reads more like a wine list than a race course: Chateau Lafite Rothschild, Chateau Mouton Rothschild, Lynch-Bages, Pichon Lonqueville, Beychevelles among others.

More than any other event, the "Medoc" promotes sport with its 3,000 volunteers and some 100,000 spectators who each year say to themselves "and why not me?" The record for the race is held by Sacha LOTOV in 2 hours 19'20" (1992) and Josiane LLADO in 2 hours 38'34" (1999). The record for the number of wins is held by Philippe REMOND (9 wins).