We spoke to Elaine to find out more about her passion about running and what drives her addiction to running. Run to eat more – sounds familiar? Surely this applies to many of us runners out there.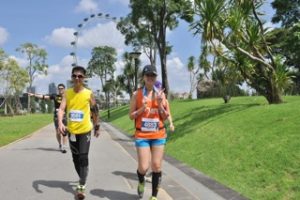 JRL:
How would you introduce yourself to the running community?
Elaine Tan:
A young runner who is running to keep fit so that I can eat more delicious food.
JRL:
When did you first pick up running, at what age and what inspired you to do so?
Elaine Tan:
I remembered doing the 2.4km run in school during the annual NAPFA test held for students. Of all the test items, I did better in the shuttle run and the 2.4km run as compared to my situps and standing broad jumps. And when I came out to work, I was influenced by my colleagues at my current company to run. This was in 2014 when I was 24 years old. Part of the influence came in part as I wanted to blend in with my colleagues at work and joining them for running gave me a common topic where I can connect better with them on. Later on, it developed into something more of wanting to keep in shape and staying fit. Sitting too long at a desk bound job and a lack of exercise caused me to put on quite a bit of weight. More so, the notion of being able to eat delicious food guilt free, also became a part of my driving force for running. I run so I can eat more. :)
Ocasionally, I also try to push my limits when I run to train for marathons. Running has also become a good avenue for me to let off steam from pressures that I faced with at work. Honestly speaking, the adrenaline rush from running gave me some sort of a high that I actively seek when I exercise. My mood always feel lifted after a run. Running long distances also provides me with a sense of accomplishment too!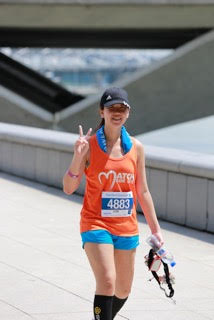 JRL:
What is your favourite running quote?
Elaine Tan:
'I run so I can eat more' - Elaine Tan 2016.
If I really had to pick one, this is what I would choose.
Does my own running quote count?
'It's very hard to understand in the beginning that the whole idea is not to beat other runners. Eventually you learn that the competition is against that little voice inside you that wants you to quit.' - George Sheehan
Long distance running has thought me perseverance and the never give-up attitude. Most of all, it has shown me that the greatest competition comes not from the external environment but within me. It is easy to give in to the little voice in my head when I feel that my legs are leaden with weight and my body telling me I can run no further. But if you persevere on and complete the journey, you will gain an immense sense of accomplishment and applaud yourself for not giving up when the going gets tough. This is something I find greatly applicable to life as well.
JRL:
Your favourite running route?
Elaine Tan:
It has to be the route from Marina Barrage to Gardens by the Bay and towards MBS and back. The view is even better when you run in the evening.
JRL:
Which is your dream race?
Elaine Tan:
I haven't really considered this one yet. But I would love to do an overseas marathons, especially in Korea.
JRL:
Your preferred running brand?
Elaine Tan:
None specifically but I do realize that when I choose my running attire, they're mostly from Adidas. For shoes, I am very comfortable with Altra.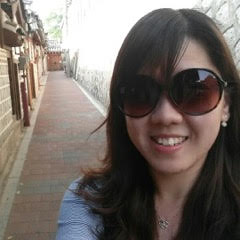 JRL:
What do you think is the greatest reward you've gotten from running yet?
Elaine Tan:
Staying Fit and healthy:)
JRL:
Finish this sentence: Running is ...
Elaine Tan:
Running is addictive. You can't stop once you start!
---