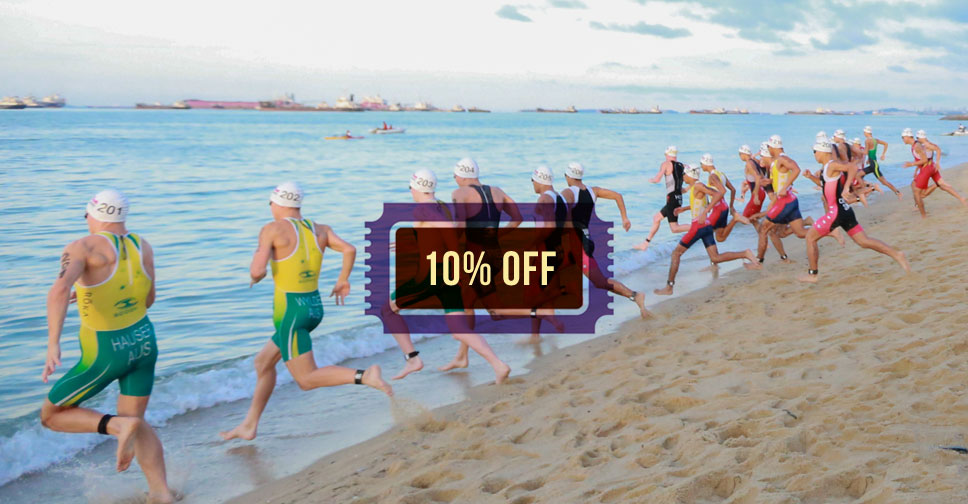 Singapore International Triathlon 2017: 10% OFF
Valid until:
August 18th, 2017
The Singapore International Triathlon (SIT) is Singapore's pioneer triathlon event. Established in 1984, it was launched in an era when triathlons and endurance sports in general were largely unknown in Asia. From the first local triathlon held by the National University of Singapore (NUS) in its campus, it evolved into an international event two years later with a wide diversity of athletes participation from multiple countries including Malaysia, Hong Kong, New Zealand and Australia.
SWIM: A beach start swim off East Coast Park will see Tri-athletes swim out along the Singapore Straits, nestled between Singapore and Indonesia. Water conditions range 27 C to 29 C. Minimal swells but subject to changes on the day.
Standard : 1500m (2 lap of 750m)
Sprint : 750m (1 lap of 750m)
Mini : 200m (1 lap of 200m)
Kids : 100m (1 lap of 100m)
BIKE: The bike leg course take you out onto East Coast Park Service Road with full road closure and re-entering the park to complete a loop. This will be a fast course with little incline and only 4 t urns to navigate. There will be no aid stations along the course. All athletes are reminded to have at least 1 bottle of 700ml and above for this leg.
Standard : 36km (6 Loops of 6km)
Sprint : 18km (3 Loops of 6km)
Mini : 12km (2 loops of 6km)
Kids : 6km (1 loop of 6km)
RUN: After the final transition, athletes will be taken along the paths of East Coast Park, Singapore's oldest and longest coastal park. The Run Course will be mainly shaded with lush greenery lining the route and will take you past the numerous beaches along the park. At least 3 drink stations will be placed along the course for hydration. Distance markers will be placed for Standard and Sprint Distance only.
Standard : 10km (2 Laps of 5km)
Sprint : 5km (1 lap of 5km)
Mini : 2km (1 lap of 2km)
Kids : 1km (1lap of 1km)

Do you own an event or service? Contact us to share a discount code with our 300,000+ users
.