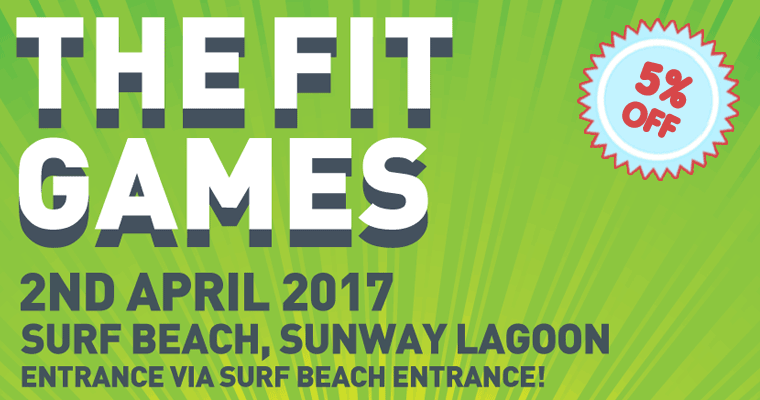 5% OFF – Fit Games @ Sunway Lagoon
Valid until:
February 28th, 2017
Come and experience the fun and excitement of The Fit Games at Sunway Lagoon Surf Beach this 2nd of April 2017. Fit Tix will be hosting a fun experience obstacle event for both adults and kids and If you have ever wanted to try experiencing an obstacle event for the first time now is your chance, join now!
To register, simply choose the ticket type that you want and choose the amount. If you are registering as a group simply choose 1 of the group category ticket type and register. After registration we will then contact you to get the rest of your teamates / family particulars.
Details:
Venue: Sunway Lagoon Surf Beach
Date: 2nd April 2017 (Sunday)
Time: 8:00 a.m. – 6.00 p.m.
Registration ends on 10th March 2017
**All participants will also receive all accesses with Sunway Lagoon ticket. So after you've worked out a sweat, feel free to hang out and enjoy the rest of your time with family and friends. Sunway Lagoon ticket is not applicable to pay-per- ride activities: Bungy Jump, G-Force X and Go Kart.

Do you own an event or service? Contact us to share a discount code with our 300,000+ users
.