Training
The race was planned just after four weeks after my marathon in September (here is the previous race report). So the short term training plan aimed mainly to transfer from the passed race to a new, shorter one. For that, I gradually increased MPW from 20 to 35 during the first three weeks of four available, leaving the last one for tapering with slow-paced recovery runs. The first three weeks were in the spirit of Hanson Plans, with the rotation of tempo, sprints and long endurance runs, each followed by a recovery. Of course, I was mostly leveraging the fitness base I made before the marathon (again, Hanson-style approach with peak 70 MPW), the only goal was to actuate it before the half-marathon. A day before the race, I had a brief 2-miler with a few short (400m) MP-stretches.
Pre-race
The transition plan seemed to work well, and I felt quite rested & ready for the HM. The only potential problem was the weather forecast: whilst not rare for British October, it was stating rain showers for the whole day. So my pre-race was all about mentally preparing for puddle running and planning dry change clothes. Hopefully, I had an advantage here since the race was local to me: so I could quickly get to the start and get back home after finishing.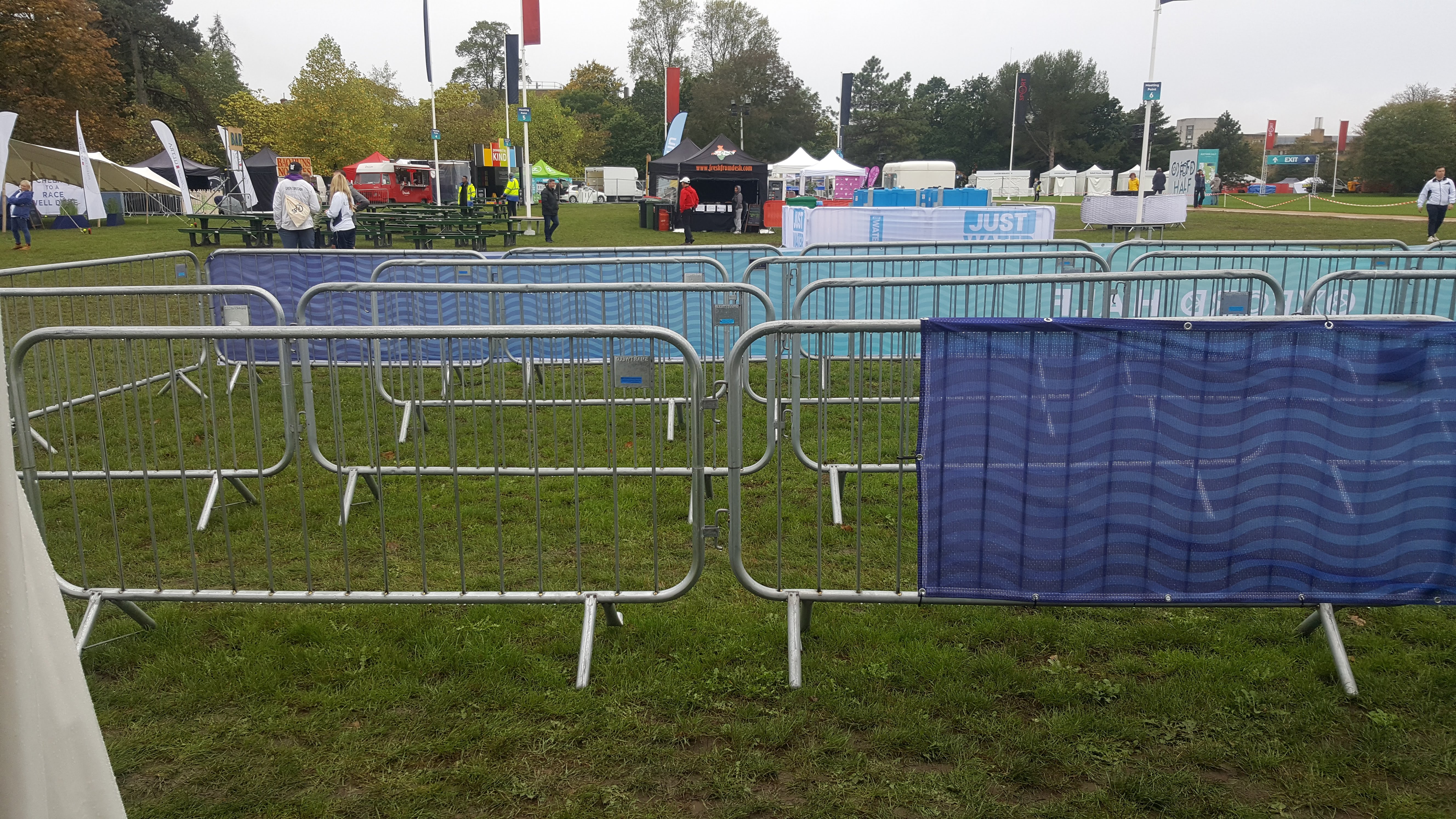 As for fueling, I went typical carb load starting two days before HM, and had pre-race granola breakfast roughly two hours before the start. I wanted to run without refuelling, with just catching water stations.
Speaking of plans: my previous (first) HM was about 1:33:31 and I definitely wanted to go faster, hopefully, less than 1h30. I also set a stretch goal of 1h25 which surely was very ambitious, nearly 4:00min/km. To achieve the goal, I had tactics to stick to the 1h30 pacer for the first half of the race and then go faster, up to my LT, finally going full gas on the last 5K.
Race
It turned out, the forecast was right and it was already raining cats and dogs when I woke up. I took my showerproof jacket and jogged to the race village trying to keep wait windows as minimal as possible. Made a warm-up, changed clothes, went to the starting line and was already completely wet to that moment. Actually, spotted a nice trick: some guys were using black plastic waste bags with holes made for arms & neck; not sure it protects well from the rain but at least seems to delay a moment of getting entirely wet.
So I started in the second from the front group and tried to follow the 1h30 pacer. This lasted for about 3-4K until I rushed a bit forward to escape from the queue on the water station, and decided not to return back to the pacer group. With lessons learned from the marathon, I was continuously monitoring my HR to stay below my LT for the first 10K. Then, I went a bit faster and got into LT zone for the next quarter of the race. Exactly at this moment, the weather got worse: there was literally a wall of water, with streams all around on the road. Immediately got soaked to the skin, laughed at the "car wash" style refresher that I passed by.
| | |
| --- | --- |
| | |
On the last 5K, I slowly moved to the "red zone" above my LT, and the racecourse entered the city park area with gravel & sand pathways. They were obviously full of puddles, leaving nearly no chance to miss one and step on the solid ground. Hopefully, it wasn't that muddy, and even my road running flats weren't slippering much. On the last mile, we go: an asphalt section and then about 1K on the few centuries-old pavements in the historical centre of Oxford. Final rush to the finish line and 1:26:39. Nearly 7 minutes washed away since the first half-marathon I did this May.
Post-race
The first thought, "cool, I actually made it as planned!". Just a few seconds later, "wait, I'm not completely wasted as I was last time, I should have probably run faster!". Feeling happy and a bit disappointed at the same time. On the other hand, I can't easily what went wrong i.e. where I should've speeded up. The best guess I have is, perhaps, the first half could be closer to the LT lower limit so I'd maximise the efforts here…
Here's Strava link for the race https://www.strava.com/activities/2711180522, with 1km splits and HR.
Organisation
I'm generally happy how the race was organised. With about 7000 participants running, Virgin Sports did a good job keeping the race safe and providing water & electrolytes on the course. The course was quite flat, maybe a bit too much packed into the same streets, with dual-way running. I think my only concern is, since the race village was in the park and it was raining cats & dogs, the entire territory around tents was wet and muddy. Even with gravel covered pathways, it was barely possible to get in or out without collecting the mud on your feet. Thinking out loud, some plastic/rubber mats could to the job, if properly placed on the pathways… But I get it, maybe it was hard to predict & plan such things in advance.
Goody Bag
This year, Oxford Half goodies came in linen cloth bags and mainly consisted of a blue t-shirt, snacks and bars from sponsors, extra-light beer (meh…), and — I still have a strong feeling that I accidentally got a ladies bag — dry shampoo and brow corrector. This year, finisher's medal was in a polygonal shape, somewhat reminding me of a manhole cover or spider's web, but that's alright.
Summary
Gear: Saucony Freedom ISO, Garmin Forerunner 220+HRM strap.
Overall, I'm happy with the race and planning to go further next year. I'm twice as happy that I managed to do the season without any injuries or overtraining, despite that I made a half & full marathon for the first time. Thinking of pushing harder on the speed & strength training this year and making my sub-3 next spring.