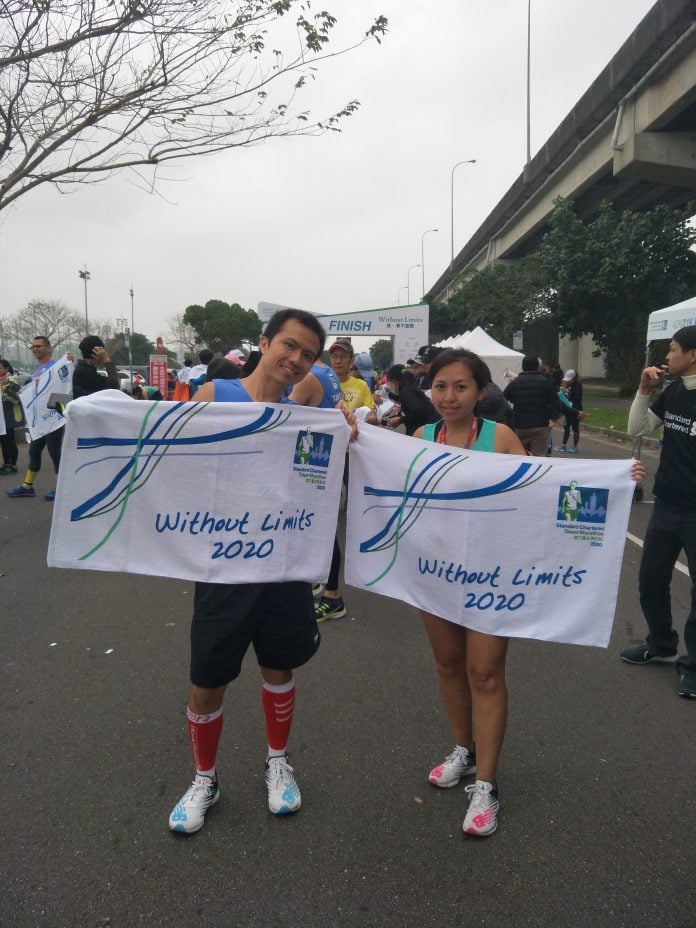 It's my first full marathon in Taipei! 😍 Had been wanting to run a full marathon in Taipei for a few years and finally did it this year. Maybe will run again a marathons in Taiwan but in other areas outside of Taipei. Last year I had many races in Malaysia, but now, I may want to run Taiwan more if I can get reasonable cheap air tickets! I guess it just makes more sense for me to pay $200 to go Taiwan than pay about $150 to go Malaysia. And what's better is that during certain period in Taiwan, the weather will be cooling to run in! 😍
Every time while doing a 42.195km run I felt crazy that I'm doing it over again but here I am, done with my 10th marathon 💪 Jio-ed my friends to run with me but they wanted to run half marathon category and I was contemplating on doing a half marathon or a full marathon. Decided might as well run the full marathon so I can collect the series of Standard Chartered Marathon medals from the different countries though I have plenty of question marks where's Jersey, Nairobi and Falkland Island 😆 Had already done the full marathon category in Singapore, Hong Kong and Kuala Lumpur, so might as well do the 42.195km right? I registered for Willis before asking him whether he wants to run or not 😆 Luckily there isn't any huge complaint from him. Just that he gotten ill a few days before the race and still haven't recover in time. Don't know what sorcery he have, even though he's sick and even though his running mileage was maybe just about twenty percent of mine, he can run better than me 😂
During registration, I purposely keyed in my traditional Chinese name as its so cool! Although my English language, read/write/speak CMI, my Chinese language is quite good and it had been my favourite subject since primary school. Though we were only taught simplified Chinese in school, I am able to recognised traditional Chinese characters quite well. So tadaaaa, such a nice bib with traditional Chinese characters! 😍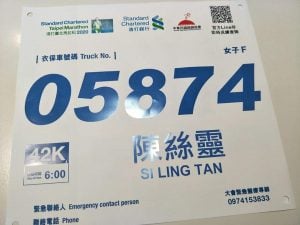 It was a very short touch and go trip with my friends as it's my 6th time to Taipei. Need to save up my annual leaves for other runcations also leh 😏 Though I had been to other areas than Taipei such as Hualien and Yilan, but mostly I frequent places nearer to Taipei such Jiufen, Shifen, Tamsui, Yangmingshan and I'd been to these attractions so many times! OMG sia, and March I will be going Taipei again for a Women's Run 😂 I must get out of Taipei and explore Taiwan!
There's no need to ballot for SCTPM and I paid NT$1093 which was approximately SGD50, quite cheap if to compare with the registration fee for the full marathon category of SCSM which may go as high as SGD$110 during late registration.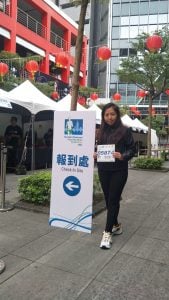 Race pack collection was located near to Taipei 101 but rather inconvenient as after we alight at the nearest MRT station, we still need to do a 10-15 minutes walk before we can reach the race pack collection site. But what's 10-15 minutes what when I'll be doing 42.195km right? 😅 There are other categories such as 21.095km, 13km, 3km kids dash and 3km leisure run.
There was no queue when we arrived as we were early on a Friday morning. All the entitlements items are picked and put in a brown envelope consists of the event singlet, timing chip and race bib. Love the event singlet colour and design, it has all the different places with Standard Chartered races printed on it!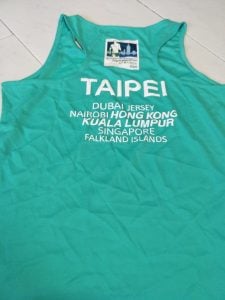 We bought the official bag for baggage deposit, it can be used for all other races for baggage deposits in Taiwan. It's a must to purchase their bag if we want to deposit our items. There were 2 different types of bag, a waterproof and non-waterproof version. The waterproof cost NT$200, whereas the other one cost NT$100.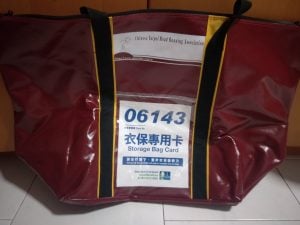 There was nothing much available on site, there's no Expo just the collection of race pack and a counter selling past year's SCTPM race singlets/tees and towels. It's very cheap and selling only at NT$50 per piece, the money for the sale items also goes to charity. As the venue is very near to Taipei 101, we proceed to Taipei 101 after that to have a great view of the entire Taipei 😍 This was my third time there. The elevator was on the Guinness World Record as the fastest elevator a few years ago, some other place must've come up with a more powerful elevator in recent years.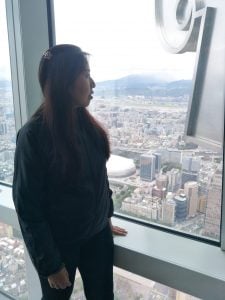 On race day, it was only about 14 degrees, the sky was dark and the weather forecast predicted 40% chances of rain. Wore a raincoat to keep me warm and in case it rains, the raincoat would be well utilised. Luckily it was just very slight drizzle that we couldn't even feel the rain at all. Heard from the locals that these few days were the coldest days compared with the past few weeks. It doesn't feel cold while we walked to the race site but during the later part of the race, it starts to feel colder. Now I wonder how did I survive that 4 degrees in Tokyo Marathon last year in just a tee-shirt and raincoat. We walked for about 10 minutes from our hotel in Ximending to the start point near Presidential Palace. We stayed in Inhouse Boutique hotel, it's a very nice hotel and they allowed us late check out at 2 pm without any additional charges when I explained that we're running a marathon 👍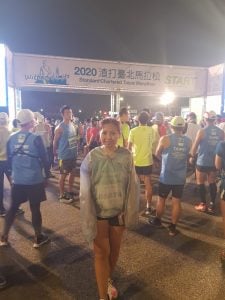 Willis and I packed jackets and a few heat pads to put inside the bag for baggage deposit. There are many trucks for baggage deposit, which truck to deposit baggage is but the first number on our bib. Some trucks got no queue but for our truck number 5, there's quite a queue of about 3 lines x 8 runners long but it was rather fast for the baggage deposit and we part with our friends as they are running half marathons, flagging off 10 minutes after us in different start pen. Flag off for the full marathon was punctually at 6 am.
The first aid station was rather far after 5km. After that, there's almost one aid station between 2 to 3km away. At about 7km, I stopped and use the portable loo. It's the squat type and more hygienic 👍 Most of the aid stations offered isotonic drink and water, fruits such as bananas and tomatoes. There were biscuits, waffle biscuits and sour plums as well. Many aid points provided sponges as well.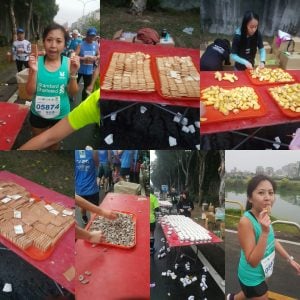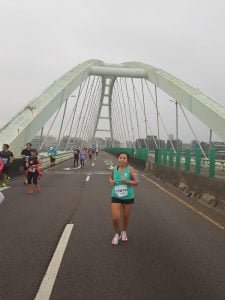 For the first 15kms, we were running on roads and highways until we entered the riverside parks. It was then a whole stretch of the riverside park, there's many baseball courts, basketball courts along the riverside parks. The place reminds me of Singapore's East Coast Park actually, quite torturous as it's a long stretch running past a few of the same place over and over again and we need to do a few u-turns. I keep a lookout of Taipei 101, sometimes it seems nearer sometimes further, I just keep on wondering when's the u-turn and looking forward to the u-turn points.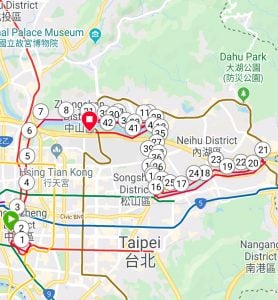 Along the route, there isn't much entertainment and supporters cheering for runners, but these supporters sure liven up the atmosphere a little!

There are distance marker boards at every km and I noticed at some distance markers, there's stated cut off time. There are many sweeper buses parked by the side as well. We actually saw quite a lot runners already DNF and waiting in the sweeper buses already though it's still not yet the COT.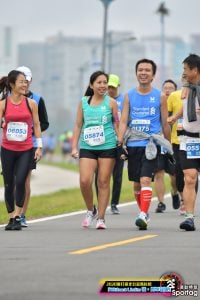 After 30km, many of us alternate between running and walking. Willis is my Doraemon and he carried heat pad on him lah 😍 He offered me his gloves but I didn't want. My hands were damn cold and this photo captured me clenching tightly two heat pad, one in each hand. A runner jokingly told us that holding hands is breaking the rule as it's assistance in running 😆
I wasn't very motivated to run and the best word to describe me was lazy 😂 Though Willis can still run, he waited for me like always ❤ I only aim to complete before the 6 hours cut off time. It's definitely not easy to complete a marathon under a cut off time of 6 hours but the runners running SCTPM all seem strong. Willis and I were actually the last few to complete 😆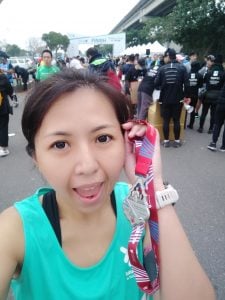 As soon as we crossed the finishing line, collected our finisher medal and towel and after taking a few photos, it started to drizzle and get real cold. We proceed quickly just a little away from the finishing to under the bridge for shelter and to collect goody bag along with some sponsored items such as a huge tube of facial cleanser, a big bottle of shampoo etc 😍 It was quite a generous amount of freebies.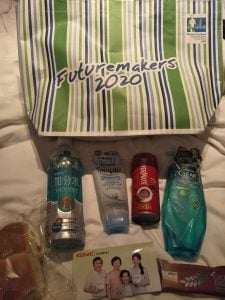 We quickly went to collect our baggage and put on a few layers of clothing to keep us warm as the rain and wind got heavier and stronger. Walked a little further down and there's a line of buses queueing up at the carpark to fetch the runners back to near the start point. There's no queue at all and it was a well-organized event and I have added another SCM medal to my collection ❤

So where to next? 😏