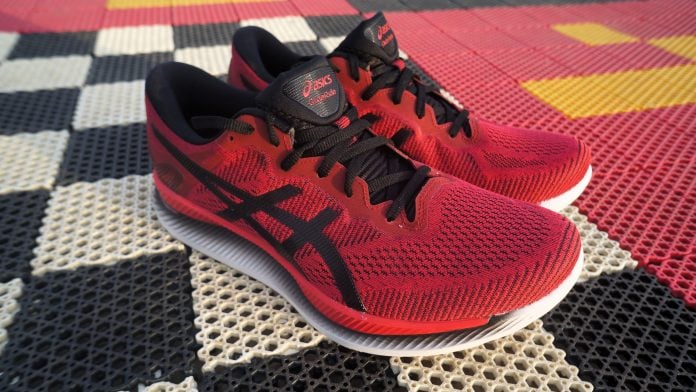 Here it is, ASICS GlideRide — a consumer-friendly version of the truly innovative ASICS MetaRide, a result of more than two years of R&D from the famous Japanese brand. With the little sacrificed on the high-end components, they managed to make these innovations available for the wider audience of runners, but they still share a lot in common with the original prototype. Extreme curvature, Flytefoam and Guidesole technologies, together with ASICS Gel pretend to let you run longer and save energy as you go. To figure out what all the hype is about, let's put them on and take for a test drive!
A shorter and post-processed version of the video review for shoes review platform is available
Appearance
The pair I've got comes in the eye-catching cherry red colour with inserts of black plastic & rubber elements all around. One could disagree but they look exceptionally stunning and eye-catching, especially with that extremely high stack of roughly 30mm at the heel and 25mm at the forepart.
With a high stack, GlideRide still has a low heel to toe drop of about 5mm
The shoe upper is made of a breathable fabric, it looks and feels quite strong and solid — the brand is well-known for producing a quality mesh, and this pair doesn't seem to disappoint. You can see ASICS logo made of a black rubber: quite neat, way better than just a sticker. The tongue is made of very well padded material, again with the plastic/rubber thingy on top. Though I was tempted to tear these two off wondering about how much does it weigh… But let's move on.
The midsole, this is the heart of these shoes and where the innovation actually happens. I didn't cut them like this merciless dude, but generally, it's a shaky combination of the top-notch foam (Flytefoam) and something more solid, perhaps EVA-like material (Guidesole). Altogether, it should bring an extra stiffness into the forepart and facilitate the rolling movement that propels your feet forward. We will touch this a little bit later in the Performance section. And since it's ASICS shoes, you can surely find an ASICS Gel insert in the heel part, so heel strikers are covered.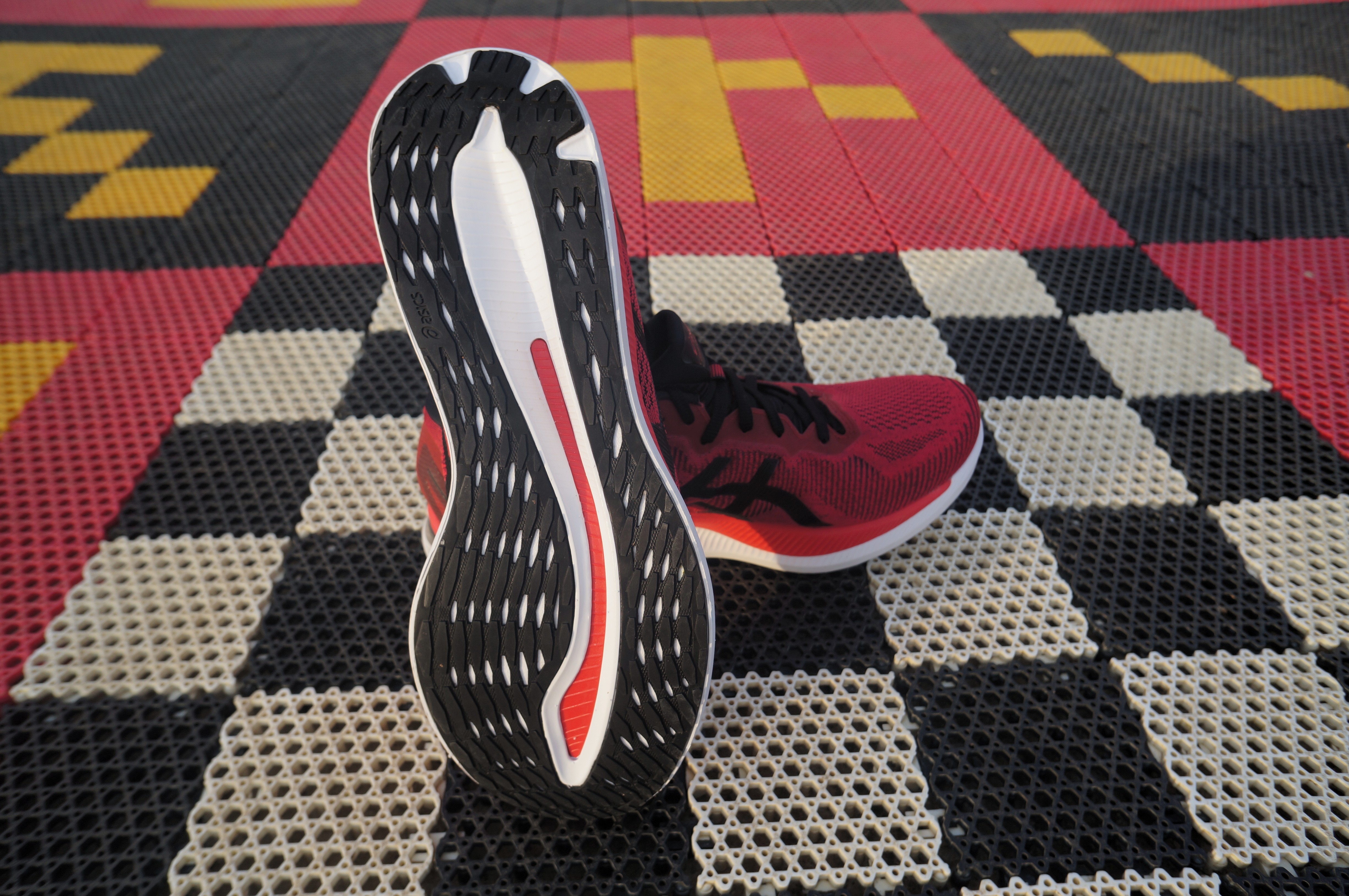 The outsole features quite a minimalist pattern
Moving on, the outsole. This is basically just a thin layer of rubber, implemented in a way of a band that goes on the left & right parts. It feels extremely thin, especially for the long-distance running shoe and I would just hope it lasts long enough. With little diamond-shaped clits, it has maybe 2-3mm thickness and a bit more on the heel part. From the very first look, it becomes apparent that these shoes are only for the road running, and you should better stay away from the trail or pathways — literally, anything apart from the good flat surface.
Fit & Comfort
ASICS GlideRide fits quite well when you put them on. They are not too tight, you can feel enough space in the toe box. The upper shoe fabric doesn't stretch much, it's not of a sock-fit kind of the shoe. There is also a protective element in the toe box: a few thin plastic inserts guard you against sudden hits and also help to keep the toe box wide enough.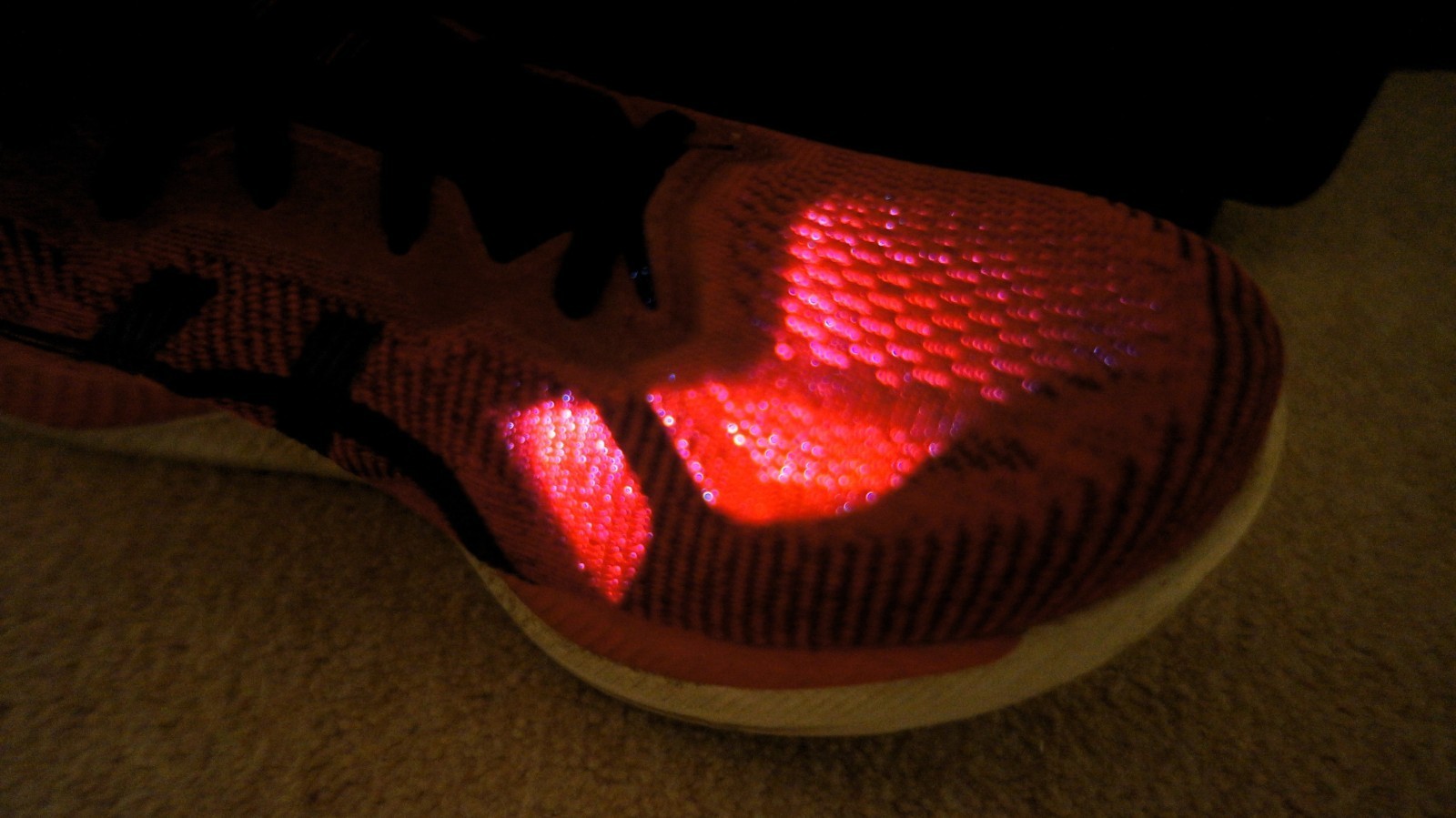 The toe box is guarded with a thin plastic "shield" under the fabric
The lacing of the shoe make makes a very good impression: it stays on exactly how you made it and doesn't stretch at all during the run. Laces are also of high quality and don't seem to loosen at all as you go. Importantly, the lacing rows leave enough space for the tongue, so it pops up in front of your ankle and doesn't put any pressure during the run.
The back part of the shoe is very stiff and keeps your feet in an upright position very well. I was barely able to bend it left to the right with hands. At the same time, there is enough of soft cushioning inside, they feel quite plush and comfy. You would expect them to give a good level of comfort in longer runs and marathons. However, don't expect any extra support for your pronation: they are still on the neutral side. This also pairs well with a quite low heel to toe drop (about 5mm), which makes them quite good for the forefoot running style, but can take you a while to get used to the higher shoe stack.
I actually tried them on longer distances: after a single 20K run, I didn't feel any soreness in the feet area and no blisters at all. Again, they felt very soft inside, but stiff outside, just what I would like to have in longer runs. Be cautious though, and don't jump into your next long run straight after unboxing: the trainers' geometry is a bit special and YMMV. Instead, start slowly with shorter runs, as it is recommended for the new shoes.
On the contrary, there is one thing that concerns me most and makes this pair a bit controversial: the weight. So mine were about 308g a shoe in 10.5US size, which is… well, noticeably more than other top models would have. It wasn't a point to compare them with Nike Vaporfly or similar, but still, I would love to see them just a bit lighter (was it really worth to put those rubber & plastic decorations on the upper?)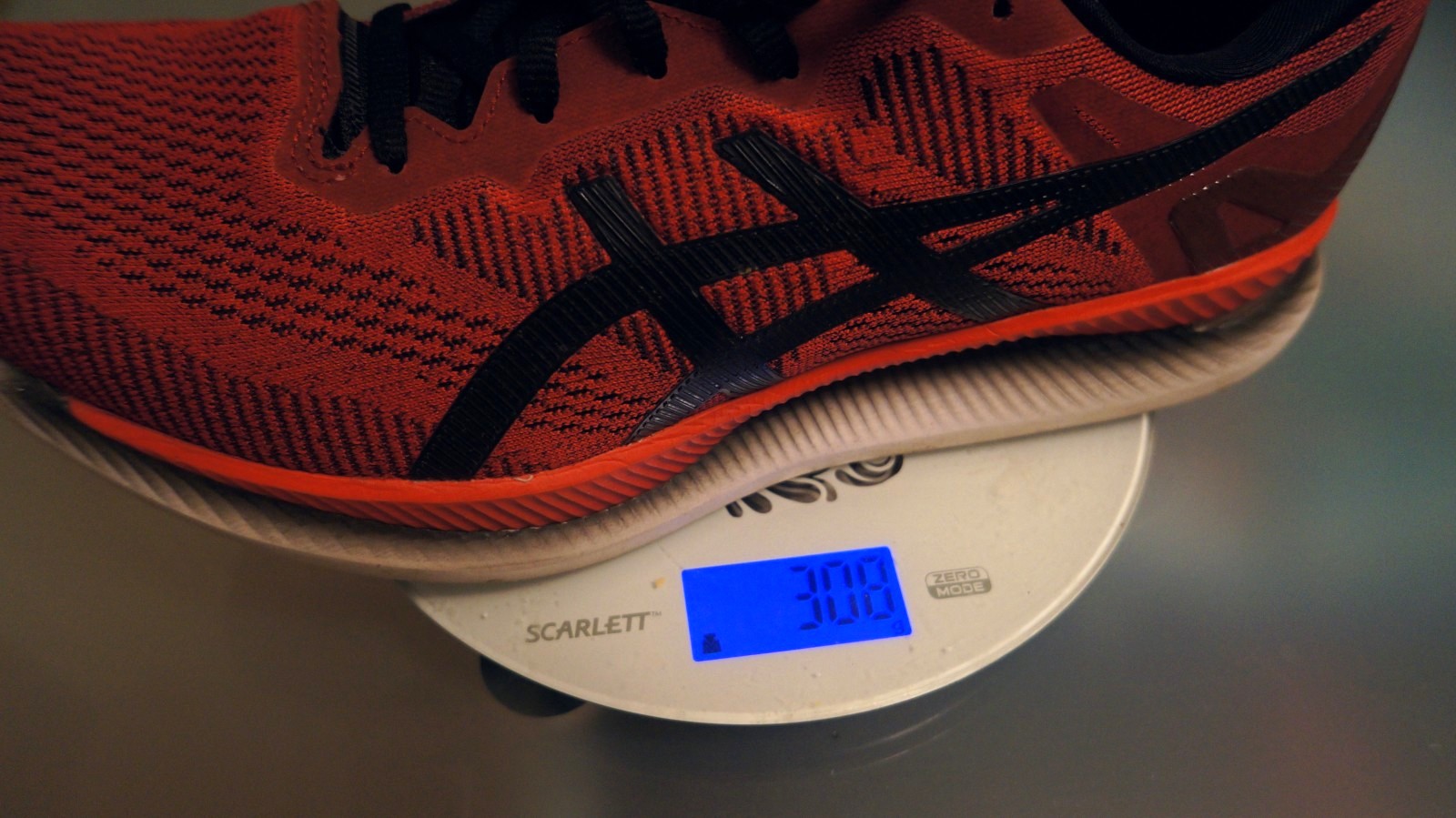 Over 300g per shoe in US10.5 size is quite a lot for today's top models
Despite that fact, they feel quite balanced, with the weight evenly distributed. They force you to lean forward and start moving immediately, even if you are just standing still. So enough rambling, and let's get to the road to give them some test!
On the Road
To figure out how these shoes actually perform on the road, I made two separate tests in them. For the first one, I made a couple of 400m sprint repetitions, mainly, to understand if there is a little chance you could do any kind of speed training. Good news, it's not that bad. Of course, they still stay on the heavy side, but they don't feel anyhow bulky or huge. It can take some time to get used to the high profile of 3cm, but 70-75sec per 400m is perfectly doable and GlideRide doesn't stop you going even faster than that. Overall, it was a rather positive experience with just two concerns: a bit of extra weight and lack of stability on the uneven surface because of the high stack, meaning that your feet can go a little wiggling when you hit the pothole edges or cracks in asphalt.
For another test, I took them for a longer run, and in the 20K I was aiming for a negative split as I usually do, also doing some occasional sprints in between. Running with GlideRide feels very smooth from the beginning, they don't feel big or bulky at all. Compared to the speed strides, this extra weight is not so noticeable. Shoes also respond really well when I want to go faster, and I'm not trapped by the shoes' extra weight. In the end, I did a couple of tempo intervals during the run, reaching my half-marathon pace, and it was quite easy to sustain it.
Another thing that I noticed was, the feet movement feels a bit different compared to how it was in my regular shoes. In particular, I was running on the forepart with seemingly no heel involved at all. It was even more prominent than I usually do with my natural running style. So I decided to dig a bit deeper into how these shoes actually work.
The front part of a stiffer midsole is lifted up to help your feet rolling
I made a few more tests to figure out what's going on with my feet when I run ASICS GlideRide. So here is what I figured out: when you run in common low profile shoes, you are bending the forepart of a midsole. Just look at any running analysis video in slow motion. With the high stack and the stiffer midsole, you don't have to bend the midsole during your Gait cycle transition, when you land and pass the centre of mass. In fact, you're kind of rolling from the middle part to the front, which is handled by the shoe's structure.
So here is an interesting consequence: because of this rolling motion, your ankles now need to flex less, which typically means you save more energy in the muscles. This should be especially valuable for the longer runs like half or full marathons and beyond. The only remaining concern would be an extra weight to carry — that's the pay-off what actually facilitates this glide running movement. Altogether, this can sound a bit controversial, but personally I would be quite excited to test ASICS GlideRide in the actual marathon race.
Durability
To the date of writing this review, I made about 90 miles in these shoes and they seem to have a few marks of wear and tear. While the upper of the shoe looks completely fine, there are some stains and marks on the midsole sides. In practice, it's quite often for the light-coloured foam, so it wouldn't be a surprise to see more of such stains after doing more miles.
The outsole remains in pretty good shape, although the most stressed parts have scratches and started erasing slowly, especially the smaller clits on the sides and hills. I'm still quite concerned about the outsole rubber layer being too thin for the long-distance running shoe, and therefore not sure if it won't erase down to the foam after next few hundred miles.
The outsole rubber started erasing slowly on the forepart and the heel
Speaking of weather resistance, I made some runs when it was pouring outside and it was… well, as expected. There's a slight feeling of having some water repellent properties in the beginning, however, please don't expect any real water protection. The good news here is that the water is unlikely to be getting inside just because of you running through the little puddles or generally wet surface, mainly thanks to the shoe's profile.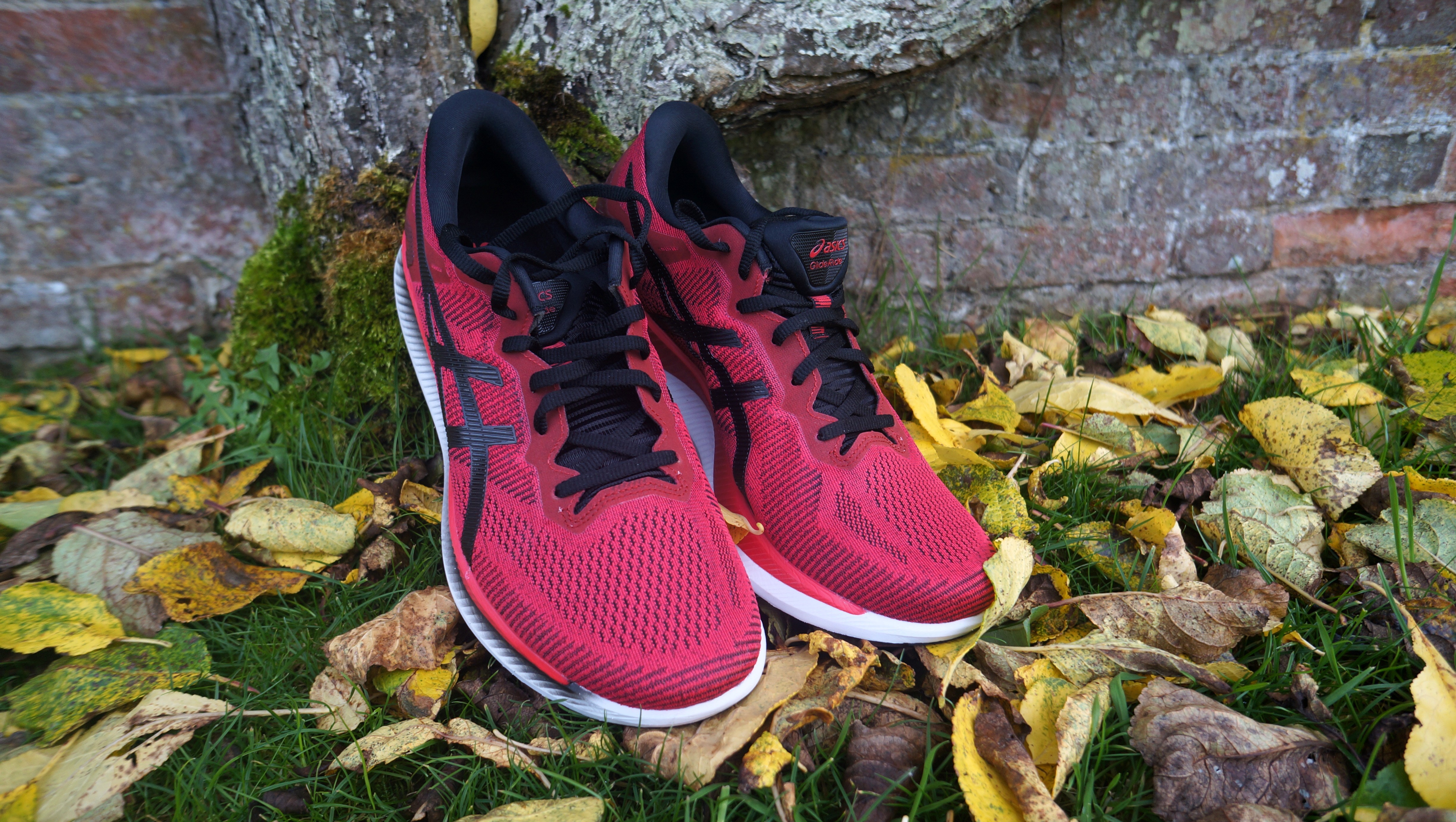 GlideRide has nothing to do with anything apart from asphalt or other hard flat surfaces
As for mud or grass… well, again, these are just road running shoes, so you'd better stay away from any muddy roads or wild pathways. Otherwise, if you do some occasional trails, be ready for the loss of traction & your feet slippering all the way through. There's little to no spikes or anything for good traction away from the asphalt. After all, you were not supposed to go there, right?
Blitz
A quick recap of the review in five short questions:
Which terrain are they for? Road only, hard surface.
What distance? Long-distance running.
Training or racing? Training, because of excessive weight. Though GlideRide certainly have the potential to be racing shoes and I would like to give them a chance in my next marathon.
Shoe profile? High profile, low heel to toe drop, nicely cushioned.
What's so special? Glider profile & stiff hi-tech midsole that keeps your ankles lazy, nice and responsive foam and, of course, impressive look.
Conclusion
Simply put, ASICS GlideRide is your comfy mileage builder. The trainers certainly share a lot of common with their prototype-like model MetaRide, in terms of technologies and overall design, although GlideRide turned out to be on the heavier side. Whilst it leaves a bit sad feeling that they could do more, I generally like that companies are getting more and more involved into real research & development, and trying to bring new innovation into the running sport. It's hard to say if this pair from Japanese brand could be a real competitor to, for example, Nike Vaporfly series or similar top-performing shoes, but it's definitely a step forward. Some people have already got used to the high profile of Hoka One One or On Running Cloud series, so I would expect GlideRide to be also quite appreciated among road runners.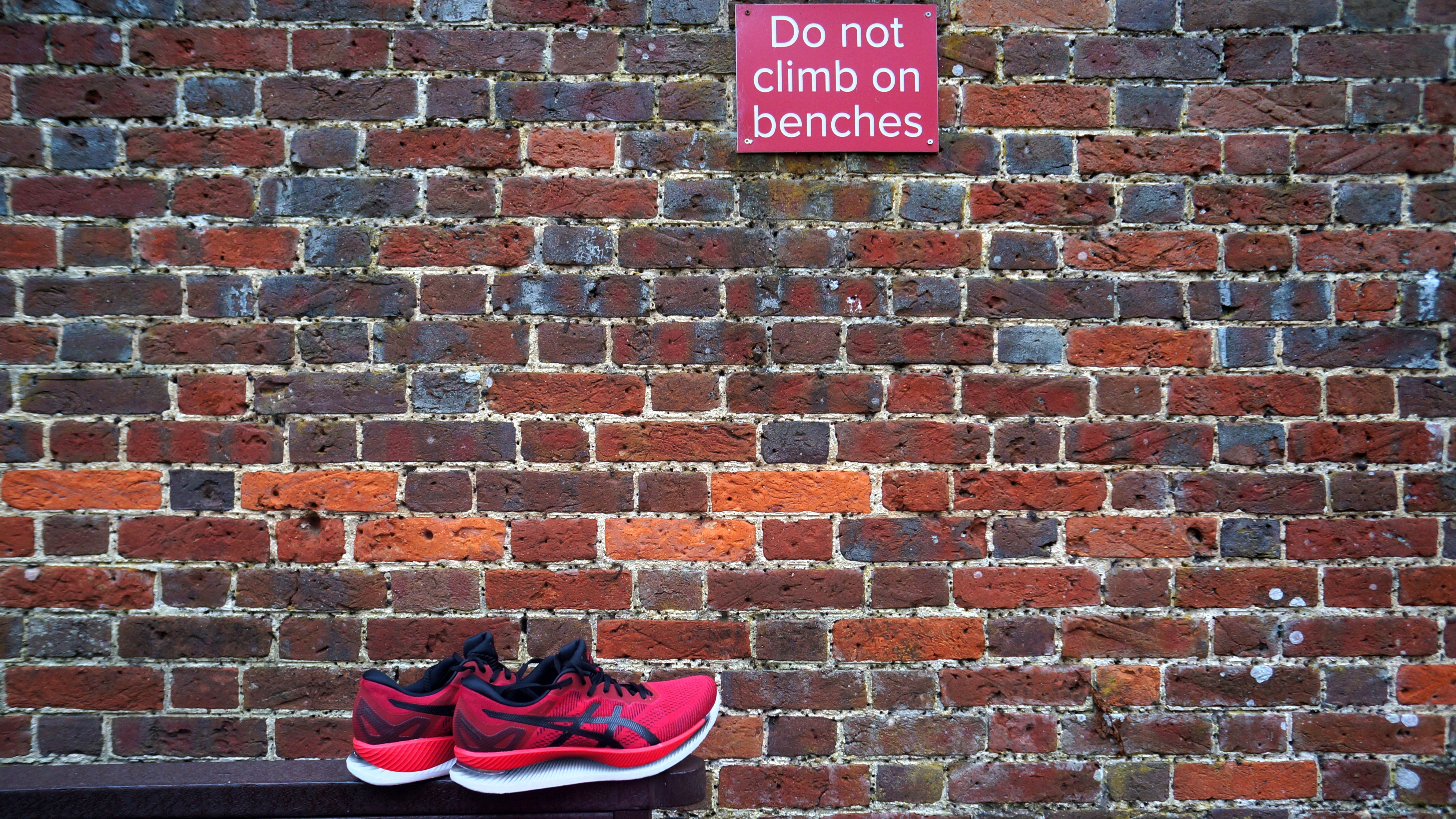 Author's running profile
Weight: 69kg, height: 185cm
Avg. distance weekly: 80-100km
PB: 1:26 HM and 3:05 FM
REVIEW OVERVIEW

Appearance
Comfort
Performance
Technology
Durability

SUMMARY