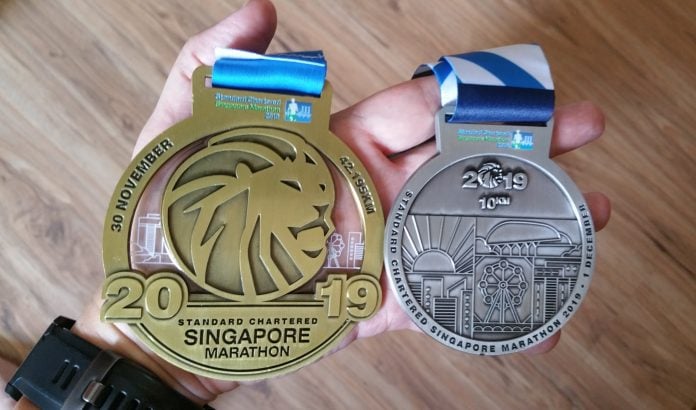 This is an account of the 9th marathon which I did with Standard Chartered Singapore Marathon 2019 and the 10 km race the morning after.  (The event was a well organized one in my opinion.  But I won't be going into the usual review in this blog.  Perhaps another long discussion on another occasion.)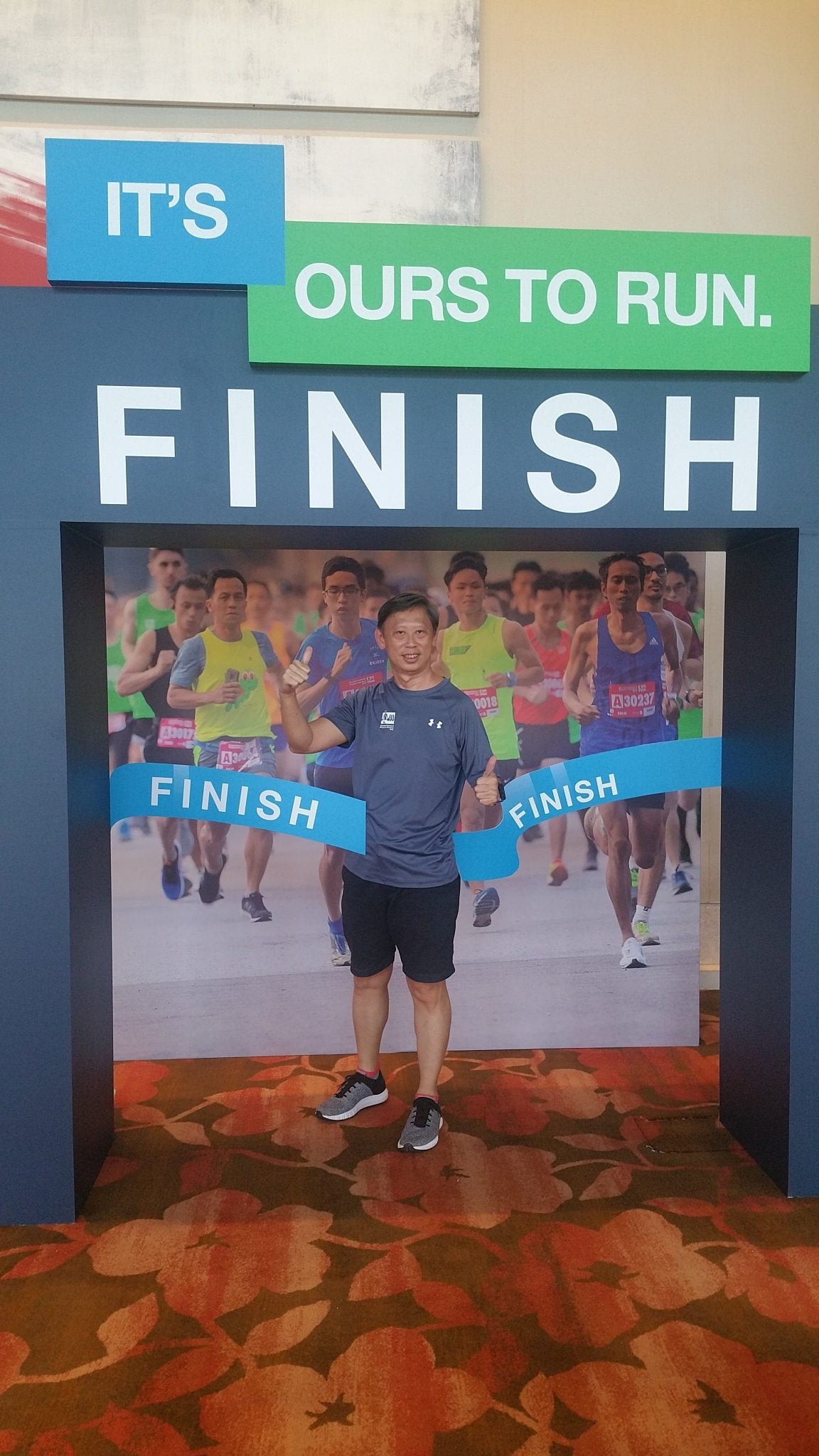 I am reminded how I started to run back in 2015 a bit seriously. Although it was very much Forrest Gump style.  Woke up one day and then went running,  wearing the one and only pair of 'running' shoes I had then.  Those days, I think my running shoes are supposed to last me a few years.  These days I wore them out in a few months.
I am an ordinary runner and maybe average or below average pace runner depending on how kind you want to be to me.  Past race records showed usually, 10 km was done within 1:10 (hh:mm).  21.1 km was done around 2:38 hr and 42.195 km was more like 6:30 hours.  For the longest time (almost 5 years) I was stuck above 6 hours for marathon, PB was 6:06:07 for an overseas marathon where weather conditions were more conducive.
This year also, a few differences set in as I prepared for my marathon challenge.  In July, after I cleared with the specialists on the lump on my right flank, discovered by the GP, I started to look ahead to the marathon, end of the year.  (Was a miracle of sort as the lump disappeared in 3 months when I ignored it.  Thank God.)
Luckily I caught the National Day discount and so got a special price.   I had collated my own running stats on long run from Strava and Garmin.  I noticed that I will slow down to 10 min pace in the late 30s of the distance.  I usually experienced intense pain on my feet amongst other stuff.  I had stabilized to using Injinji socks which I felt reduce the occurrence of getting black toe nails, the most constant bug for me.
For the numbers, it was easy.  On paper if I kept to an average of 8.5 min per km, then I should complete the marathon in 5 hours 59 min.  This means taking off 7 min from my PB.  I didn't think it was impossible but it requires efforts because in marathon race each time, I was doing my best already.  So it means going beyond what had been my limit. Can I do it, cutting off almost 10 seconds consistently for each km, 42 times?  Never try, never know.
For this time round too, I incorporated longer runs into my training.  Again that is relative.  I would include a couple of 16 km distance training runs per week.  In the past, I don't really do more than 10 km or 12.  Largely also because I was having all the back pain due to my bike fall (see old blogs).  And I planned to run at least one 32 km race before this : the SGRun.
Then again, some rocks were thrown onto my path.  I  caught some viral fever somehow. Didn't feel well at all with each passing day.  After 3 weeks of very short distance runs (I tried to maintain the runs) I suddenly found myself having Plantar Fasciitis (PF) on left foot.  I didn't give up though.  I went looking for my tennis ball and rolled my soles over it whenever I could.  I also did some stretching of the calf muscles.  Things which I have done in the past episodes of PF.  Luckily they worked again and I was back to almost normal in just above a month's time.
About the time when I discovered I had PF, my FB friend (TyreLady) invited me to be one of the Low Carbon Zero Waste runners.  I was a bit hesitant as I wasn't in the same league as fast runners nor low carbon zero waste consciousness.  But I agreed after a days' thought and she also challenged me to keeping to sub-6 hours for this marathon.  I wasn't sure then how long I would take to recover from PF.  Pressure was building.  A few days later too, I was given another challenge : whether I want to complete another 10 km race after the marathon.  I accepted too.
I have been wondering if I should still run with a message to fight against cancer at this point.  I decided that they were not mutually exclusive causes so I made my challenge public to race against the clock.  By this time I only had about two months left.  I did two 32 km races, 6 weeks and 4 weeks (Oxfitt2) before the marathon.  I tried out both 'strategies' I had thought of.. the first 32 km was done more by feel and the second with a goal of doing a negative split.  Outcome was that the second was done with time improvement.  It gave me some confidence.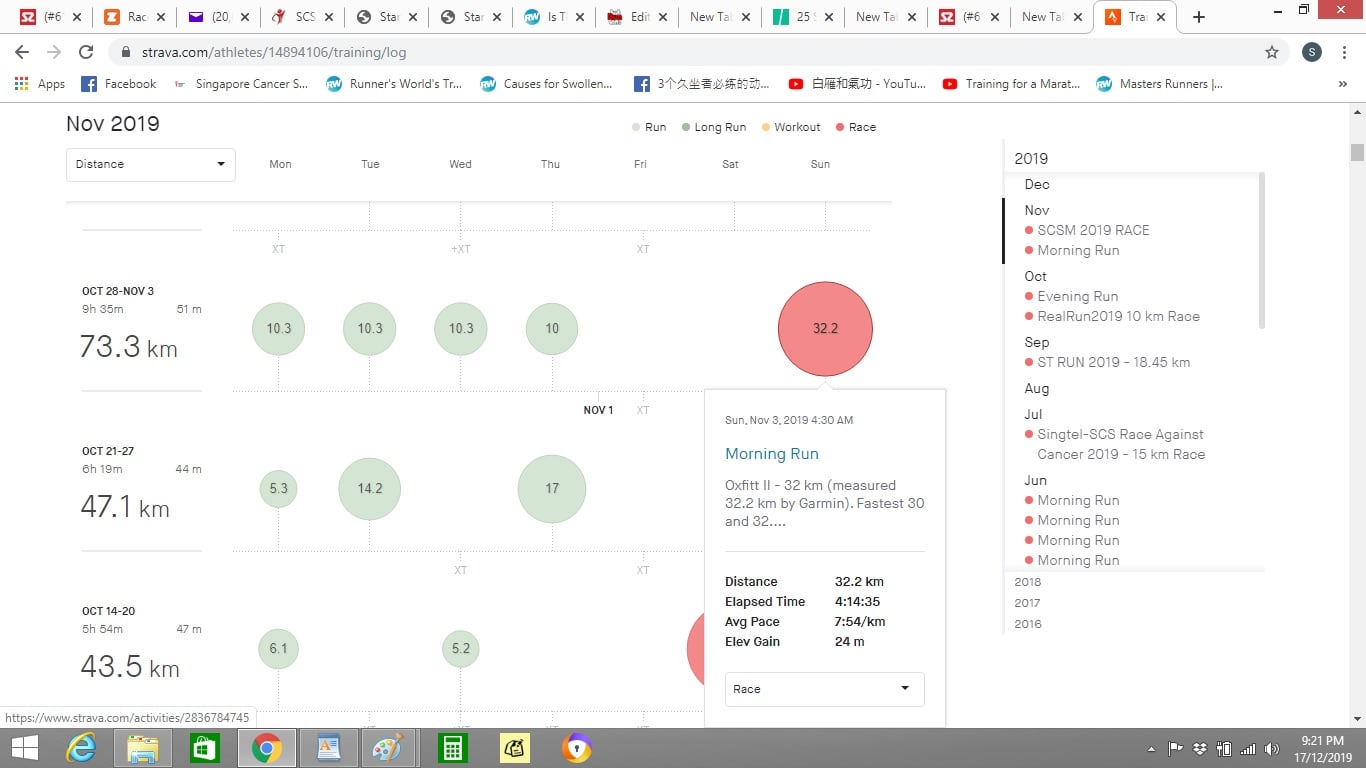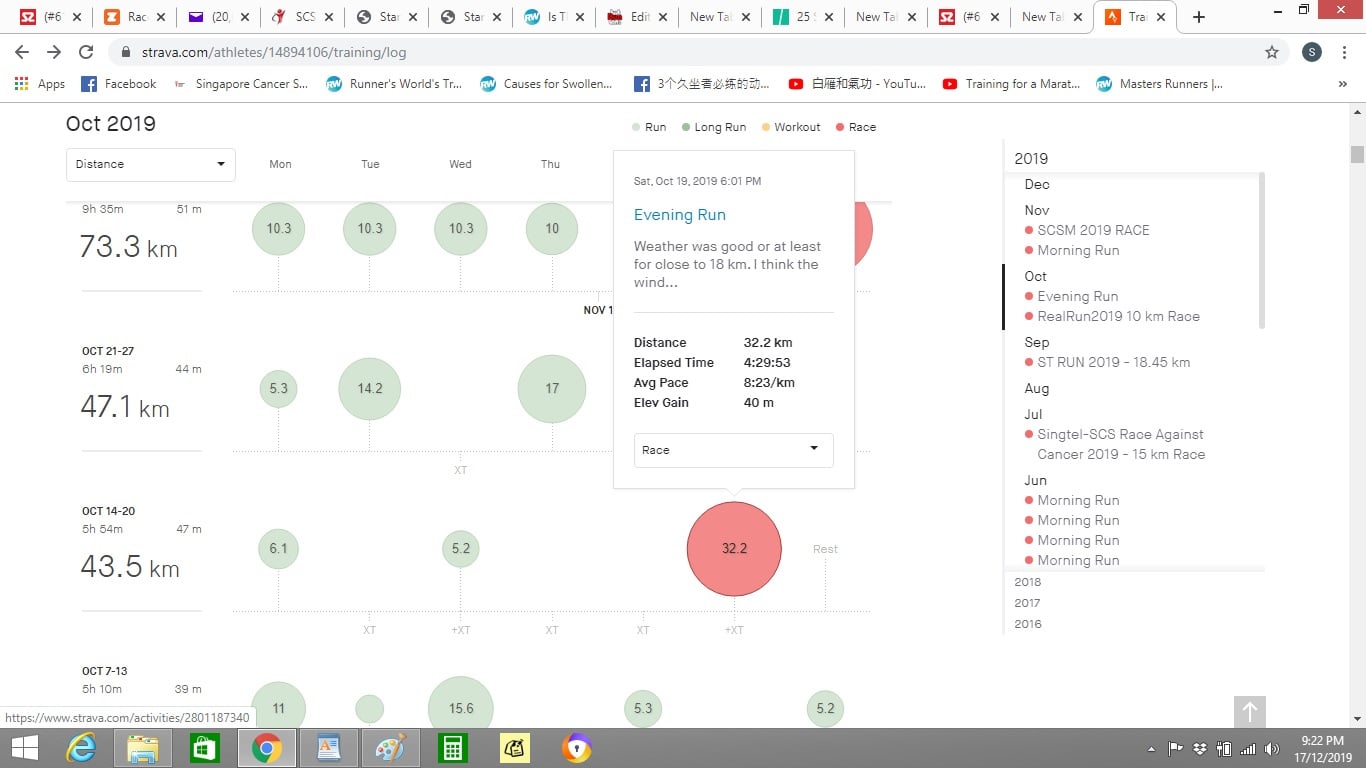 I plan to run with the first 32 km of the marathon with the average pace of 8:20 min per km.  That will see me finishing 32 km at 4 hours 27 min and even if I slowed down to 9 min, I should make it – 1.5 hours added.  Again on paper.
That day as I stood at the pen awaiting the flag off, I told myself this was it.  I just have to execute the plan and checked against my Garmin.   When I started to run, I felt it was very very humid.  More so than usual.  For the first 2 km, I had allowed myself to go faster than the pace; idea was to go with the flow as I usually couldn't slow down too much at beginning.  After the race, when I checked I found it wasn't as fast as I had thought.
The crowd was thick so it was not as fast as I expected.  In the third km (and subsequent km too), my Garmin went haywire, probably due to the tall buildings or the crossing of the signals from the many runners.  And I knew that I couldn't take the Garmin readings for the pace – it was registering much faster pace than it should be.  I started looking out for the mileage signposts and was doing mental calculations against time shown, as I went along.  For some reasons I felt I was slower than my usual training runs but I put that thought aside and just focused on keeping my form. (Humidity was high at 90%.)
I stopped at every hydration station and took the drinks.  I made sure I trashed the cups into the bins and even bent to pick up gel tags once when I saw it.  I wish I had a broader back to show the print I had, to remind runners to trash their cups properly.  10 km onwards, the roads were strewn with discarded cups.  The bins were on the left of the road near each hydration station.  But I guessed a number of runners had felt it would be a hassle to just throw the used cups into the bins provided.  I have to confess that it was a bit frustrating to see all the cups lying there, making the road surface a bit hazardous especially when it was still filled with water.
At 22 km or thereabouts, for the first time I felt a stomach ache coming in a marathon race.  This was no good.  I didn't want to stop.   I thought I would go on and see how things go.  I continued trying to maintain the pace.  But at about this time too, I realized I wasn't going as fast as I had planned.I knew there were other fellow low carbon zero waste runners running and Tyrelady as well.  But I thought they would be ahead anyway so it was not surprising to me that I didn't bump into them.  I only saw a familiar back, that of my 'strava' friend (he gave kudos to me when I run at the park connector each and every run) and he was a fast and regular runner.  I called his name and he turned back.  He was surprised and said I was sharp to spot him since it was fairly dark then.  I asked him to go on as I knew he was at least 2 min pace ahead of me usually.  (After the race, he had told me he had hit the wall at 30 km and his timing for this race was longer than expected.)
After that, I was pretty focused on keeping my pace.  After 35 km, I knew I still have a slim probability of hitting sub-6.   I knew this race I was better at keeping my pace and I was in better form vs previous years.  My fractured spine had almost completely healed, there were some occasions when I could still feel the old pain. All the thoughts of this last two months' of more structured approach to training came back.  This goaded me to carry on running.  In the previous races I would have slowed down to 10 plus min pace.  I tried hard to keep to below 9:00 this time at my slowest. Push on.  Go get the sub-6 hour target, I told myself.  By my Garmin it was still close.
I didn't let up even when we reached the Sheares Bridge towards the end.  Later I found I had a PR on this stretch vs past races.  Up till when I finally crossed the finishing line, I was still fighting to get to my target result.  It was with a lot of disappointment that when I glanced again at my Garmin as I crossed the line, I saw 6:01…
Failed by 1 min 27 seconds.I went on to collect my medal and finisher tee.  I decided to go to the medical tent because I wasn't feeling too well.  They took my temperature and found I was at 39.5 degrees Celcius.  They placed ice all over my body to try and bring the temperature down.  I was feeling a bit giddy but I thought it was good too as I needed to recover more quickly for me to get back for the 10 km race.  After some minutes I was down to 38.5.
I knew my toe nails were toasted – they felt sticky and painful in their socks. After another few minutes the medical team took the temperature again and declared I was back to 37.  I thanked them and got up slowly and went on my way to get home.  By the time I ate my dinner (two fan choy) and showered, I realized I had two hours before I had to wake up.  In the end I slept for an hour and then started my prep to get to the venue again.I reached there in good time and again the flag off was on time and it was still good weather.  The pressure on me was off.
My legs were alright surprisingly.  My feet didn't feel good but I was able to still jog.  This time round I even made a detour to the toilet to pee and then got back to the route again.  By this time, the 10 km race was a good recovery for me – to look at it with the proper perspective.
It is a new PB for me with 6:01:27.  Shaved off nearly 5 minutes translating to 8.566 min per km instead of targeted 8.5 min per km.  And I'm still able to jog 10 km the following morning.   Victory would have been sweeter if I hit 5:59.   I set out as ordinary Joe and I had tried my best always to get to the finishing line.  It wasn't the day for me to get my sub-6 but well, I got my PB on local grounds.  For fast runners this may sound funny.  But a marathon tests individual's resolve to do one's best.  This is nowhere near a good time by any measures.  I still remember some folks commenting years ago that it would have been better for me not to run given I took such a long time and I'm not exactly young.  Going on to 57 soon.  If I listened to them perhaps I won't be improving on my times
Just like the cause I was running for.  To fight on.  To fall is alright.  You just need to pick yourself up and keep on going.  One day you will get what you focus on.  When you give up then that's the end.  Every runner will have his day, tomorrow if not today if he keeps on going.
So I still hope folks will be generous in donating to the cause (previous blog) though I failed the challenge.  Whatever, cancer patients and their families cannot give up. So till the next blog, run safe, run happy and stay strong.