Joined this year for the half marathon, actually, it was my first half marathon with SCMS, it was either 10km or FM.  Ever since I stopped running the SCMS full marathon in 2014, I have been doing the 10km with Running Hour buddies and for the first time this year doing a HM.
Somehow SCMS marks the year-end for many runners in Singapore, after all it is the major marathon for Singapore.  Ironman has now taken over as the organizer for this event and it is much anticipated by runners locally and regionally.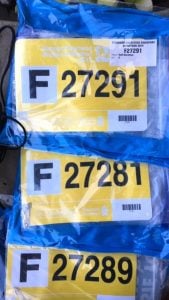 This year is the first time they are organizing it a night on a Saturday.  Race pack collection was at Marina Bay Sands Convention Centre.   I did not manage to go there this time as a running hour guide was kind enough to render his help to collect for all of us.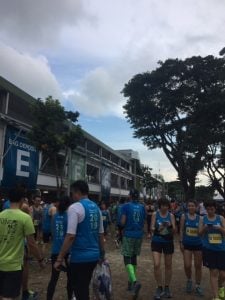 The race itself took place on the evening of 30 November 2019 at 6:00 onwards with different waves. FM ( 42.195 km ) and HM (21KM) flagged off together.  My team had Shu Hao, Claire and one more person were there to guide Ryan, a boy with special needs.
In the beginning it was still okay we managed to run in cadence properly, but after a while , Ryan got restless and we all realise that we forgot to prepare the music that he needed while running!  The rest is history, but to cut the long story short, we did manage to get our mission completed but it was really not easy for me.  One thing I learnt from this event was that when you are guiding someone, it is best that you have done some preparation run with him beforehand, and also find out what are their needs to get prepared for them.
I must say the choice to put the race at night ( but not so late like Sundown Marathon) is quite a good choice, judging that hot sun in the morning will probably kill most on the West Coast Highway.  Also, the timing is just right when you finish, its probably good for supper and some good sleep.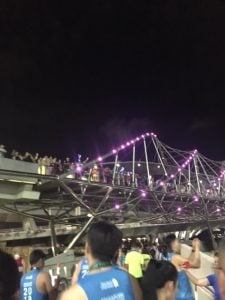 First time running on the West Coast Highway, I really enjoyed this run, although some complained of Humid weather, to me I felt it was breezy enough, maybe I just like a little bit of heat.
Waterpoint support was pretty good, as the table runs very long, but maybe because I am at the really last few waves, the floor got really messy with the smashed paper cups and wet ground.  But I guess that was kinda expected and nothing much we can do since there are so many runners!
Finishing Line
Runners finish their race in the Floating platform after which, they are all directed towards the F1 pit to collect the runners' entitlements, medals, tee shirts ( for FM), food and refreshments.  Fresh cold towels were also dished out to the runners.  At as we walked out of the long stretch of goodies, the runners get back into the race village where there were distinctive meeting point for them to rest and reunite with their family and friends.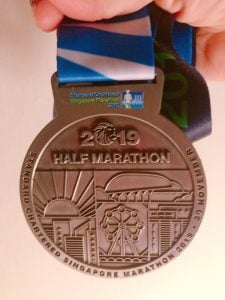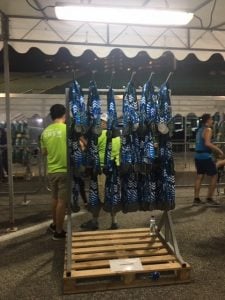 I would say Standard Chartered Marathon has changed pretty much over the years, although no longer in Padang and no longer having the heartbreaking Sheares Bridge.  The race is still a "must do" for many Singaporean runners as they close their running calendar and prepare for another new year of running feats.  The feeling is mixed, but I guess change is inevitable especially for Singapore, where things always change very fast.  But I do hope all runners enjoyed this race and hopefully more PBs.