Part of the President Challenge, the Majulah Relay brings 200 enthusiastic runners, in 200hours to cover 2000Km.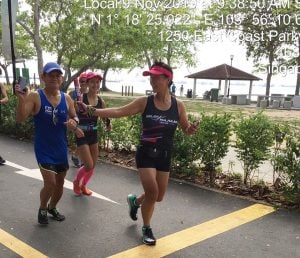 I was lucky to know about this relay from Ah Siao Awsum, the marathon tyre man.  He told me that they needed runners and also to raise funds for the President Challenge Charity.  Without thinking, I signed up.  The relay comes in the format of 20km and 10km.  So runners will pass the baton in a designated route from Punggol to city centre and back.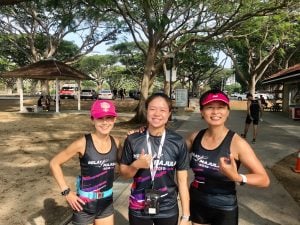 On the last day, the baton will be passed to the President Challenge Charity show in Mediacorp Auditorium at the One North.  This relay is not just about running, you will need to chip in your part in the giving.sg to help raise funds to 1million SGD for the President Challenge Charity Fund.
After signing up, the organiser contacted us through email and WhatsApp. They did up all the social media and Giving.sg page to get us kick-started on our fundraising process.  About 2 weeks before the relay, runners were gathered to attend a briefing on the administrative parts and operations of the relay.  Things like the relay route, what to bring what to expect were all addressed at the session.  We were also given our race tee during the session itself.  Tips on how to gather more donation were also shared.
The relay tee was actually quite nice and the fitting was good for me.  Besides the tee shirt, we were also given an Asics small backpack and a water bottle.  I was paired up with another runner called Xiu Fang.  Well, I guess she could not really remember me, but I do know her as a prominent figure in the running scene in Singapore.  Happens that she also used to be from Team Fat Bird, where start out runners join to train for marathons and half marathons.  After knowing our route was from East Coast Park to Marina Barrage, 10k.  She initiated a run recce together on a weekday night.  Which I was grateful as I hardly run out from my house area in the West.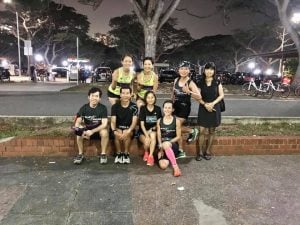 The route was like a usual suspect in most races in Singapore, the good thing is that there was no traffic to look out for.  So we were all good to go.
Relay day itself, I met up with Xiu fang at the East Coast park Food Centre where we were stipulated to start.  She brought a gang of supporters which really touched me, they also helped us to keep pace.  Relay day itself was really hot and humid as we started around 09:15, we both were aiming to finish our leg lesser than 1 hour as we had tried 2 times before just to familiarize.  We also had a cyclist guide to ensure that we do not run the wrong route and was feeling alright.  At night is was easier as the weather was cooler but in the day it got challenging.  But we still went on.
After getting the baton from the previous lady who was running alone for 20Km.  We carried on our leg.  Passing through East coast park, Gardens by the Bay East and finally to the Barrage, we were all smoked out with the hot weather.  Thinking that we need to cross the bridge, we realise that the race actually stopped before the bridge.  Where there were two other relay runners waiting for us.
Handing over the baton, we both were relieved, we got free 100plus and water at the end.  I brought my own hydration, but no one could refuse an ice cold 100 plus in the hot sun.  As usual, runners always loved to camwhore, we took many pictures with Xiu Fang's supporter from the Simei Runners and my one and only supporter, who has appeared many times in my other blog, Fowler.
Actually felt kinda proud to be in this meaningful relay and I realise how difficult it was to garner donations cos in my past efforts I never really put in much time and left them to fate. But I kinda realise why running with a lot of donations is a good idea, because my mind will keep on motivating myself to carry on as I have garnered so much support and do not want to let my supporters down.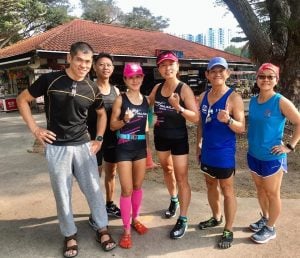 I could see the joint effort and cohesiveness of all the relay runners putting in their time to gather as many donations and also raise awareness about helping out the less fortunate.  I guess if the opportunity arises, I would not hesitate to join again and also raise even more funds!