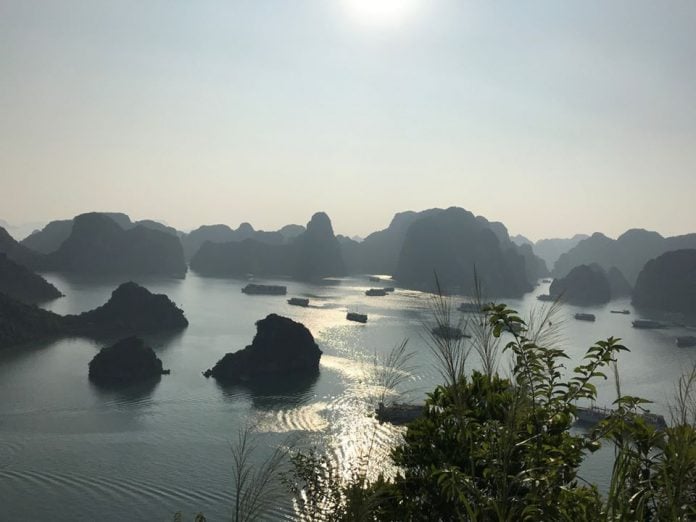 Eleven years ago my friend Ethan talked me into running my first marathon. He's been pretty good at talking me into things ever since then, so when he suggested we run the Halong Bay Heritage Marathon, it was easy to say yes.
Ethan lives in the US but was born in Vietnam, and comes back every couple of years to visit friends and extended family. This year he timed his trip so we could meet up in Ho Chi Minh City, then travel to Halong for a few days and run the race, before he went off to visit people and I returned to Singapore. Ethan has lots of good ideas, and I'm happy this was one of them. The Halong Bay Marathon is a small, scenic race that can be the centrepiece of a very fun trip.
RACE DAY
We gathered at 5 am for warm-up and safety briefings, though an email the night before informed us that the English-language announcer would be unavailable. Fortunately, Ethan speaks Vietnamese, so I still had a good idea of what was going on. Flag-off was scheduled for 5:30, and we went out on time (the Half Marathon, 10k, and 5k races would start later). The temperature was about 22C/72F at the start, and we would have about 40 minutes to run before sunrise. By the time we finished it was up to 26C/79F – hot by most US marathon standards, but pretty cool for Southeast Asia. One lucky break: it was overcast the entire morning, which meant we never had the sun beating down on us. That helped a lot.
The race started easily enough, without a lot of crowding. There were 686 finishers, so even accounting for those who started but didn't finish, there was no traffic jam at all. We needed to be a bit careful in the first couple kilometres, as the highway we were on was under renovation and the construction left a lot of bumps in the road, which were not visible due to the limited lighting. Once the sun came up, that was not an issue anymore.
Ethan and I had driven along the route during the previous few days, so we had an idea of what to expect. The race goes along the coast of Halong Bay, an out-and-back route with a turnaround at about 21km (the return route was a little different, going farther inland for a few kilometres). In some areas, the roads were closed, so except for the occasional motorbike that went around the barriers, we had the streets to ourselves. In other places, we shared the road with trucks and taxis, so you needed to stay aware of your surroundings.
It's a very flat route, with one notable exception: the Bãi Cháy Bridge, a kilometre-long cable bridge. The views from the bridge are pretty amazing, which almost makes up for the steep climb you have to do to get up to it. That wasn't a big deal the first time we went over it, at about the 5km point. It was a much bigger deal when we went over it at the 36km point on our way back. I started cursing Ethan at that point for getting us into this, and realized that his name makes a pretty good swear word, as in "You really Ethaned me" or "Wow, you sure Ethaned that up." You get the idea. Anyway, the first trip across the bridge was uneventful, though on the return we shared the sidewalk with motorbikes. That was not ideal. I'm afraid I may have said some things that did not support good international relations.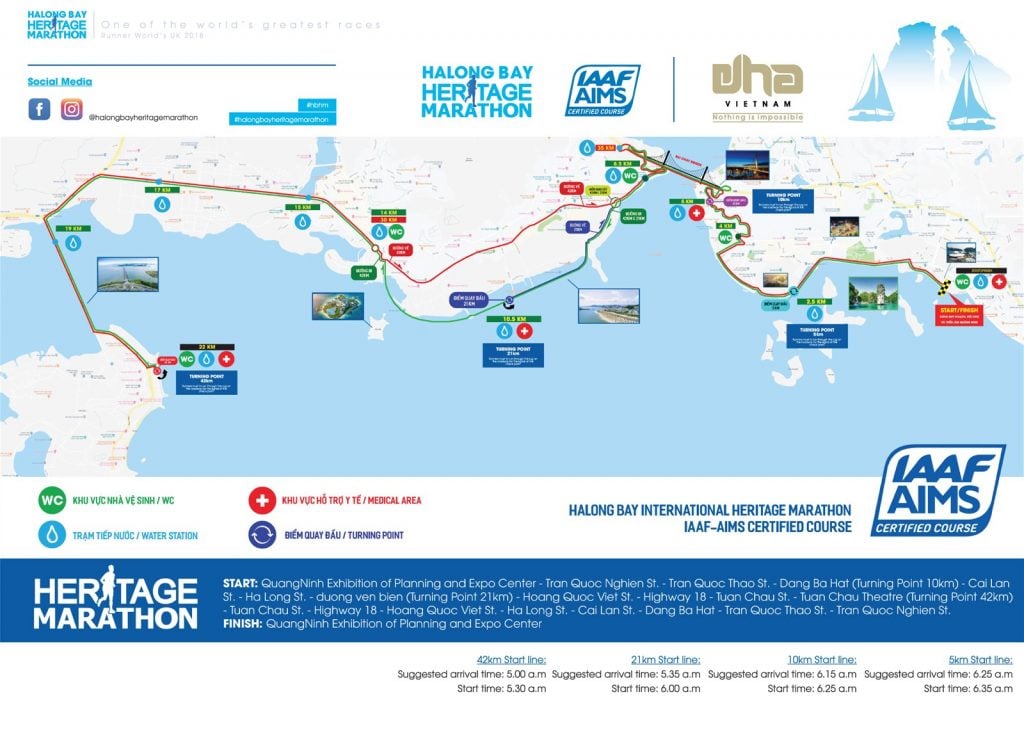 Ethan and I ran together for about 28 kilometres. For the last year or so he's been using a run/walk strategy, and I followed his plan, which seemed to work pretty well. He got ahead of me, though, and I never caught him again. I had jumped off the route for a quick pit stop and was feeling some hamstring pain by that point, and was never able to catch up (important note: there were only three porta-potties along the entire way, and they were a bit primitive – be sure to take care of any important business before the Start). Going alone at that point, and without a big crowd of runners around (and no spectators), I found myself getting slower. We like to say that running a marathon is more mental than physical, and I think that's true – without any support, and without feeling pushed or pulled along by other runners, I found it hard to pick up the pace. I feel like that's something I need to work on (for the record, Ethan finished 16 minutes before I did).
Once we hit 32km the water stations seemed a bit farther apart, which is strange since that's when you need them more. One station had run out of water and only had their isotonic drink. I didn't want to drink it – never do anything new on race day, especially putting something untested into your stomach – but I was so thirsty I needed at least a few sips. It didn't seem to do me any harm.
I could see the Finish, at the large exhibition center, long before I got there. It's motivating to see the end, but then a bit demotivating to look at your GPS and realize how much farther you actually have to go. Once I got into the last kilometre, though, the tiredness faded and I finished strong. There were plenty of "Go USA!" cheers as I approached the Finish Line, so that helped. I could have used those folks about 10 kilometres earlier.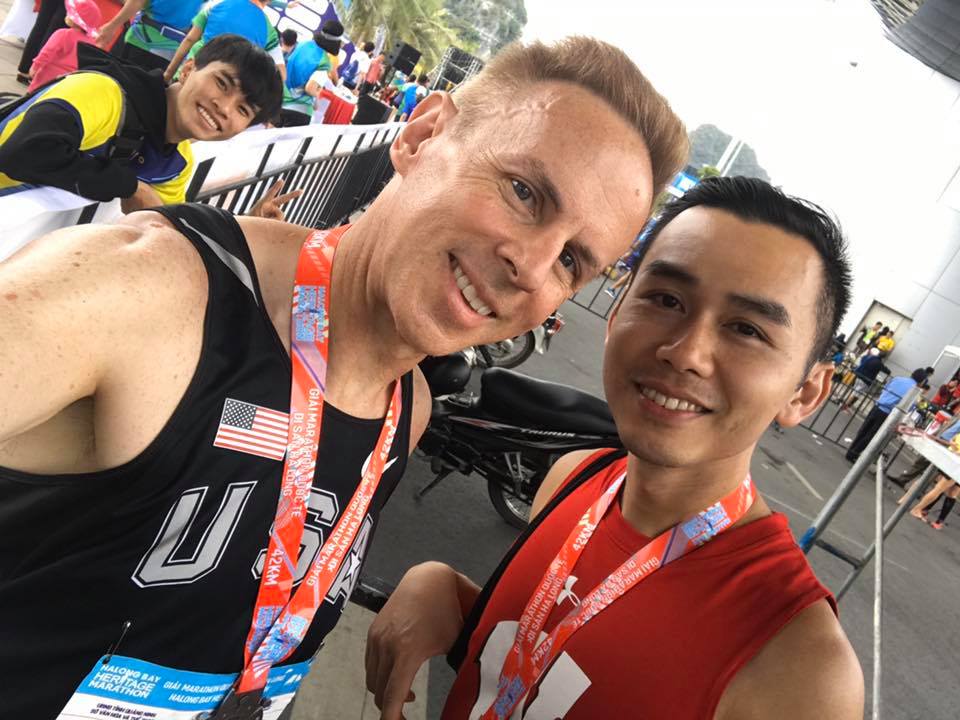 Oh, and in a fun (?) twist of fate…earlier this summer, when my Employment Pass was approved, Ethan said "Now that we know you'll be living in Singapore, I see the Standard Chartered Singapore Marathon is the next weekend. How about I stay an extra week and we do that one, too?" So, yeah, we're doing two marathons six days apart.
AN INTERNATIONAL FIELD
Despite being a small race, it attracts plenty of international runners. There were a lot of people from the Philippines, and also from Indonesia. I met two runners from Malaysia, and saw a couple of Singapore shirts, and passed two people from Taiwan near the end. Not everyone was there for the Full Marathon; our hotel had a large family from Manila with everyone running the Half. There were, of course, plenty of people from Vietnam, though most seemed to be from out of town rather than from around Halong.
This was also a good race for first-timers, due to the flat course and the weather. The day before the race we hung out with Tuấn Anh, a university student down from Hanoi for his first marathon, and when we connected with him at the race we saw he was running with Kok Ming from Malacca, who was also running his first marathon (I think they have both already picked their second race, in 2020, so yay for them!). Quite a few of the Philippine half-marathoners at our hotel were also doing their first long race.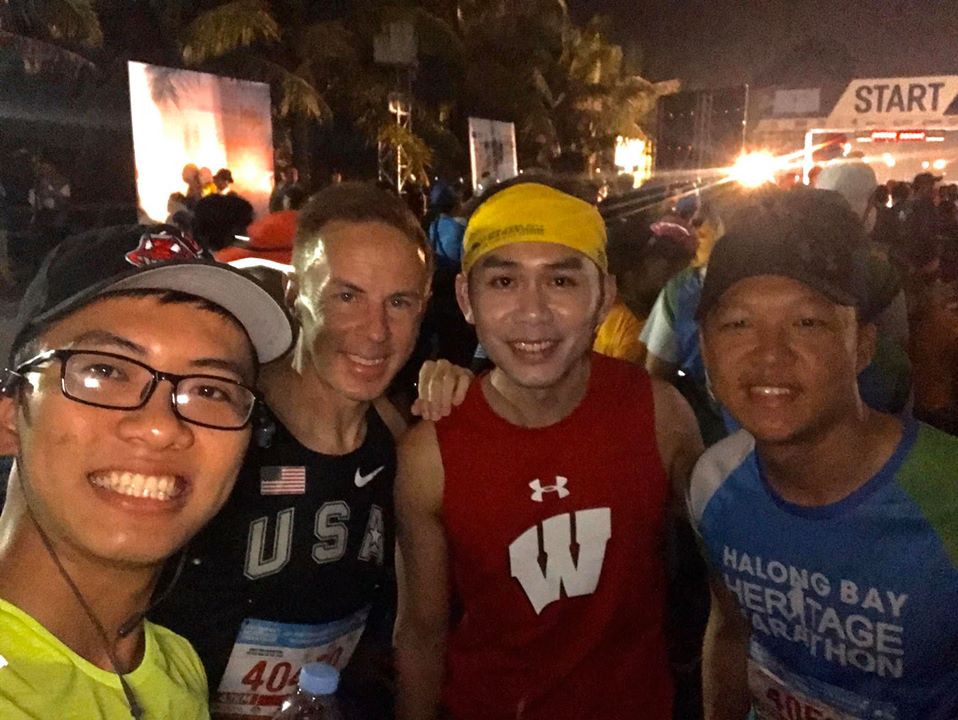 TRAVEL AND LOGISTICS
Part of the attraction of this event is not only the race but also Halong Bay itself. I had been hearing about this place for years, and had wanted to visit; this event offered a good excuse. In the days before the race, Ethan and I did a 2-day/1-night bay cruise about the Paradise Luxury, which I highly recommend. This was a small cruise ship (only 13 cabins, I think) that provided a very personalized experience. We stopped at a few points around the Bay to hike or kayak or otherwise take in the sights, and the food and activities and accommodations aboard were first-rate. I highly recommend taking the opportunity to cruise around Halong Bay if you are heading there for the race.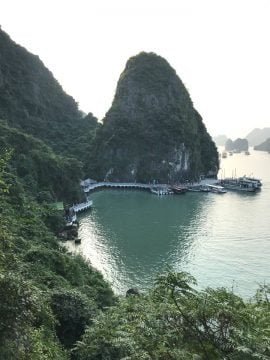 The marathon had official hotels, with transportation to the race. However, we chose to stay in a smaller hotel within walking distance, and we are so glad we did. We stayed at BBQ Hostel, a small family-owned hotel that was a couple of blocks from the Start/Finish area. They have a variety of rooms, from traditional dorm-style hostel rooms to fancy rooms for people travelling together. The family who runs it was so incredibly helpful when it came to finding our way around, making arrangements for transportation, and ensuring all the runners got out the door when they needed to early in the morning. There are a ton of hotels around Halong but I would stay with these folks every time.
Getting to Halong Bay requires some prior planning. There are two airports within an hour's drive; we flew into Haiphong, while some may fly into the new Van Don airport. Your hotel or cruise company can help you arrange a car. You can also fly into Hanoi and take a bus, train, or car to Halong Bay. If you are doing a cruise, many of the cruise companies will have a shuttle from Hanoi. Interestingly, the marathon had a packet pickup in Hanoi prior to Saturday's packet pickup in Halong.
GO FOR IT
The Halong Bay Heritage Marathon is a great opportunity to run somewhere other than your hometown. With a flat course, relatively cool temperatures, and great views, it can be both a fast race and a fun one. Do yourself a favor and add in a bay cruise, and this run can turn into a very nice runcation.