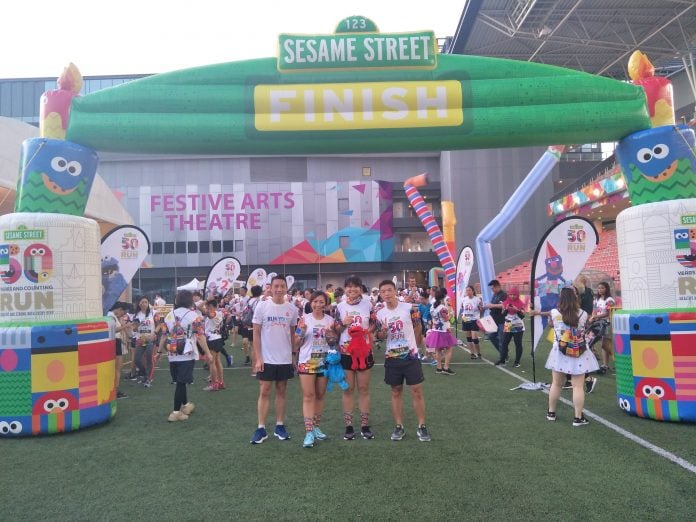 DISCLAIMER FROM JUSTRUNLAH! 
JustRunLah! was the registration portal and digital partner of Sesame Street Run Singapore. JustRunLah! was not involved in the organisation of the event, staff management, logistics, entitlements distribution or in any other way.
For any questions or concerns regarding this event, please contact the event organiser, Heroes Pte Ltd via email hello@sesamestreetrun.com or event@heroes.com.sg or Facebook: www.facebook.com/SesameStreetRunSingapore/ or via http://heroes.com.sg/contact-us/ 
Blogger's review continues: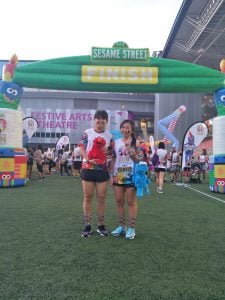 I was actually very looking forward to enjoy and have fun in Sesame Street run that I even went online shopping for a super cute Elmo and Cookie Monster bag for Eleanor and I to bring for the run 😆 At some aspects this event have plenty of rooms for improvements but I do have fun and enjoyable moments in the event as well.
My childhood honestly doesn't includes Sesame Street. Mine was with Tom and Jerry, Powderpuff Girls, Dexter's Laboratory and Flintstones as far as I can remember 😊 But its the same logic I have with Hello Kitty and My Melody, I like whatever's that's cute and Sesame Street's characters looks cute 😆
Unless TV channels shows Sesame Streets or they watched it on Netflix or by whatever means that's available now, I guess kids these days dosen't know about Sesame Street? I'm very outdated with the technologies these days, already an aunty who's being laughed at for not having Paynow/Paylah 😂 Every few years there's different something that's popular with the different generation of kids, I guess it's the Barney or Dora the Explorer that's popular to them now? 😆
Sesame Street is celebrating their 50th birthday this year and it's Singapore's first Sesame Street Run. It was 5km distance and it's held at Tampines Hub. Due to high demand, the organisers came up with a 2km route for those who preferred a shorter distance. Though it's a nice gesture, but guess it's because of this, the nightmare of wrong route, confusion of route and shorter distance happened.
Also, take the package for example to register for the run, some people feedback that it's actually not worth to buy certain packages as individual merchandise sold at event venue is cheaper than buying a "bigger" package and it doesn't make sense.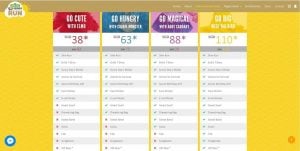 (Credits: Sesame Street Run)
Maybe they should come up with family package in future, imagine paying for a family of 4 for about $500 just for a run to get a VIP package? 😨 Its worth a mini-vacation overseas already 😱 The kids might even be too small to remember anything few years or even few days later 😂
I gotten the VIP package and collected my run pack on Saturday at Tampines Hub. Its a swift collection no matter with the standard or VIP package. Lucky for those who collected the run pack on Saturdays afternoon as many feedback of long waiting time on Fridays with about 2 hours of queue 😨 Luckily I checked my stuff before I left, they forgot to give me the sweat band. Just disappointed that was informed that cap was to be collected on event day. Had actually wanted to go all out to wear everything in the run pack. In the end the caps shipment was delayed and received an email informing of collection will only be after the event. Didn't know there's different design for the sweat band, could have let us select what character we prefer during registration. The quality of sunglass isn't fantastic, on race day, the rubber thingy on the sunglass dropped on event site and couldn't be found, now I have a spoilt sunglass which I need to get glue or something to stick it together. Though I must say I really love the socks and scarf, the design's really nice and the socks is comfy! 😍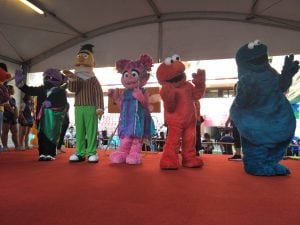 We reached event venue at about 6.30am. A Facebook post stated that flag off for 5km is at 7.30am but we were only flagged off at 7.50am. It's a long and hot wait at event venue, though I don't have any kids but I'm sure kids by the time of the long wait are getting cranky or throwing a tantrum already. It was pretty good to be in the VIP holding area as it's a very close up view of the Sesame Streets Characters on stage. There's a very huge and pretty birthday "Macaron cake". 😍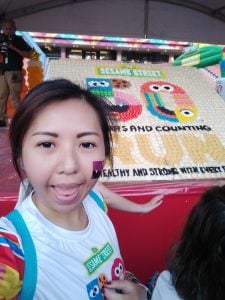 Didn't know why it's being held at Tampines Hub as there's plenty of other event locations such as Sports Hub, Marina Barrage or Gardens by the Bay, even though runners complains of always the same boring route but it's better than being in a run with messed up routes. Best place would even be at Universal Studio Singapore or even Sentosa would be nice.
By the time we started running, the Sun was out and it was hot. The route isn't blocked for the event and there's plenty of traffic lights and roads crossings which was quite disruptive to the run when we have to give way to vehicles and abide to traffic rules. The pavements is narrow to accommodate such a huge amount of participants, some pek cek till they ran/walked on grasses beside the pavements and some even go to the extent of running in roadside. Theres too many participants and I felt machiam stucked in human traffic jam at slow crawling pace and constantly have to be careful the bicycles/PMDs as well as not to bump into small kids ourselves. At least there were the cute alphabets along the route for photo taking ❤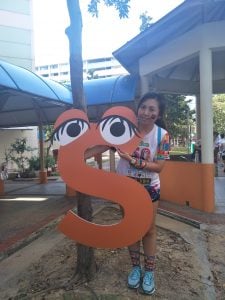 Volunteers weren't well aware of the route. Guiding runners the wrong direction, some volunteers were shouting on the top of their lungs the directions when there isn't direction signage in sight at all. Or maybe it's my poor eyesight that I didn't spot any? 😂 There's also no distance marker. Poor volunteers, kena shouted by angry participants. I felt that it's a wrong attitude towards any human beings, told myself if I were ever to have kids, I will not display these type of negative attitude in front of them, at least I think I'm not doing it now also lah 😂 Ultimate goal in life is to become a better person. Towards a more gracious and positive society 💪❤ I think it's not the volunteers fault, organizer should have better briefed them of information.
Many runners finished either shorter distance or very much more shorter distance 😂 I was directed wrong direction by the volunteer even though I asked again to confirm and when I was about to finished it was only 3.6km so I went for another short loop around Tampines Hub and eventually make it a 4.9km run. Map route on Facebook isn't clear, should have indicate the distance mark on it.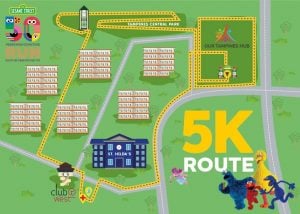 (Credits: Sesame Street Run)
The ending part was actually enjoyable. I like the bubble bath at the end though I didn't went to play in it. But I can see the kids were pretty much enjoying themselves ❤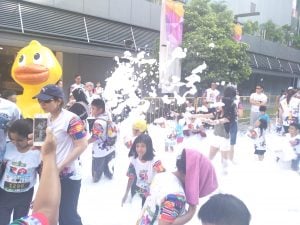 Then it's the collecting of the VIP pass, finisher medal and a badge as the Birthday gift. Phew, luckily I was registered as VIP as I can see that it's a super long queue for the standard package registrants. The nice part is the medal is pretty and VIP pass was attached to a very chio lanyard which I will definitely put into use 😍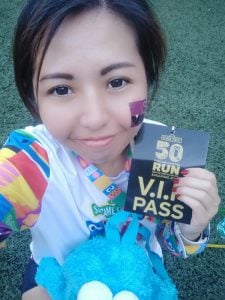 But I was pretty sad at the long queues everywhere 😮 There's quite a few activities around at different tentage. I wanted face/hand painting and I wanted balloon sculpture but it's super super long queue and I give up. Theres only 2 volunteers doing the Balloon Sculpture for the thousands of participants and just 3 volunteers doing the face/hand painting. But no matter what, I need water and at least it's not a long wait at the queue to collect water and was at the same time given a cookie which was yummy.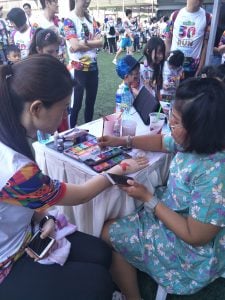 When I wanted to take picture with the Sesame Street Characters I was pretty sian when I saw the long queue and remembered that VIP pass have priority access to photo taking. I asked the volunteer do I have priority in taking photos and OMG she didn't know. I have no choice but to walk away as just nice the Characters are going off for a break as well.
It's then I overheard a conversation about the VIP lounge so we head there and I was delighted to see Count Von Count, Ernie, Elmo and Cookie Monster there 😍 Could've missed the opportunity if not for having overhead the conversation.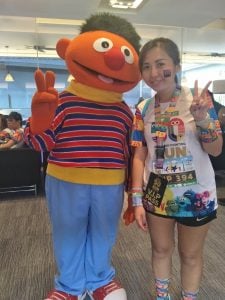 Well, if there's anymore Sesame Street Runs in the coming years, hope that there's better location, better route, better communications with participants, better planning and better crowd control as well as more volunteers to cater to the huge crowd at the activities tents to cut short the waiting time.